Subscribe to get our Free emails on Tips, Trends & Best Practices for Pharma Marketing in the Now



11 key marketing challenges to digital transformation in the pharmaceutical industry for 2020 and beyond

Practical action-oriented takeaways for the pharma marketers



How can pharma win in the digital world?
For an industry that is highly dependent on sales rep meeting with their doctors, the COVID-19 crisis has forced pharma to bring a radical change in their marketing.
Going digital !

Now is no more an option to those in pharma marketing but has become the only means to meet their marketing and business objectives.
Digital initiatives for HCP engagement that were nice-to-have, are must-have today

Having said this, the major changes that have come in the pharmaceutical industry have been both challenging and a learning experience – as pharma marketers continue to adapt and improve upon their marketing strategies to make the most of the available digital options.

Marketing budgets had to be revised, brand plans had to be reworked, focus products had to be amended as per the new market requirements, and new product launches were postponed.

In the background of all these issues in pharma marketing, one major question that every pharma marketer was struggling with was –
What was the best way to get in touch with doctors ?
Well, these were challenges in pharmaceutical marketing during the initial stages of the crisis.

But what is the current scenario in pharma marketing like ?
What are the key challenges facing the pharmaceutical industry today ?
Let us take a close look at the present state of marketing in the pharmaceutical industry – That is, the issues relating to the pharma marketer's journey to digital transformation in 2020.


Major marketing challenges in pharmaceutical industry


1. Bringing the digital mindset
COVID-19 has transformed pharma marketing forever. At once the pharma marketing landscape got divided into "the traditional" (pre-COVID-19) and "the digital" (post-COVID-19) way of marketing.

And in this digital race where did, the pharma marketers fail?
The thing is, pharma marketers continued to follow their traditional marketing practices even in the new digital environment. Like for example, the print collaterals were converted to pdf formats that were used as digital materials for engaging with their doctors


Adopting a Digital Mindset is the key to a successful Digital Transformation


Pharma needs to separate itself from the conventional way of marketing of being highly product-centric and learn that Digital is all about the customers.

Developing a digital mindset has become the need of the hour for pharma to win in the digital world.

Bearing in mind, digital has opened new opportunities to be creative in engaging and reaching out to customers.


So what is the digital mindset all about ?

And what does the digital mindset mean in the context of pharma ?


For this, let us understand the main areas of digital transformation in pharmaceutical marketing, by doing a comparison of the pre-COVID-19 vs the post-COVID-19 pharma marketing:
Digital Transformation Infographic for pharma marketers in 2020 and beyond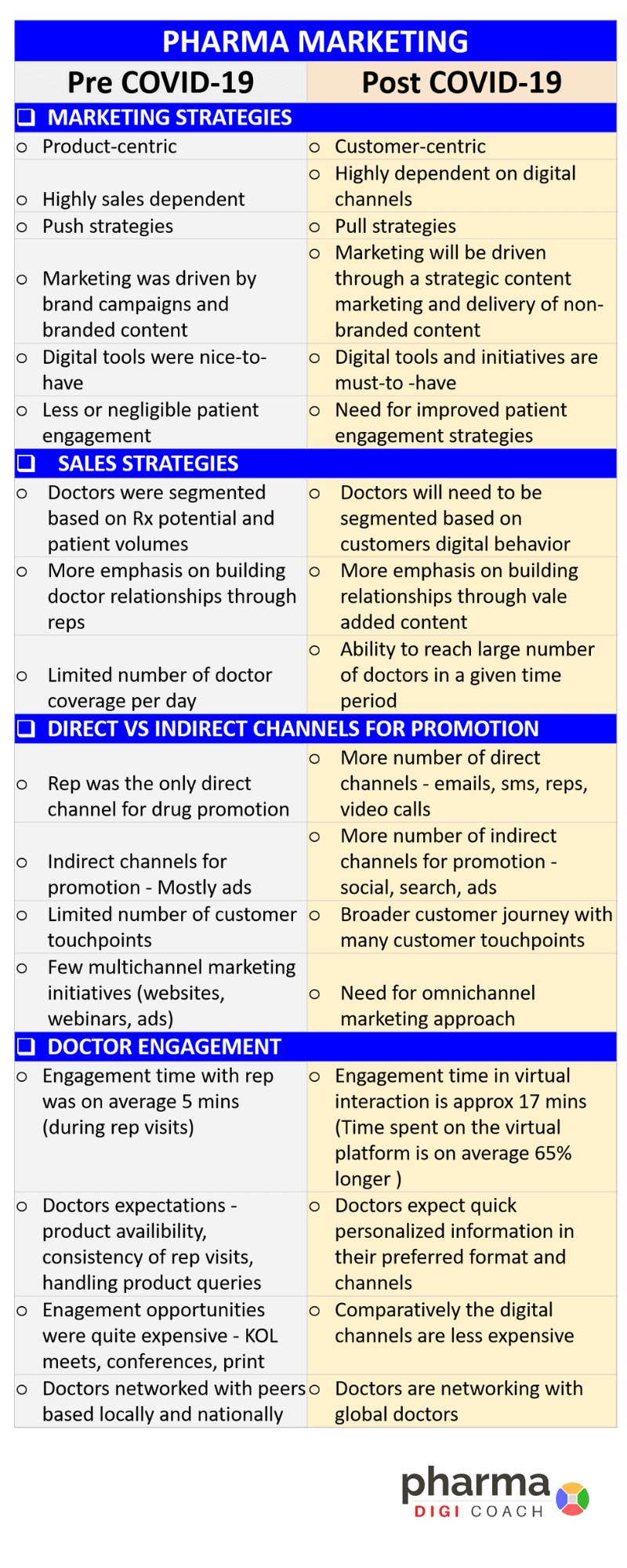 2. Standing apart from the competition
Differentiation has always been a challenge for the industry, and the fight has become even more competitive in the digital domain.
Did you know?
The human attention span is now just 8 seconds (even shorter than a goldfish!)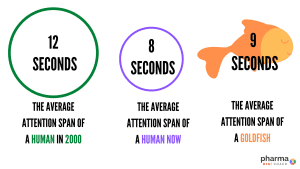 True, technology has shortened our attention span. The above Microsoft study clearly shows the effect of an increasingly digitalized lifestyle.

So as pharma rushed into adopting digital channels, many failed in making a positive impact on their customers. The doctors became overwhelmed with all the digital choices.

Physicians were bombarded with tons of daily emails, messages, calls, invitations to webinars, and virtual conferences.

As social distancing measures canceled face-to-face physician engagement it is evident that the digital alternatives are not yet up to par. 

Giving this scenario, the next challenge for pharma marketers is to make strategic choices of the available digital tools and channels to create more meaningful interactions with their customers.

So instead of being present in all the channels, pharma needs to make thoughtful decisions based on analytics and a more clear understanding of their customer needs and journey map.


3. Managing customer relationships is becoming difficult in the digital environment

Maintaining regular doctor visits and building relationships was a key part of the sales team. But as contacts with doctors reduced during COVID-19 – the key component to driving pharma sales got impacted in a big way.
Doctors are also not too keen on physically meeting the reps in their clinics for a pretty long time.
Pharma needs to give critical thought to maintaining human connections even in the virtual engagement model. That is by creating digital experiences that matter and that would help strengthen their customer relationships instead of weakening them.


4. The morale of the sales force is down
Everything that the sales function was responsible for – that is to drive prescriptions, promote brand awareness, and to develop new customers, is no more applicable in the new environment.
The big question now is,
How can sales perform in the COVID-19 given circumstances and what will they be accountable for?

The face of the rep is kind of changing. Interacting and conducting meetings with doctors virtually will surely require different skill-sets.

Marketers need to look into the current challenges in remote detailing. How can they support their reps with digital tools to make effective doctor interactions.

Also, new metrics will be required to gauge the reps' daily working- that means moving away from the traditional method of call reporting formats to the newer lead metrics like the number of video engagements, etc.

As the industry transitions to the new way of functioning, the role of the sales function is still not clear.


5. Pharma marketers lack practical digital marketing skills

Digital marketing has new marketing jargon, metrics, marketing mix, and channels that need to be learned. Marketers who are still in the very early stages of their learning curve can find digital marketing to be quite complex to understand and implement.
What is lacking today, are marketing professionals with experience in digital marketing to make good strategic decisions for their brands.

The pharmaceutical industry is still very dependent on their external marketing agencies to guide them through the various digital options.

The industry needs marketers with digital skills to match the current advanced needs.
As pharma becomes digital – there has been a rush to taking courses and certifications on digital marketing.
Will this help?
Well, the thing is, the courses would only give a brief overview of the areas in digital marketing. It is good to have knowledge. But it will take an in-depth study of the individual topics in digital marketing to be able to create result-oriented strategies.

And real learning can come, only through practical hands-on experience with various digital tools.


6. Meeting industry rules and regulations


Being one of the most highly-regulated industries, pharma will always have to maintain the highest ethical standards in all its communications.

In a way, the high regulatory policies and legal requirements have hindered pharma's ability to get creative and communicate with their customers.
The FDA is also very watchful on how pharma communicates its promotional messages.
In a piece of very recent pharma news,
Outlook Pharma got a warning letter for a Google ad that was termed misleading, by the FDA.
The regulatory challenges in the pharmaceutical industry have surely limited the ability to fully explore the newer digital channels.

But it is also a well-known fact, that today pharma cannot shy away from social media.

Even with all the regulatory concerns, pharma needs to educate themselves with the policies and make the most of the digital media to their advantage.


Pharma needs to wake up to the opportunity provided by social channels to educate and inform its audience and build a brand following.

Source: www.prweek.com

7. Bringing in a customer-centric organization model


It is often seen that a single pharmaceutical company will have a drug under different brand names each marketed by the different marketing divisions of the company.

So a doctor would be visited by multiple reps from the same company for that drug molecule – promoting different brand names or even targeting different indications.

All these were marketing tactics to get the most share of the doctors' prescriptions.

Today much is being discussed on the importance of moving from the product-centric to the customer-centric based approach in marketing.

All this becomes futile if the organizational structure at a higher level is not aligned to the customer-centric culture.

At a time when the pharma reps are virtually interacting with their doctors, pharma needs to be thoughtful about every interaction. Pharma needs to make a strategic choice on the products that are being promoted to its customer.


8. Pharma needs to move from Multichannel to Omnichannel customer engagement


During COVID-19 there has been an overload of information, which was not quite relevant to the doctors.
Customers' expectations have risen in the digital medium.
They expect content to be highly personalized to their specialty. They have also shown preferences on their choice of format and channels for delivering this content.
To provide some outstanding customer experiences,
pharma will have to integrate their offline and online communications more seamlessly.

This means measuring and analyzing the performance from one channel to customize the customer responses through intelligent use of analytics and measured insights.
So the key to success is to keep DIGITAL to the minimal.
That is, not to be present in all of the digital channels but to make a strategic decision by aligning with the customers' preferences and thereby choose only the best channels which would have the most engagement and highest ROI.


9. Pharma marketers need to invest in Content Marketing


Content marketing is something that pharma marketers need to take seriously. Marketers need to think beyond their brand and offer rich content experiences, which are crisp, to the point, and engaging.
There is much value in providing the right content, to the right customers, and through the right channels.

And that is not all. Presenting it in a format that is engaging is critical too!


Content is king in the digital world – there's no other substitute to it.

And it is not only about creating content in volumes – the pharma marketers need to spend much of their time in research to understand their customer needs at the different stages of their journey. And then chalk down a well- defined content strategy.

Marketers need to UP their content marketing game,
by incorporating SEO best practices and use 'storytelling' to better communicate and connect with their customers.

So the key is to first have a Content Strategy in place –
that will solve the customer's queries or problems at every step of their journey.
And then work towards providing compelling content, consistently.


10. Agility in making decisions

We all know the lengthy pharma regulatory and legal compliances that every content/campaign/message needs to go through.
But it is Speed that will drive the success of the pharma's digital transformation.

We also know that doctors have not been quite happy with the information provided by pharma during the COVID-19 pandemic.

They have been quite clear on their demand for quick and crisp information that can be readily available at the tip of their fingers – and that which is customized to their requirements.
So yes,
pharma marketers will need to speed up their lengthy approval processes to be able to respond rapidly to the current market needs appropriately.

Pharma would surely not want to miss the opportunity to be the first ones to serve their customers' informational and educational needs.
Agile marketing involves short-term planning and speedy execution cycles.
In the marketing context, it means using data and analytics to continuously guide promising opportunities or solutions to problems in real-time, deploying tests quickly, evaluating the results, and rapidly iterating.

Source: www.pharmavoice.com

11. Successful patient engagement strategies to improve health outcomes


COVID-19 has greatly impacted patient's treatment. Patients are scared to visit their doctor's office, many have cancelled their appointments, while some have considered to virtually interact with their physicians.
A pharma news report on a survey,
Consumers were scared to visit doctors office but comfortable to go to their local pharmacy

All this has raised concerns on patient adherence to their ongoing treatment and meeting their overall health goals.

There is surely a huge opportunity for successful patient engagement support programs from Pharma now, more than ever.

Pharma needs to step in as a trusted partner to support HCPs, to better treat their patients in the remote setting, to help keep track of the patient's therapies, and to manage their conditions during COVID-19.

Also educating the patients on their disease, dosage, treatment plans and information on savings program, and insurance coverage.


To summarize,
For Pharma to succeed in the digital world, it needs to overcome the following challenges to digital transformation:


List of 11 current challenges for marketing in the pharmaceutical industry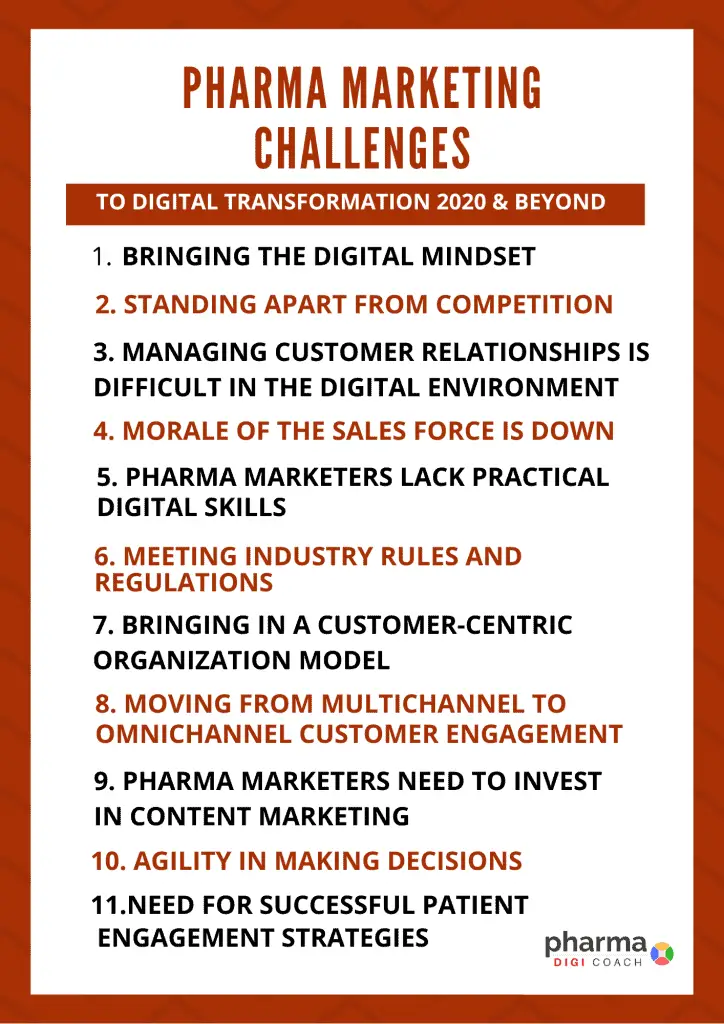 Over to you,
Please do share your thoughts in the comments section below.

RELATED ARTICLES ON PHARMACEUTICAL MARKETING


Pharmaceutical Marketing Challenges List
Current Pharmaceutical Marketing Challenges