Subscribe to get our Free emails on Tips, Trends & Best Practices for Pharma Marketing in the Now

Drug sales of Top 20 best-selling drugs and pharma insights from the world's largest selling pharmaceuticals in 2020

A drug that is able to generate at least one billion in sales annually is defined as a blockbuster drug. But the top 20 drugs, in our blockbuster drugs list, are worth many billions and some of them have even garnered more than $100 billion in lifetime sales.

If you landed on this page looking for drug sales for some of the biggest selling pharmaceuticals. You won't be disappointed because there is more to it.

We are about to take a deep dive into analyzing the Mega Blockbuster Drugs of 2020!

This article is an effort to understand the key Growth Drivers of the global pharmaceutical industry and forces driving the performances of the biggest blockbusters of 2020 –
that are shaping the current pharma industry.

We will be comparing these best-selling drugs across their rank positions, growth performances, disease areas, and contribution to company revenues.

You will get a good understanding of the dynamics behind the strategies devised by the big pharma to extend commercial exclusivity to maximize revenues
and the evergreen tactics adopted in the face of biosimilars/generic competition.
Most importantly for pharma marketers, interested to gain an intelligent understanding of the –Biggest blockbuster drugs of today, beyond its drug sales.

Top selling drugs of 2020: Quick overview
Global pharmaceutical market size 2020
The global pharmaceuticals market was valued at $1228.45 billion in 2020, having grown by approx. 0.93% over 2019, as per the Global Newswire report.

Drug sales of Top 20 drugs
(World's) Top-selling pharmaceutical brands and their companies
Rank
Brand
Drug

Pharmaceutical
Company
Therapy Area/ Drug Class
US Launch

2020 Worldwide
Drug Sales
(US $ billion)
List Price
1
Humira
Adalimumab
Abbvie
Rheumatic diseases/
TNF alfa inhibitors
2003
20.4
$6,240
2 kits
2
Keytruda
Pembrolizumab
Merck & Co.
Cancer chemotherapy/
Anti-PD-1 monoclonal antibodies
2015
14.4
$10,188.11
2 vials
3
Revlimid
Lenalidomide
Bristol Myers Squibb
Cancer chemotherapy/
Antineoplastic Agent

2005
12.2
$23,317 28 caps
4
Eliquis
Apixaban
BMS/Pfizer
Anticoagulant
for Heart Arrhythmias/
Factor Xa inhibitors
2013
9.2
$531
60 tabs

5
Imbruvica
Ibrutinib
Abbvie / J&J
Leukemia and Lymphoma / BTK inhibitors
2013
8.43
$13,546 28 pills
6
Eylea
Aflibercept
Regeneron / Bayer
Wet Macular Degeneration / Anti-angiogenic ophthalmic agents
2011
8.4
 $1,941
40mg/mL
7
Stelara
Ustekinumab
Janssen
Immunosuppressant/
Interleukin inhibitors
2009
7.9
$12,637
45mg/0.5 mL
8
Opdivo
Nivolumab
BMS

Cancer Chemotherapy/
Anti-PD-1 monoclonal antibodies
2015
7.9
$1,189
4 mL
9
Biktarvy
bictegravir, emtricitabine, tenofovir alafenamide combination
Gilead
HIV /
Antiviral combinations
2018
7.3
$3,306.82
30 tabs
10
Xarelto
Rivaroxaban
J&J/Bayer
Anticoagulant / Factor Xa inhibitors
2011

6.9
$486.81
30 tabs
11
Enbrel
Etanercept
Amgen
Antirheumatics/ TNF alfa inhibitors
1998
6.37
$6,240 
4 mL
12
Prevenar 13
Pneumococcal 13-valent Conjugate Vaccine 
Pfizer
Pneumococcal vaccine
2010
5.95
$200.00

13
Ibrance
Palbociclib
Pfizer
Breast Cancer
Chemotherapy/CDK 4/6 inhibitors
2015
5.39
$13,657 21 caps
14
Avastin
Bevacizumab
Roche
Cancer Chemotherapy/
VEGF/VEGFR inhibitors
2004
5.32
$842
4 mL
15
Trulicity
Dulaglutide
Eli Lilly
Diabetes / Incretin mimetics
2014
5.07
$734.81
16
Ocrevus
Ocrelizumab
Roche
 Multiple Sclerosis / CD20 monoclonal antibodies
2017
4.61
$17,789 10 mL
17
Rituxan
Rituximab
Roche/
Pharmstandard
Rheumatic Diseases,
Cancer Chemotherapy/
Antirheumatics, CD20 monoclonal antibodies
1998
4.52
$990
10 mL
18
Xtandi
Enzalutamide
Astellas Pharma, Pfizer
Prostate cancer / antiandrogens
2012
4.39
$12,825 120 caps
19
Tagrisso
Osimertinib
Astra Zeneca
Non-Small Cell Lung Cancer /  EGFR inhibitors
2015
4.33
$15,887 30 tabs
20
Remicade
Infliximab
J&J
Rheumatic Diseases/ antirheumatics
1998
4.195
$1,229
per vial
Table 1: World's top selling drugs; List of top selling drugs 2020; annual pharmaceutical drug sales; global drug sales, blockbuster drugs list
Sources for Price data: https://www.webmd.com/rx/drug-prices/, https://www.drugs.com/price-guide/, https://www.goodrx.com/, Source for drug sales data: https://www.fiercepharma.com/

Interesting facts about the top-selling pharmaceuticals of 2020

The total sales value of the best-selling drugs of 2020 was $153 billion, meaning the top 20 drugs have contributed to 12% of the global pharmaceuticals sales.

Big Pharma companies like Johnson & Johnson, Roche, Abbvie, Pfizer usually co-market some of the highest-selling drugs. This helps companies to share their marketing expertise, commercial resources and extend their geographical presence.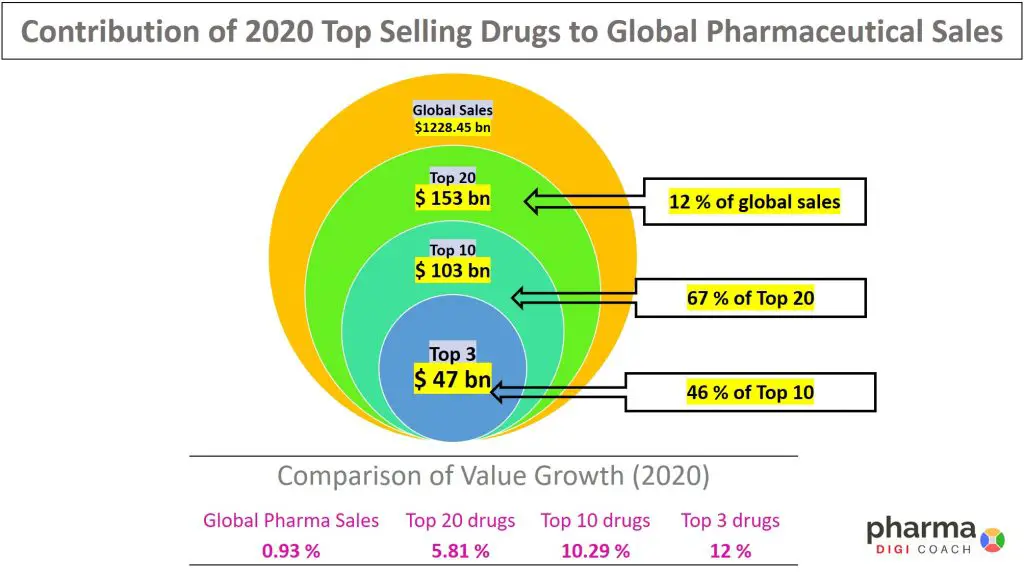 Did you know?

The top 10 drugs, contributed to 67% of the value ($103 bn) of the Top 20!

While the world's Top 3 brands had a total value of $47 bn, which was 46% of the Top 10 drugs.
The top-selling drugs continued to maintain a healthy growth rate, way above the pharmaceutical industry growth (of 0.93% ) in 2020.

Top-selling drugs from 2016 to 2020 and sales trend
Interactive Graph – Play to run the video, click on Highest and Lowest Tabs

Performance of the mega-blockbuster drugs of 2020

The race to the "top 3" position
Humira, Keytruda, and Revlimid were pharma's biggest blockbusters in 2020.
All 3 brands have remained consistent in their positions since 2019.
The Top 3 drugs contributed 46% to the total value of the Top 10's sales and
31% to the top 20 pharma drugs.

Humira sales 2020: Humira statistics
Humira is the world's best-selling medication and the number 1 selling drug in America.
Humira has been the world's best-selling pharmaceutical drug ever since 2012. With a global sales value of $20.4bn, it is equivalent to over (13%) of the top 20 drugs' total sales and 20% of the top 10 drugs' total sales.

AbbVie's strategy to build Humira into the world's bestselling medicine has been primarily by way of price hikes and aggressive patenting to earn commercial exclusivity. This has helped Humira to defend its top position, despite facing biosimilar erosion and sale loss in Europe since 2018.
"Of the best selling drugs in the U.S., Humira has the largest number of patent applications."

"Humira takes over the crown of the industry's most successful drug from Lipitor(atorvastatin)"
"From its launch in 2003 to the end of June 2020, Humira has achieved cumulative sales of US$165.8 billion.
This year, it took over the crown of the industry's most successful drug from Lipitor (atorvastatin).
Lipitor, the cholesterol-lowering drug had a total sales revenue of 160 billion U.S. dollars in 23 years of its launch."

– As reported in ECHEMI.com
Keytruda sales
Keytruda is the biggest selling cancer drug in the world and has given a remarkable sales growth of 30%, with the highest value gain of $3.2 bn.
Keytruda's peak sales and increasing sales gap: If you closely look at the above Chart No.2, giving a comparison of the Top 3 brands performance – Keytruda's year-on-year growth has been quite aggressive.

Keytruda came to the No. 2 position, by surpassing Revlimid in the year 2019.

While the difference in Revlimid ($11.12 bn) and Ketruda ($11.11 bn) sales were marginal in 2019, Keytruda has overtaken Revlimid by over $2 bn in 2020.

As Humira faces biosimilar erosion in the US from 2023, Keytruda would have overtaken Humira by a wide margin by then. (Industry estimates- Keytruda to surpass Humira's sales in 2024 )

Revlimid sales
Revlimid is the world's best-selling blood cancer med.
Much of the value growth of Revlimid, comes from the multiple price hikes. The drug now costs more than $800 per pill. Revlimid will be one of the earliest drugs in the best-sellers list to face generic competition (i.e., March 2022). Severe erosion of Revlimid's sales is expected thereafter.


Change in rankings of the top-selling drugs of 2020

Some of the top-selling drugs of 2020 have performed well, overtaking brands from last year that helped them improve their rankings. While few others have also lost value that caused a drop in their rankings. Let's have a close look at the movement of the blockbuster drugs of 2020.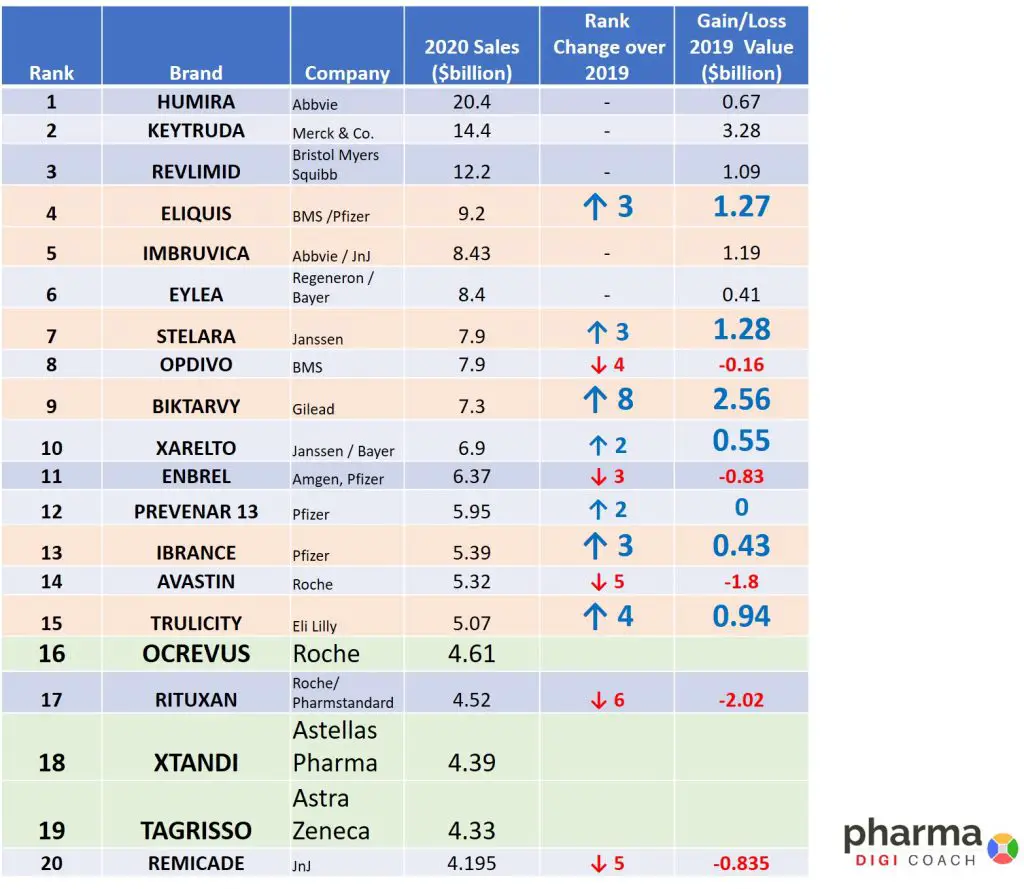 Major gainers in rank positions:
Eliquis, Biktravy, Trulicity, Ibrance, Stelara
2 brands entered the Top 10 drug list in 2020:
Biktarvy and Xarelto
3 new entrants in the Top 20 drug list of 2020:
Ocrevus, Xtandi and Tagrisso.
They have displaced three of 2019's brands – namely, Herceptin, Tecfidera, and Genvoya from their Top 20 positions.
Table 2
What helped these brands gain rank?

– Despite of the price slashes, Stelara increased its sales by 20% over 2019. Crohn's disease and Ulcerative Colitis (new indication approvals) helped in the strong uptake of Stelara.

– Gilead Sciences' Biktarvy, the three-drug combination novel HIV therapy, was an instant mega-blockbuster when it was launched in 2018. The drug stood to its merits, with the rise in prescriptions. Its sales grew by 54%, entering the top 10 drug list of 2020.

– Xarelto also entered into the Top 10 best-sellers of 2020. The growth of Xarelto was due to demand growth partially offset by higher rebates, as noted in the company's annual report. The company has also filed for a new Indication to expand use in patients with Peripheral Artery Disease.

– Being one of the first CDK4/6 inhibitors in the metastatic market, Ibrance from Pfizer continues to strongly dominate the CDK segment with about 87% of market share, as stated in the FiercePharma report.

– Trulicity wins, another FDA approval for reducing the risk of cardiovascular events in Type 2 diabetes patients with or without, established CV disease – this gave a boost to the brands' performance in 2020.

– The multiple sclerosis med, Ocrevus grew by about 22% over last year, to become the top brand in Roche's portfolio in 2020. Ocrevus sales growth was driven by both new and returning patients. With patients delaying their Ocrevus treatment, the pandemic did dampen some of its sales initially. The company responded, by developing a home-treatment program to bring the Ocrevus infusion directly to the patient. The agility in initiating this project in just over 2 months, helped in Ocrevus' sales revival.

– New drug approvals, helped Xtandi gain one of the Top 20 positions globally.

– Geographic expansion and new FDA endorsement for use in early lung cancer, helped drive Tagrisso's sales in 2020.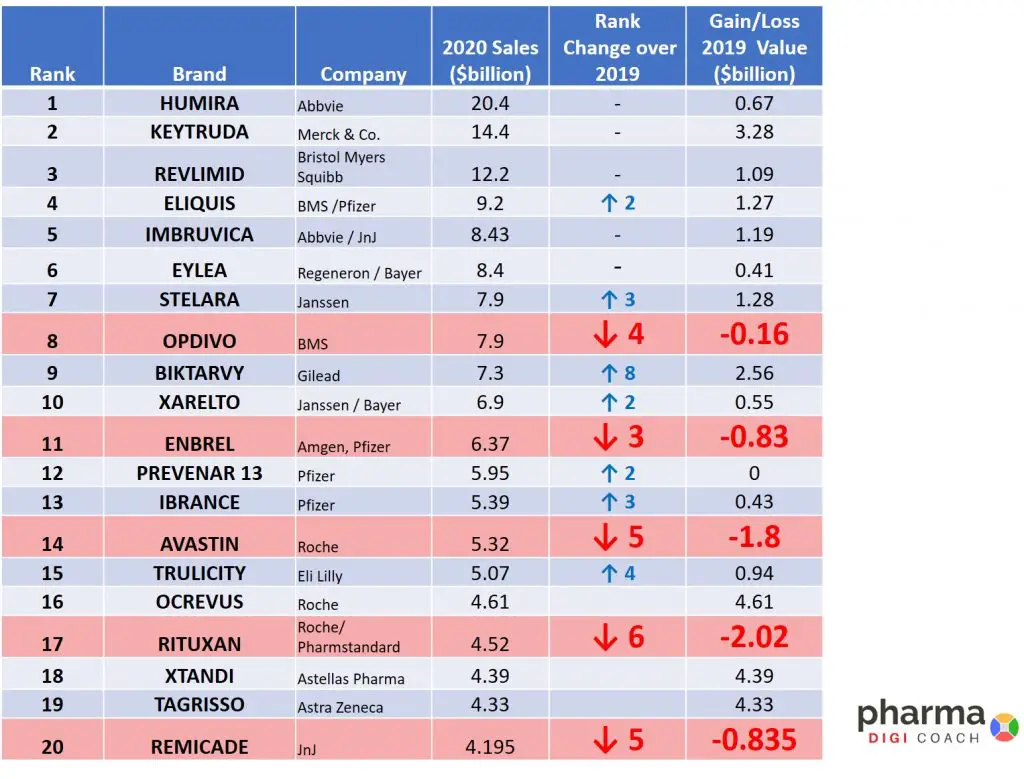 Major losers in rank positions:
Opdivo, Enbrel, Avastin, Rituxan, Remicade
2 brands lose their the Top 10 positions in 2020:
Enbrel and Avastin

Table 3
What caused these brands to lose their ranks?

– Opdivo, struggles to maintain its top rankings, as it is the closest rival to Keytruda. Vying for FDA approvals in newer indications, the 2 brands battle in the same space – with Keytruda gaining 29% and Opdivo losing 2% of its sales in the same period.

– The pandemic affected the rheumatic drug market and thus bringing down Enbrel sales in 2020.

– Each of Roche's brands, Avastin and Rituxan, have suffered massive sales losses, since the time of the entry of copycat versions of their drugs (biosimilars) in 2019 and 2020, respectively.

– Defending its market, J&J's Remicade manages to keep its final spot in the Top 20 drugs. The lower sales of Remicade were due to increased discounts/rebates and biosimilar competition. Remicade sales started to erode when the first US biosimilar version was launched by Pfizer in 2016. Both brands continue to aggressively compete by way of discounts and price cuts. The major reduction in sales for Remicade was more in the US market, than its international markets.
Top targeted therapeutic areas by best selling pharmaceuticals of 2020

Comparison of the number of bestsellers by therapy area and their therapeutic sales value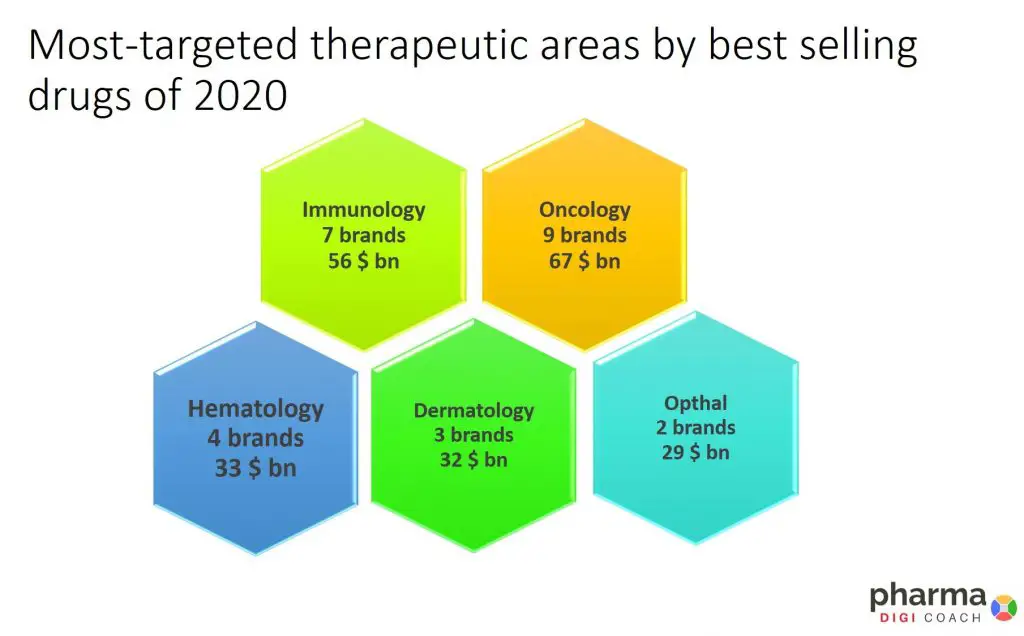 Oncology, Immunology, Hematology, Dermatology, and Ophthalmology are the Top 5 therapeutic areas for the worlds leading pharmaceutical drugs.
Nine of the 20 top drugs have their approved indications in breast cancer, prostate cancer, lung cancer, and various other types of cancers.

Which makes Oncology the most targeted therapeutic area (in value as well as brands) with 9 blockbuster drugs in the Top 20 list, with a total value of 67 $ bn.
The next most targeted therapeutic area is Immunology, which has 7 pharma blockbusters and is valued at 56 $ bn.

Author's note: One drug is indicated for multiple therapies – so an overlap of value may be noted.


Top disease areas of the blockbuster drugs of 2020

14 of the 20 world's bestsellers, were Oncology and immunology meds and were led by AbbVie's Humira, Merck's Keytruda, and Bristol Myers Squibb's Revlimid.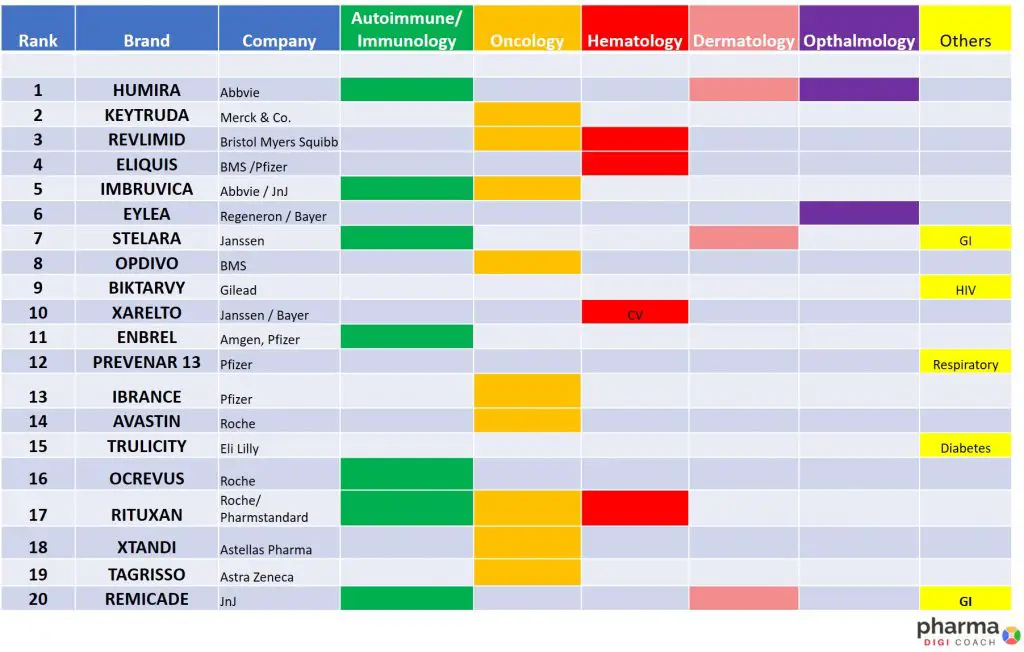 Based on the approved indications for these brands, an interesting observation is,
14 out of the 20 top-selling drugs had been approved for single therapy areas
while the six other brands, namely Humira, Revlimid, Imbruvica, Stelara, Rituxan, and Remicade cover broader disease conditions across multiple therapy areas.

Humira and Rituxan having the highest number of approved indications, with a range of diseases in the immunology and inflammation space, targeting various specialties.
Brands with single disease areas accounted for 62% (96$ bn) of the Top 20 drugs' sales value
while the brands that covered the multiple therapy areas accounted for 38% (57.64$ bn).

Comparison of 2020 growth figures of world's largest selling pharmaceuticals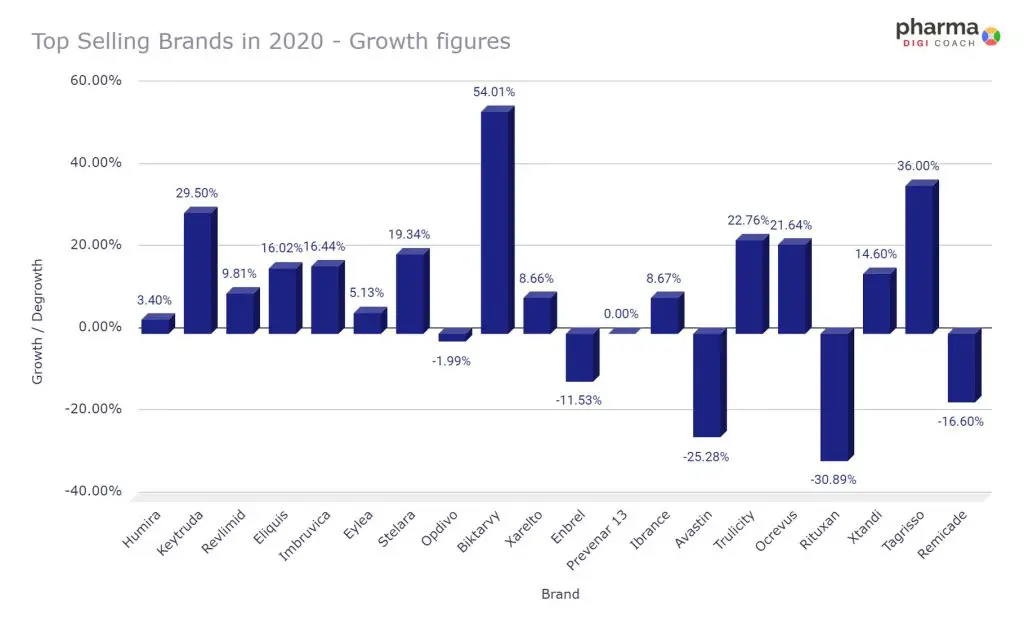 Comparison of Sales Growth of Top 20 drugs of 2020

Global Pharma Industry Sales Growth

Top 20 drugs

Top 10 drugs

Top 3 drugs

0.93%
5.8%
10.3%
12%
Table 5:
On average, the top 20 brands in 2020 have grown at an average rate of 5.8 %, over the last year.
>> Keytruda and Biktarvy with their aggressive growths have hugely contributed in terms of value to the Top 10's

>> 12 brands from the top 20 best-sellers have shown above growths, which was well above the average of 5.8%.

>>5 brands have shown negative growths (Opdivo, Enbrel, Avastin, Rituxan, Remicade).


Pharmaceutical companies with the most top-selling drugs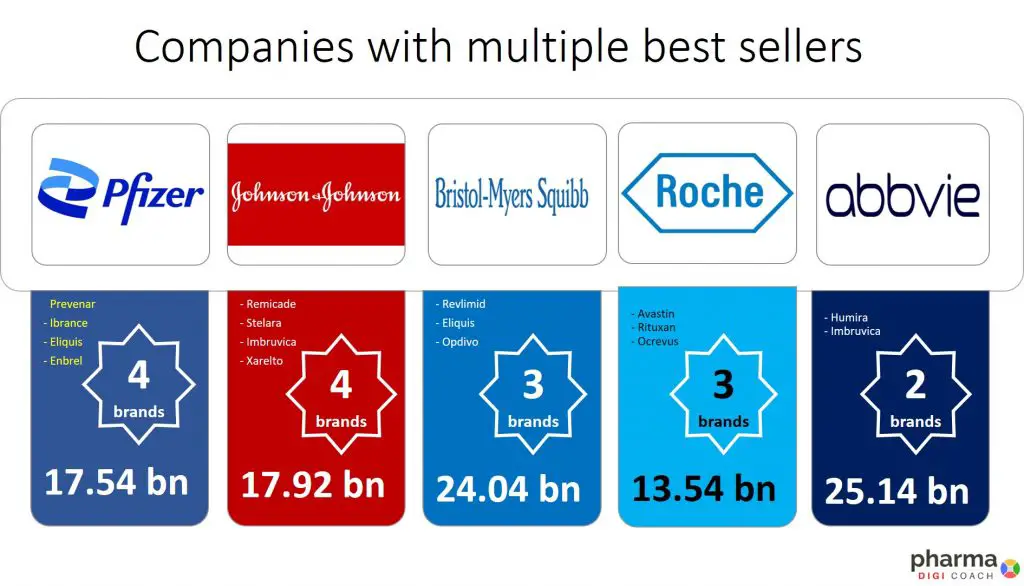 Pfizer and J&J have the most brands (4 brands) in the Top 20 selling drug list.
However, J&J and BMS lead with 3 brands in the Top 10 drug list.
AbbVie leads in terms of total company value ($ 25 bn) contribution,
followed closely by Bristol Myers Squibb ($24 bn)

Blockbuster drugs: Drug sales and contribution to company revenues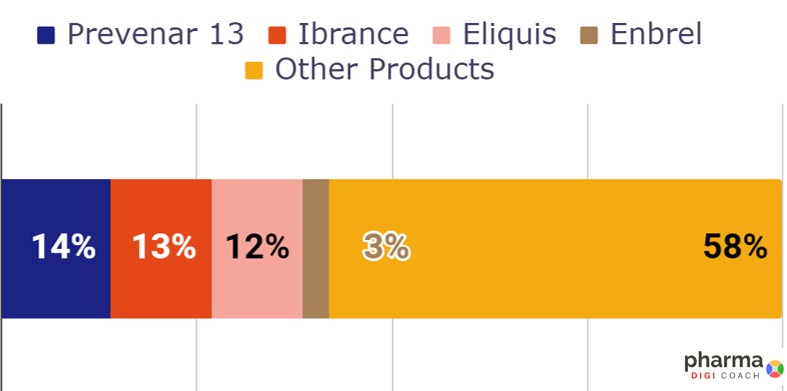 Pfizer top-selling drugs 2020
4 blockbuster brands of Pfizer: Prevenar 13, Ibrance, Eliquis, and Enbrel

These Pfizer's best-selling drugs contributed to 42% of the company's total revenue in 2020.

Pfizer has only one brand in the Top 10 list – Eliquis. (4th position)
Table 6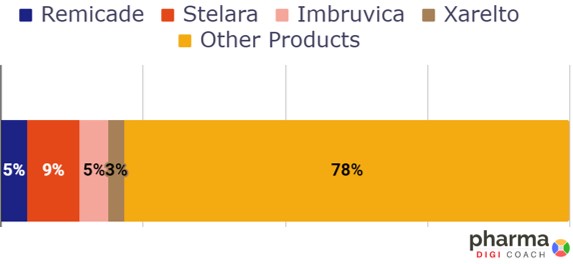 J&J top-selling drugs 2020
J&J's 4 best-selling drugs contributed to 22% of the company's total revenue in 2020.

J&J has three blockbuster drugs in the Top 10 best-sellers list — Imbruvica (5th position)*, Stelara (7th position), and Xarelto (10th position).


Remicade already has generic competition. While the other 3 brands will have biosimilar /generic erosion from the year 2023 – 2027 (More details on this below)
Table 7
*Imbruvica's revenues are shared by Abbvie and J & J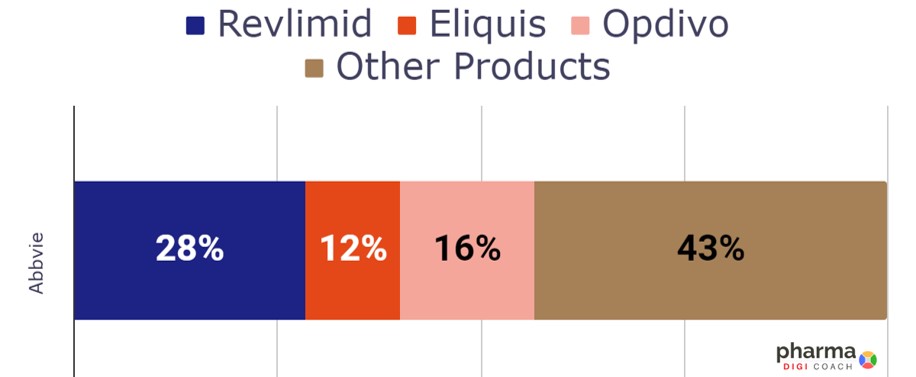 BMS top-selling drugs 2020
Bristol-Myers Squibb has 3 best-selling drugs, which contributed 56% to the company's 2020 revenue.

All these 3 blockbuster drugs are in the Top 10 list.
Revlimid (No.3 position) and Eliquis (No.4 position) are on a positive trajectory, while Opdivo (No.8 position) has shown a negative growth, with a drop in rankings over last year.

Biosimilar / generic competition for all the 3 pharma drugs is expected from the year 2022 to 2027. (More details on this are below)
Table 8
Roche top-selling drugs 2020
Avastin, Rituxan, and Ocrevus are Roche's blockbuster drugs.

These bestsellers contributed to about 22% of Roche's revenue in 2020.

Avastin and Rituxan already face competition from generics.
Table 9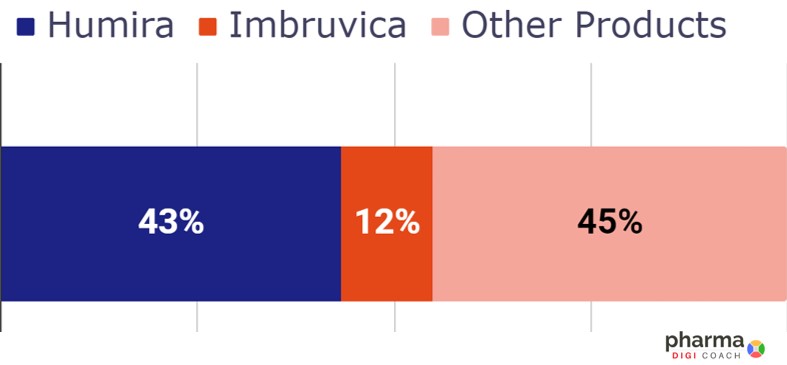 Abbvie top-selling drugs 2020
Humira is one of the largest revenue contributors (43%) to Abbvie's portfolio. This contribution has decreased over last year (58%).

As Humira nears its patent expiry in 2023, the company prepares to strengthen performance and contribution from Imbruvica and other products (45% in 2020 vs 28% in 2019).

Imbruvica, one of the most expensive of blood cancer meds, justifies its sales growth by winning many new FDA approvals with combination drugs. The most successful being the first chemotherapy-free combination approved as first-line treatment for patients with chronic lymphocytic leukemia (CLL) in 2020.
Table 10


What is the US Proportion of Global Sales of Top Drugs of 2020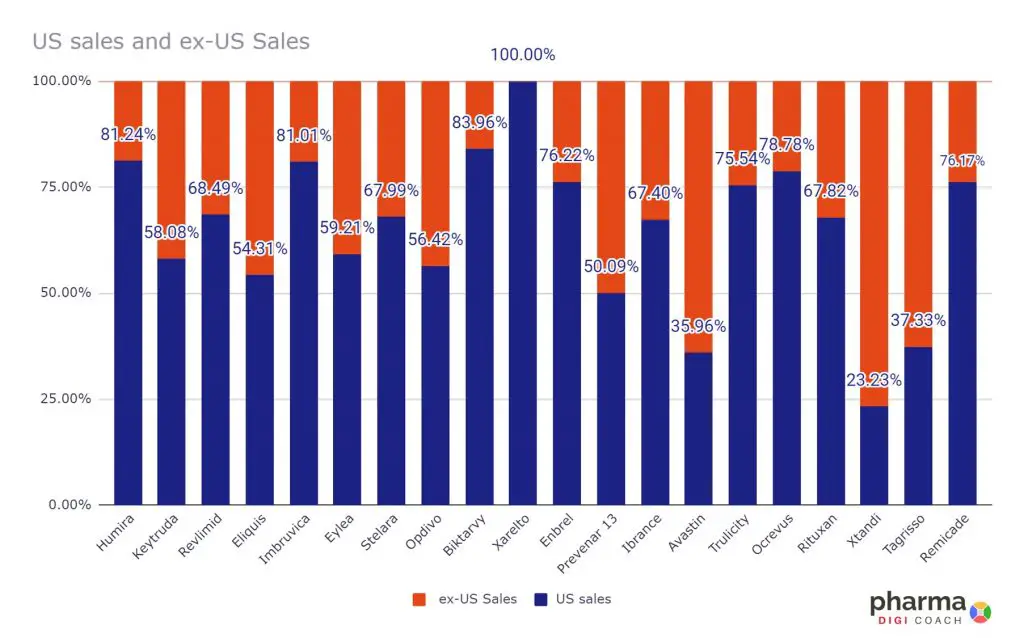 – US sales accounted for about 64% of global sales for the 20 highest-selling drugs in 2020.
– US remains the dominant contributor to the global sales for all the top drugs, except for Xtandi, Avastin, and Tagrisso.
Pharma industry trends

2 common strategies adopted by pharma to manage the life cycle (PLC) of their
innovator drugs are –
AGGRESSIVE APPROACH TO PATENT EXTENSIONS & STEADY DRUG PRICE INCREASES
1. Pharma patent strategy
To extend market exclusivity and gain as much during their protected term, pharma companies usually file patents for new indications – either as single drugs or in combination with other drugs.

The success of the biggest blockbuster drugs has been largely due to pharma's lifecycle management efforts, primarily through investment in clinical trials covering newer indications. Alternatively, the creation of novel formulations and administration routes, also has helped in adding years to the patent expiration dates.

The following table gives a good picture of pharma's patent strategy for some of the best selling drugs –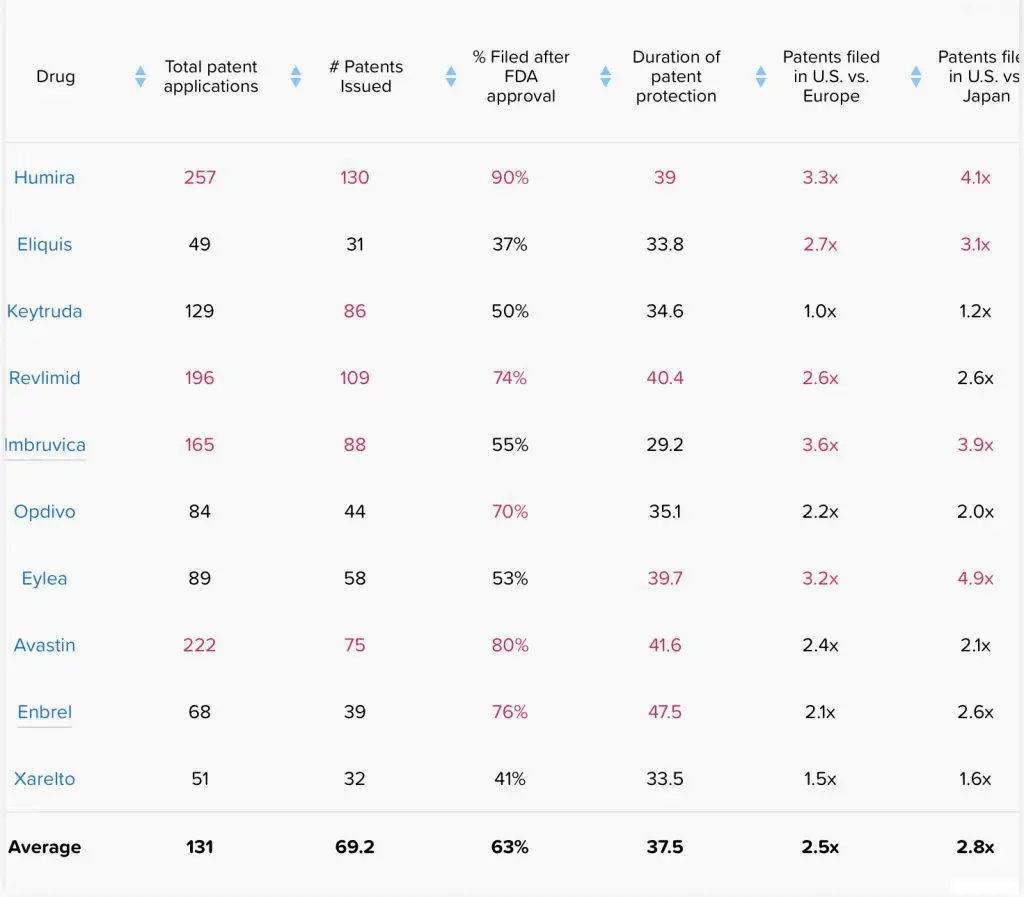 2. Drug price increases by best-sellers
Price hikes by the top-selling drugs during the period 2014 – 2019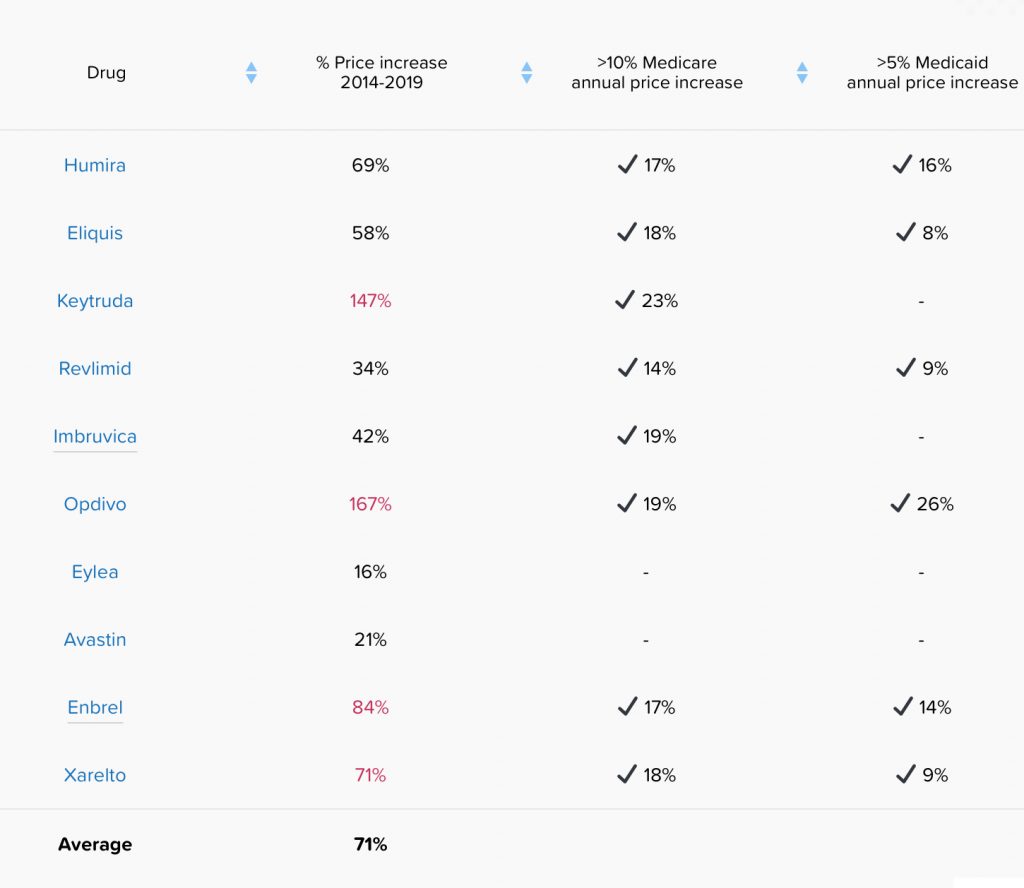 Loss of exclusivity (LOE) for top drugs and expected US biosimilars/generic threat
Most of the best-selling brands of 2020 will face biosimilar/generic competition in the next 8 years.

Amongst the Top 20 drugs, 3 brands (Rituxan, Avastin, and Remicade) already have biosimilars in the US market.

Revlimid will be one of the earliest brands from the above listed top drugs, to face generic competition – that is, in March 2022. BMS has settled an agreement with Dr. Reddy's Laboratories, to have a volume-limited launch of generics.

2023, will be a challenging year for the biggest blockbuster drugs – Humira, Eylea, and Stelara with a threat from generics/biosimilars versions and erosion in sales. Intense competition will drop market prices.

As Humira is expected to have a huge downfall in market share,
AbbVie, prepares to defend its dominance in the autoimmune/immunology space, by pushing efforts to build its other brands – Skyrizi and Rinvoq.
Evergreen tactics adopted by Big Pharma, to face the Biosimilars/Generics competition threat
To successfully protect market exclusivity, pharma companies are adopting tactics to delay biosimilar/generic competition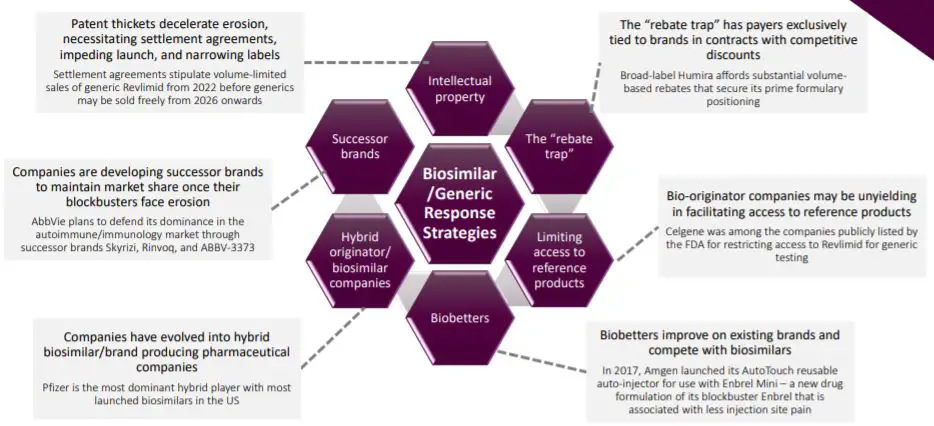 Blockbuster drugs 2021: Global sales forecasts for top drugs

Find more statistics at
Statista



References:
https://www.fiercepharma.com/special-report/top-20-drugs-by-2020-sales
https://pharmaintelligence.informa.com/~/media/informa-shop-window/pharma/2020/files/reports/top-10-best-selling-drugs-of-2019.pdf


Drugs Sales of Biggest Blockbusters in Pharma; World's largest selling pharmaceuticals; top drugs; Pharma's 20 best sellers and global drug sales in 2020


Biggest blockbuster drugs of 2020 : Drug sales and beyond