Subscribe to get our Free emails on Tips, Trends & Best Practices for Pharma Marketing in the Now


2020 Alzheimer's disease facts and figures
CNS therapeutic area: Alzheimer's market analysis and latest on Alzheimer's awareness campaigns that supports the markets' development

Alzheimer's disease is in the Central Nervous System (CNS) therapeutic area.
According to Grand View Research report,
The global CNS therapeutic market size was valued at 116.2 billion in 2020 and is expected to reach a value USD 205.0 billion by 2028, growing at compound annual growth rate (CAGR) of 7.4%.

In the year 2020, the neurodegenerative disease segment had the largest revenue share (39.4%) in the global CNS therapeutic market. Neurodegenerative disease segment includes disease areas like multiple sclerosis, Alzheimer's disease, and Parkinson's disease.
Alzheimer's and Parkinson's disease are going to be the two most important contributors to the growth of CNS therapeutic category in the coming years.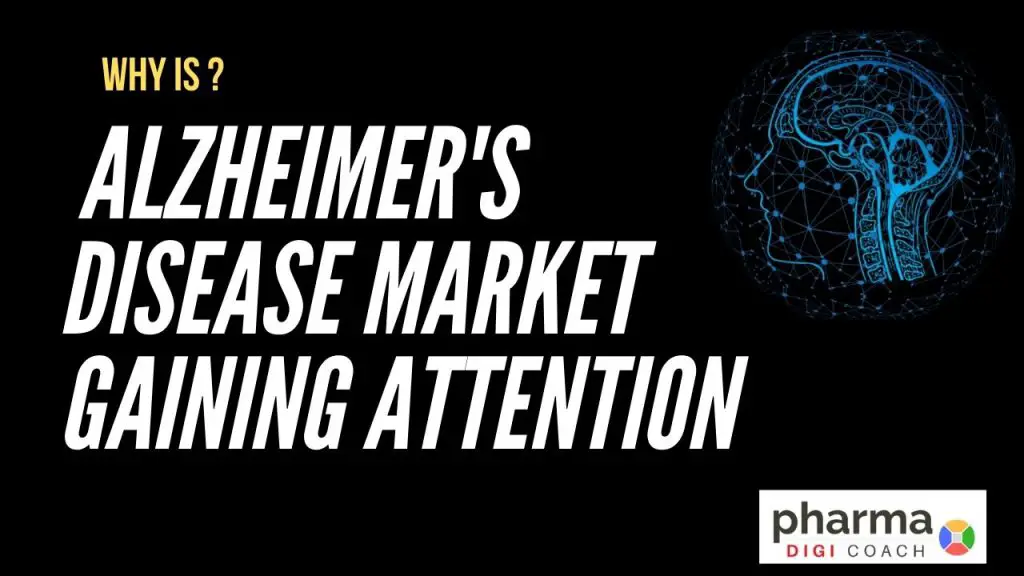 This post, provides a snapshot view on the current trends and happenings in the Alzheimer's disease market, also keeping a tap on the latest Alzheimer's awareness campaigns and marketing programs that are launched by pharma companies.
Interesting disease facts about Alzheimer's
1. 60–70% of people with dementia have Alzheimer's

2. From the year 2000 -2016, Deaths due to Alzheimer's disease increased by 139%, while deaths due to Heart disease decreased by 6% .

3. Alzheimer's is 6th leading cause of death in United States.

4. More women than men, are affected by Alzheimer's in US.

5. North America is the largest market for Alzheimer's.

6. Only 1 in 4 Alzheimer patients get diagnosed.

7. Till today, there No single test can accurately diagnose Alzheimer's disease.

8. To date, there has been no drug that has actually cured Alzheimer's.

9. All the drugs that were available, until 2021 – only addressed the symptoms of Alzheimer's disease – None addressed the root cause of Alzheimer's disease.

10. Researchers say, even one-year delay in Alzheimer's disease onset and progression would help in 9.2 million fewer cases by 2050.

11. Aducanumab, was the first drug approved for Alzheimer's disease since 2003. No drug was launched in the Alzheimer's category for 18 years !

12. Biogen's ADUHELM, launched in June 2021 will be the first drug for the treatment of Alzheimer's disease.

13. In 2021, there were 126 drug candidates in clinical trials for Alzheimer's, which is the highest-ever level.

2020 Alzheimer's disease Facts and Figures: Quick facts about Alzheimer's disease market
The following video will take you through the present FACTS on the Alzheimer's' disease market,
that are challenging as well as supporting the high level of pharma's confidence,
giving you reasons for the gaining momentum of Alzheimer's disease segment to dominance.

The topics covered in the above video are:
Alzheimer's statistics worldwide 2020: Facts and figures
>> Prevalence of Alzheimer's disease worldwide
>> Alzheimer's deaths per year
>> How many people have Alzheimer's in the US ?
>> Is Alzheimer's more common in males or females ?

Global Alzheimer's disease market size & market analysis
>> Top Alzheimer's pharmaceutical & biotech companies
>> Factors driving the Alzheimer's disease market growth

Understanding Alzheimer's Disease & current therapeutics
>> Alzheimer's disease diagnosis and the challenge
>> Alzheimer's treatment


Alzheimer's treatment: unmet need gap
>> Alzheimer's cure breakthrough in 2021
>> New Alzheimer's treatment – Biogen's Aduhelm



The future of Alzheimer's Disease Treatment Market
>> Alzheimer's advances: New Alzheimer's drugs in pipeline
>> Alzheimer's companies: Biotech / pharma drug companies working on Alzheimer's disease




Latest on Alzheimer's Disease State Awareness Campaign
How to raise awareness for Alzheimer's disease :
The example of Biogen's Alzheimer's disease state Awareness Campaign from prelaunch to launch of its Alzheimer drug, Aduhelm
Pre launch activities

by Biogen and Japanese partner Eisai pharmaceuticals

>> Read on, how the company readied the market for the launch of its brand, Aduhelm – creating an audience for one of the biggest product launches in its category.
Grassroots Marketing campaign by Biogen and Alzheimer's Association on a FDA-approved drug, Aducanumab

>> The company in partnership with CVS pharmacy also had a brain health program on Alzheimer's disease education and the importance of early diagnosis.

>> Biogen also had a video on its Twitter post, which had a journalist talk about his Alzheimer's symptoms. You can watch the video below:
Happy #FathersDay to all fathers and father figures. You are heroes to so many, just as Greg is to his son, Conor. We thank you for all that you do. pic.twitter.com/L9NS2qFRf7

— Biogen (@biogen) June 20, 2021



New product launch

of Alzheimer drug, Aduhelm

Lets look into some of the prominent launch campaign by the pharma major, that was supported by Alzheimer's awareness activities.

>> The company had full page Alzheimer's post ad on The New York Times. This was a paid post, meaning the content was paid for by Biogen and created by marketing team of The New York Times.

'Its time we know', campaign is pushing people to consider themselves screened for early Alzheimer's symptoms or mild cognitive impairment. 

The New York times Alzheimer's When Memory Fades advertisement started with the story of the couple, Jim and Jane, dealing with mild cognitive impairment.
The Aduhelm advertising cascade. First I've seen. Back of the NYT mag, leads to a bit of sponsored content. Not about the drug, but about signs of/encouraging screening for mild cognitive impairment. Will be curious to see if that's most of what they do. $BIIB pic.twitter.com/EVBsfk9M2O

— Max Nisen (@MaxNisen) July 17, 2021
Much emphasis of this campaign ad is on early screening of Mild Cognitive Impairment (MCI), for which the Alzheimer awareness advertising stated-

There is a prompt for people to take action which takes the reader to the Biogen and Eisai pharma's Alzheimer's campaign website – Its time we know, wherein people are encouraged to take the symptoms quiz and a tool to find a local neurologist to screen them for Alzheimer's disease.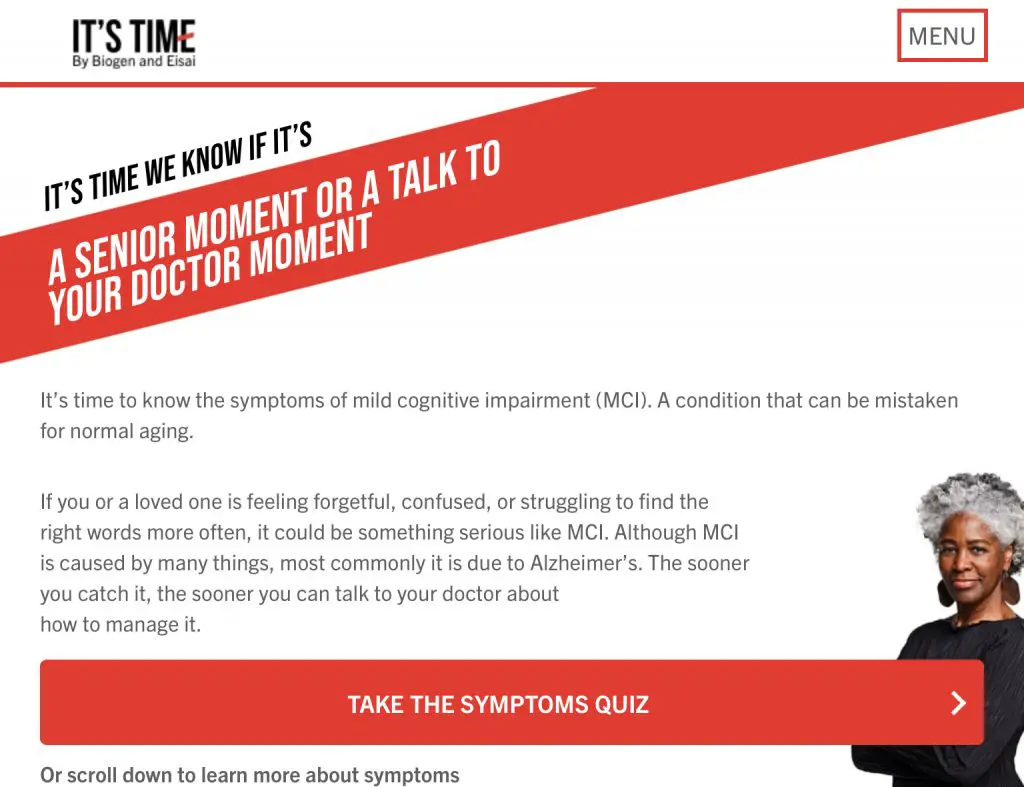 Aduhelm, has been into controversy from the time it was launched. First, for getting an approval for a broad group of Alzheimer's patients and secondly for the exorbitant drug prices. Its marketing campaign has also been lured into a lot of criticism from experts, which you can read over here.

This is the beginning series on an
overview of some of the trending disease markets
in the different pharmaceutical therapeutic areas.
Is there any specific disease market that you would be interested in?
Please share in the comments section below.

Alzheimer's worldwide statistics, 2020 Alzheimer's disease facts and figures; Alzheimer's disease market analysis, latest Alzheimer's disease state awareness and marketing campaigns; interesting facts about Alzheimer's disease
Facts and figures about Alzheimer's disease market and evolving trends