Subscribe to get our Free emails on Tips, Trends & Best Practices for Pharma Marketing in the Now
6 trending categories with useful resources for Content Marketing Development of healthcare brands
In the first part of the article, we focused on understanding the mood, behavior, and needs of the consumer and tried to get insights and some good ideas for developing a content marketing strategy for pharma and healthcare brands.

In this section, we will look into the specific content marketing categories that are much in demand and see how healthcare marketers can serve their communities by being empathetic, supportive, educative as well as resourceful.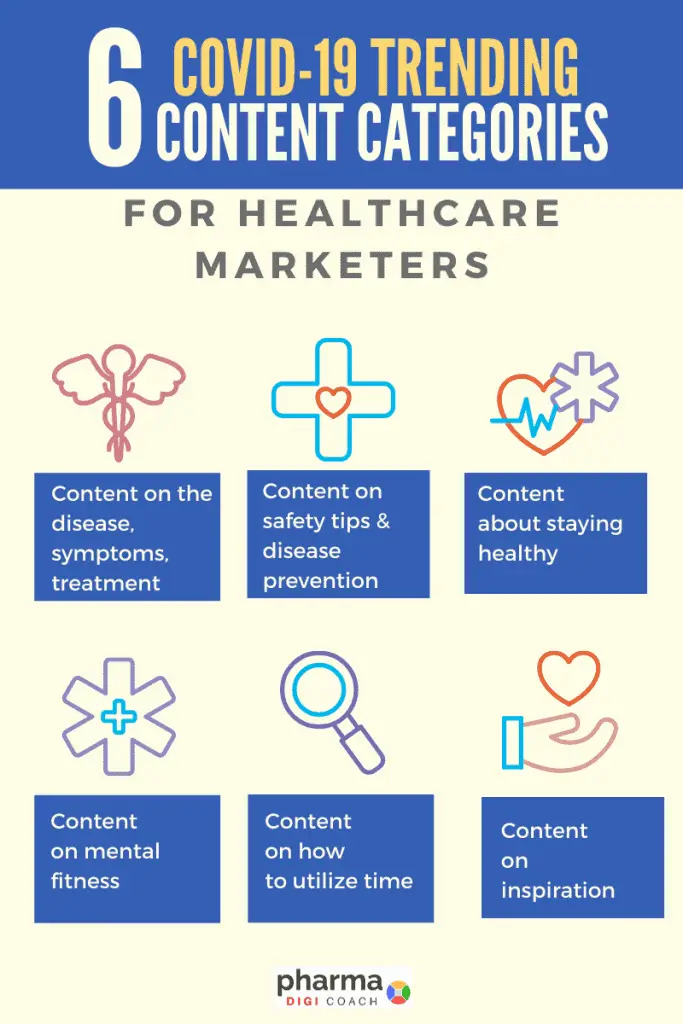 COVID-19 Trending Content Categories for Healthcare brands
---
Trend No.1
Content around the disease, its symptoms, and treatment
This is going to be a highly important topic if you are considering content marketing of healthcare brands. But you may think this is one area that must have reached saturation. The fact of the matter is, it all depends on the crisis phase and how far the disease has progressed in the region. 
The search around the disease area is evolving, every day. So there is still the opportunity for finding gaps in developing your content.

Search for new symptoms of the disease is picking up now (like skin rashes, loss of taste, loss of smell). The readers also want to know the developments in the treatment front (studies on vaccines, new drugs, re-purposed medicines)
Who is the audience?
You can create more relevant content when you can define your audience. Because each group of the audience will have very different content needs around the disease.
High-risk patients would be one group. But there are others like a pregnant lady or a mother of a small child who will be looking for some very different kind of information.
High-risk patients
People with immunocompromised conditions and those in the high-risk segments with pre-existent conditions like heart disease, diabetes, or cancer need to be communicated about issues specific to their condition.
Caregivers would also want to know about special precautionary measures to be followed. And with treatment being disrupted, patients will want some kind of support and advice.
It makes more sense to segment your audience and then have content for them.

To give you an idea, the different groups can be –
Seniors and other high-risk patients, moms, families of the essential workers, the young adults, the healthcare providers, etc.
Some trending topics:
Should parents take their children who are due for vaccines right now?
How can I care for a family member with the coronavirus disease at home?
How do I stay safe when going for my regular medical appointments?
I am an essential worker, how do I keep my family safe?
Information from trusted sources
Given the 'infodemic' of misinformation and false claims, there is a strong need for more authentic information.
Read: Public Good Projects helping brand communicators with real-time, reliable COVID-19 information
Following are some credible resources to guide, in your content creation
1. WHO has built quite a comprehensive and updated list of some commonly asked questions.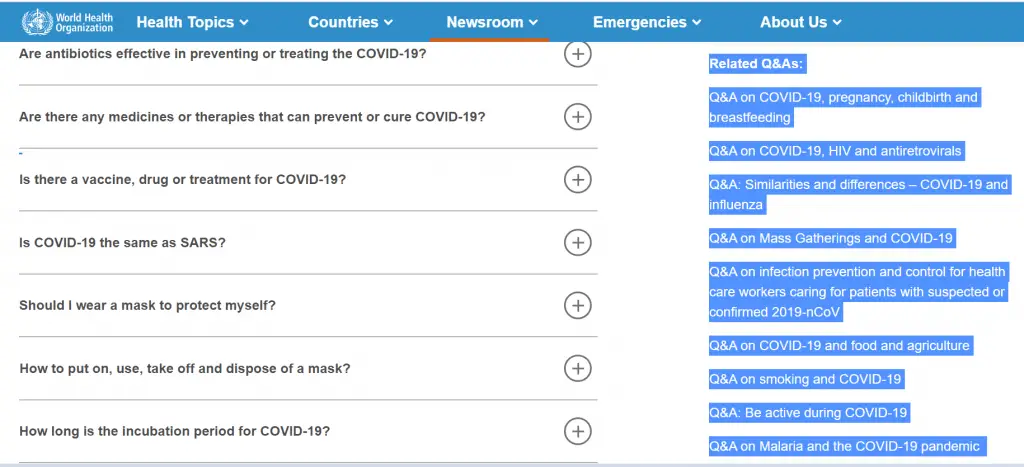 2. WHO's Advice for the Public resources include myth-busters with downloadable graphics, educational videos, and advice on the use of masks and other sections. These materials are regularly updated based on new scientific findings as the epidemic evolves.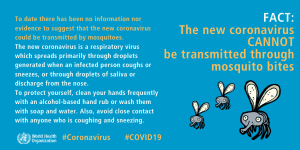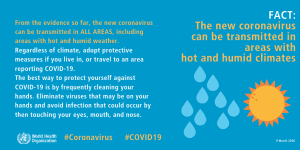 ---
---
---
Check out Mucinex's creative Spread Facts, Not Fear campaign in response to
COVID-19. Click here
3. Also, have a look at some of the trending topics for physician's on Medscape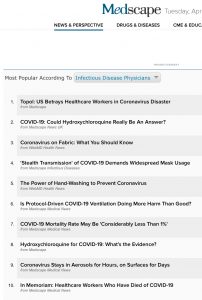 4. CDC's, COVID-19 related education and guidance are quite up-to-date and very informative. A video on Answering 20 questions about COVID-19, is quite recent.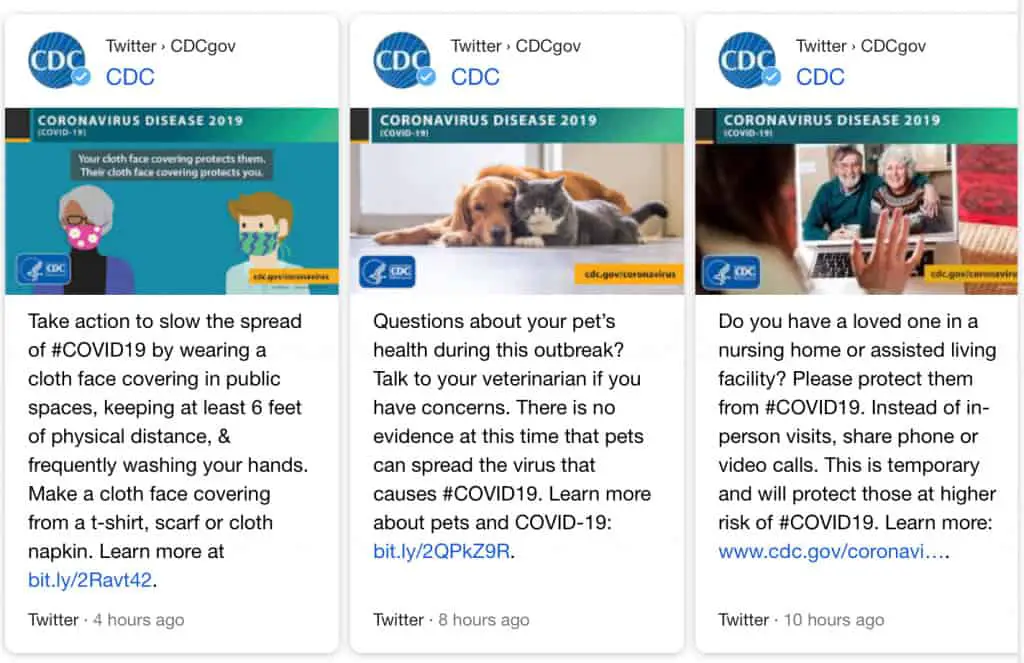 Trend No.2
Content about safety tips and disease prevention
With the everyday growing numbers of the pandemic, people want to protect themselves and are trying to know of ways to keep themselves safe. Right from making fabric face masks, knowing how to clean groceries, shop safely, and handle the postal mails and packages. 
Anything and almost everything where they have to deal with the world outside of their homes, they are looking for safety tips.
Read: WHO latest Advice to the Public: When and how to use masks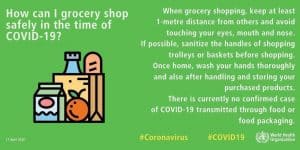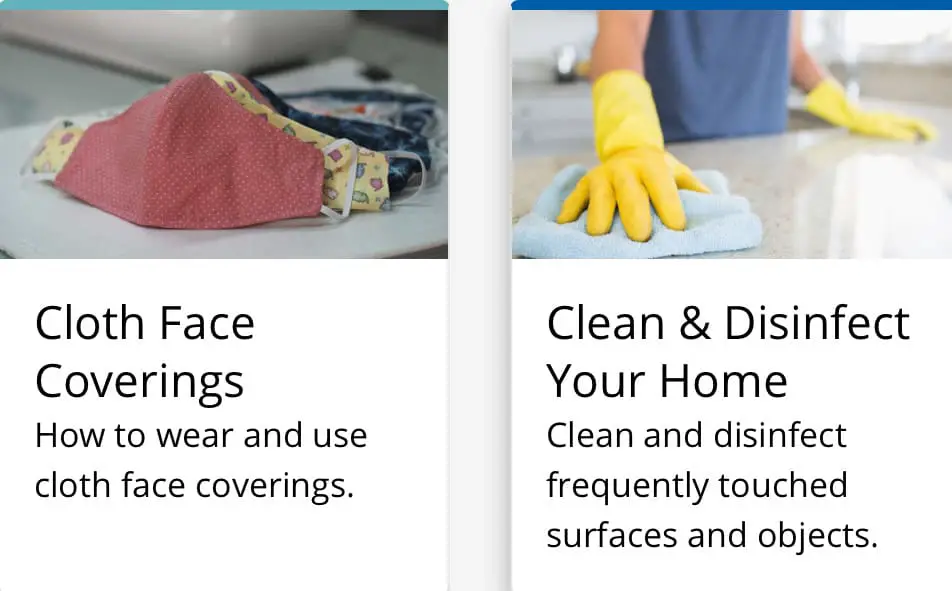 –
–
–
–
–
Trend No.3
Content about staying healthy
People are confined to their homes but they know the importance of good health during these intimidating times. From having a highly nutritional diet and staying fit at home to following better sleep habits.

Some trending topics:
Ways to strengthen the immune system?
How to sleep well during the coronavirus pandemic?
How to cook healthy meals?
Other topics – Indoor workouts and online yoga
Trend No. 4
Content on mental fitness
Social distancing, quarantine, and isolation have forced people to manage quite a lot. They need to work from home, engage their kids, cook healthy meals. Many have lost their jobs. There is a lot of uncertainty. Stress, anxiety, fear-related issues are taking a toll on mental health.
Stress and anxiety can be exacerbated by too much media.
The lockdown has resulted in more usage of the mobile, online games, mobile apps, and also time spent watching TV – all resulting in increased screen time.
People need to be informed about being mindful of how screen time can affect them. Studies have shown that increased screen time can lead to obesity, eye strain, and even depression.
And it is not only the adults, children too have taken up to increased screen time, playing games, watching Youtube videos and spending time on various apps. And all this can negatively impact their developing brains.
A recent article in Lancet reports,
Prolonged school closure and home confinement during a disease outbreak can have negative effects on children's physical and mental health.

Evidence suggests that when children are out of school, they are physically less active, have much longer screen time, irregular sleep patterns, and less favorable diets, resulting in weight gain and a loss of cardiorespiratory fitness.

Such negative effects on health are likely to be much worse when children are confined to their homes without outdoor activities and interaction with same-aged friends during the outbreak.
Some trending topics:
Will life ever go back to normal?
When will the coronavirus be over?
How to keep kids busy during quarantine?
Managing stress and anxiety during coronavirus pandemic
How do I cope with loneliness during quarantine?
Other topics – Stress eating, vivid dreams during the pandemic, brain workout challenge, mental health tips, mindfulness, and meditation
Lack of control over the current situation can fuel stress.
The key is to provide people with honest, trustworthy, and accurate information on all fronts.
Think: Is there some way, we could help people to cope with their new life better?
Trend No.5
Content on how to utilize time
People want to escape from the constant hourly news updates on coronavirus.
They are looking for ways to spend their time – ready to learn a new skill, advance their knowledge, or entertain themselves
Did you know?
The phrase 'I am bored' (in Spanish) hit a record high in search results.
This may indicate that people who have lost their jobs or those at home unable to socialize, want to know what they can do with their free time.
Some trending topics:
Books to read during quarantine, e-learning or online courses, things to do at home, coronavirus memes, movies to watch
Trend No.6
Content around inspiration
People now are more than willing to help and support others by making a donation, giving blood, or providing food for healthcare providers.
They also have this deep sense of gratitude and appreciation for the healthcare providers, nurses and doctors, pharmacists, and all the others on the front lines, despite the COVID-19 crisis.
Read more: About Pfizer and Merck's campaign "Thank you helpers"
Some trending topics:
How to help others during coronavirus?
Thank you, coronavirus helpers – video?
When will the coronavirus end, things to do after quarantine?
Other topics – Free food for healthcare workers
Help build resilience
When the crisis is over, resuming normal lives would become difficult especially for those affected by the coronavirus.
Because of the social stigma associated with coronavirus, interpersonal relationships would create emotional anxieties and sleep disturbances for the once wanting to socialize.
Making the community resilient, knowing the facts, and clarifying doubts will be needed at this phase of recovery.
Messaging would be to build confidence, being kind, and help people cope with the social stigma. Check out CDC's article on reducing stigma.
When the world opens up again, people will want to go out and meet their friends or travel.
Think: Is there something that they need to be cautious about? Or is there a way you can build on their optimism?
Read: People want to hear about something else, as COVID-19 information fatigue sets in
In summary, when developing the content marketing for your healthcare brands,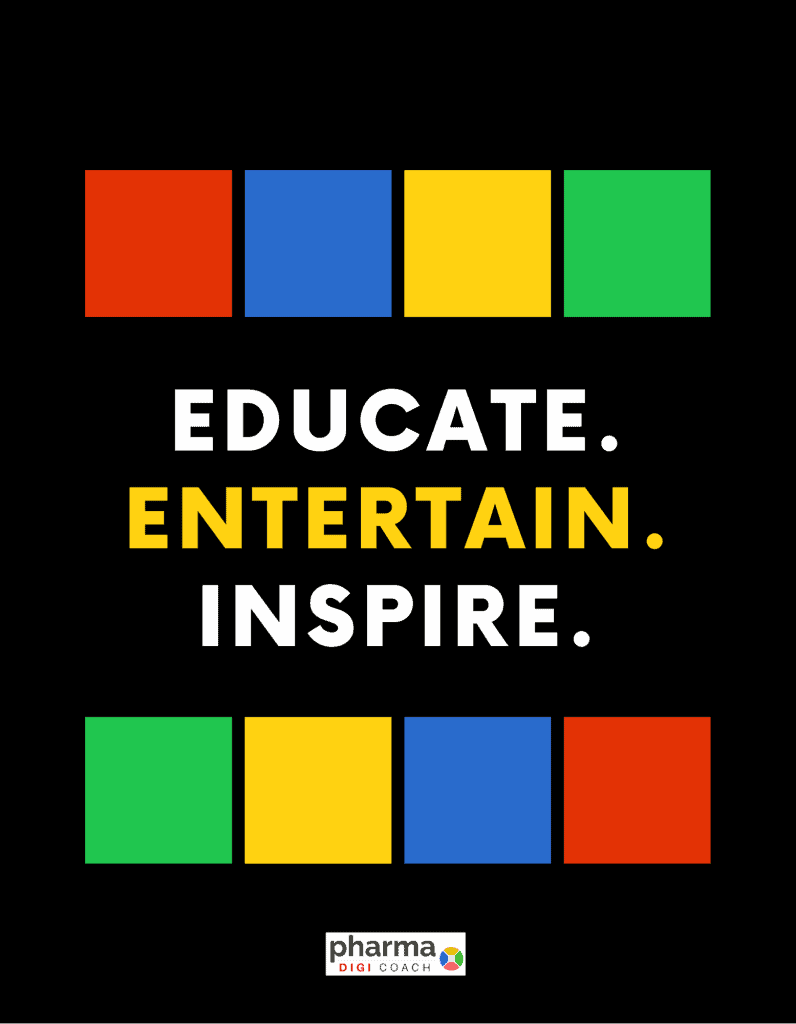 Select a topic that can resonate with your audience and add value. For this, your content will need to either…
>>>
---
Related Articles on Pharma Marketing during COVID-19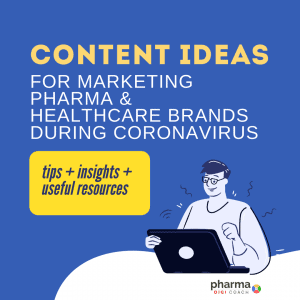 Have you read? Part-1: Content ideas for Marketing Pharma and
Healthcare brands during
the novel coronavirus
(COVID-19)
---
Other COVID-19 related articles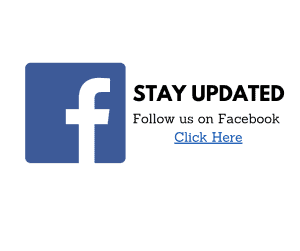 Content Marketing Ideas for Healthcare brands during the novel coronavirus (COVID-19) – Part 2
Content Marketing Ideas for Healthcare brands during the novel coronavirus (COVID-19) – Part 2