Subscribe to get our Free emails on Tips, Trends & Best Practices for Pharma Marketing in the Now


---
COVID-19 and its effect on physician-engagement that pharma needs to know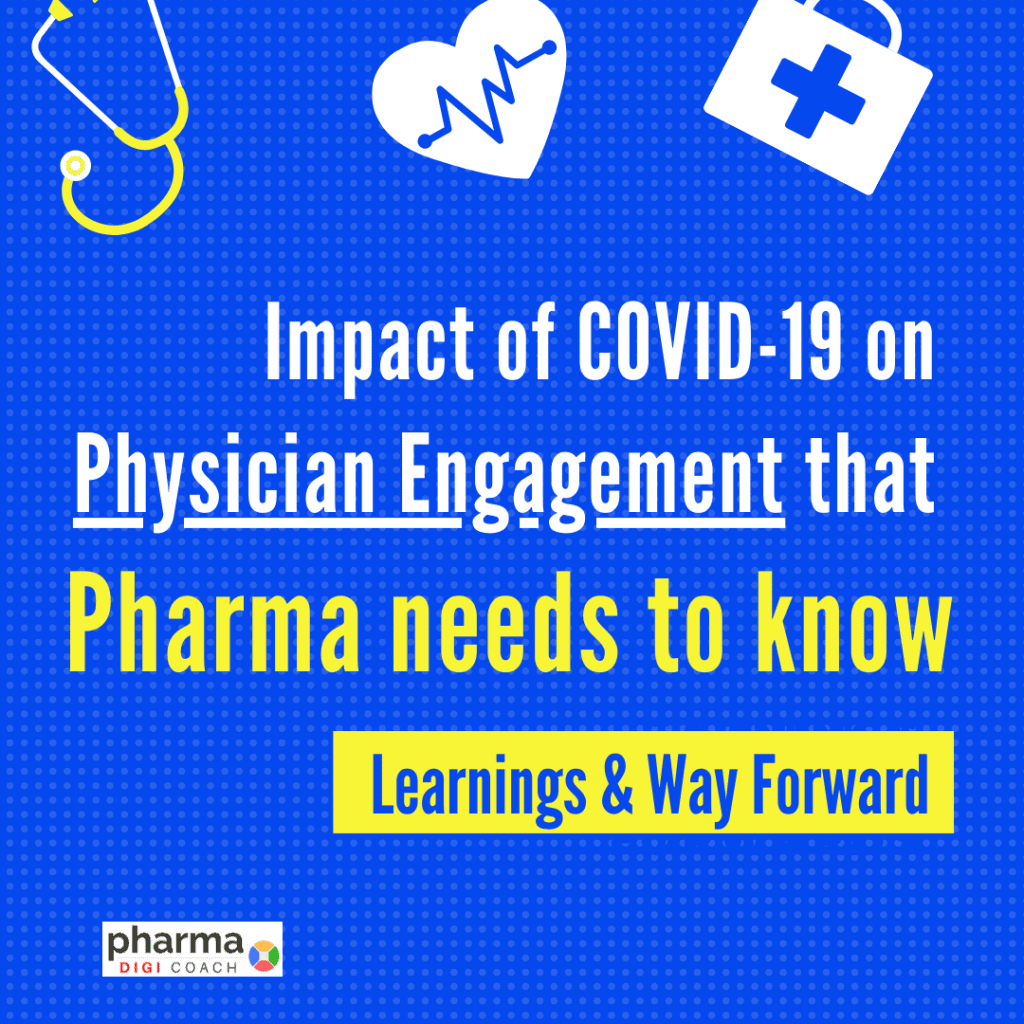 With 75-90 days into the COVID-19 crisis, isn't it surprising how we have kept our lives running despite the odds. Big changes that have come in because of the pandemic could never have been thought of otherwise.

Adapting to the new situation hasn't been easy, but it was made possible because of the collective efforts and the technological advancements of our times.

Though it has been a period of much learning and experimenting. The speed of adapting to the digital transformation at all fronts has pushed us 7-8 years into the future!
This article will take a close look at all the changes that have disrupted the traditional way of pharma marketing and engagement with two important customers for pharma – i.e., physicians and patients.
We will answer some very important questions,
How has been the journey so far?

What trends have picked up and what are the new customer behaviors?

How are our customers engaging, what is worrying them at this point?

What does the doctor want from pharma?

What is stressing them?

What has worked and the future of pharma marketing to doctors
Most importantly taking these observations as learnings, finding gaps to improve on as we chart out the way forward – for the 'new normal' as they say.
The insights and observations have been gathered from multiple data sources and surveys that have been carried in this interim period. Even though the geographical location may not pertain to yours, but…
I do hope the essence of these findings will be of value to the pharma executives who are part of The Big Pharma Transformation which has already taken its roots!
How has been the sales for pharma?
In the initial phase of the crisis, prescriptions remained unaffected and the sales had risen. While these figures could come as a relief, these temporary gains in select therapeutic categories were more from stockpiling and doctors giving Rxs for longer supplies to their patients.
Going forward, it is the newer brands that will be more affected, than the mature well-established, and time-tested brands in the market. Reasons being, social distancing has disrupted the traditional way of medical product marketing for creating awareness of these new brands. That is, through the customary in-office reminder calls by the sales reps to doctors.
What has come shockingly to the physicians?
The reduction in patient volumes has been significant. The physician-reported impact of COVID-19 on patient volumes by Sermo was to the tune of 80% 1
In a large study by Strata Decision Technology, patient visits declined by an average of 54.5%  across all specialties2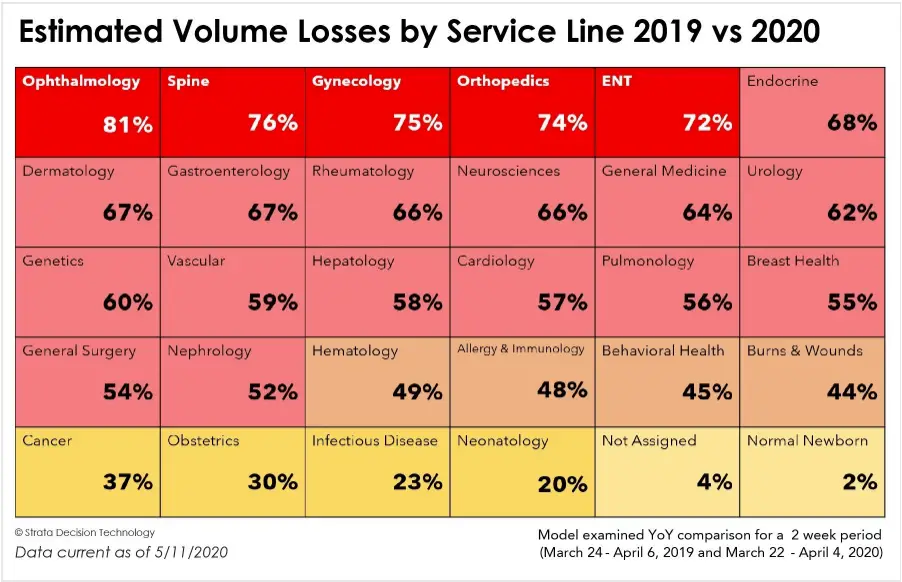 The worst affected among them have been Opthalmology, which lost the most patient volumes to COVID-19 than any other specialty.
While looking into some of the more chronic segments, oncology had less of an impact than cardiology or dermatology.
These reductions in select specialties correlate very well, with the general perception of urgency and severity of the disease. And these trends are expected to accelerate even further, as the crisis progresses.
A large proportion of these patient volume reductions have come largely from new-patient interactions than the existing patients, as reported Mckinsey.
Which means, Pharma needs to be prepared for fewer new prescriptions in the future1
Changing prescriber behavior
The AbelsonTaylor survey, on "Understanding Physician Engagements in a COVID-19 Impacted World" has revealed some interesting findings3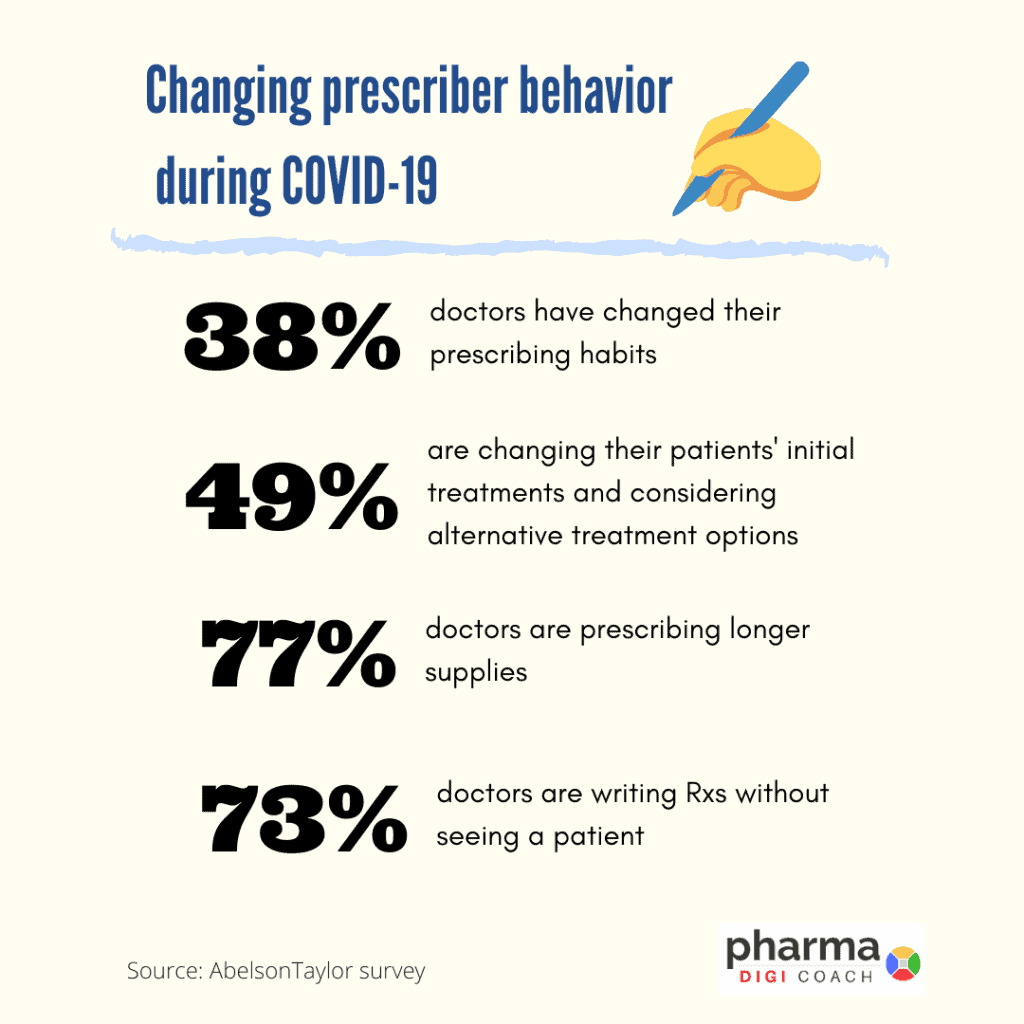 The main reasons for changing the treatment plans could be the following:

1. Doctors do not want to negatively alter the patients' immunity given the COVID-19 and therefore avoid prescribing steroids or NSAIDs which have the classic immuno-suppressant properties.

The survey reported a 31% drop in NSAID prescriptions and 29% for steroids.

2. For this reason, doctors are most likely to alter the meds for patients with autoimmune conditions.

3. There could be problems with accessing the medication due to COVID-19 supply disruptions.

4. Doctors want to stay away from writing a medication where frequent and close patient monitoring is required.

5. The doctors are hesitant to initiate any new therapy/drug category that already has a high-risk profile (high side effects).
An example could be that of an antidepressant drug, where violent behavior, suicidal urges have always been much of a concern.
How are physicians communicating?
With their patients
As per the AbelsonTaylor survey findings,4
There has been a significant increase in the use of video chats (159%) and telemedicine services (106%) over the last year. Relaxed government policies on telehealth during the pandemic is one of the primary reasons for an upsurge in their usage.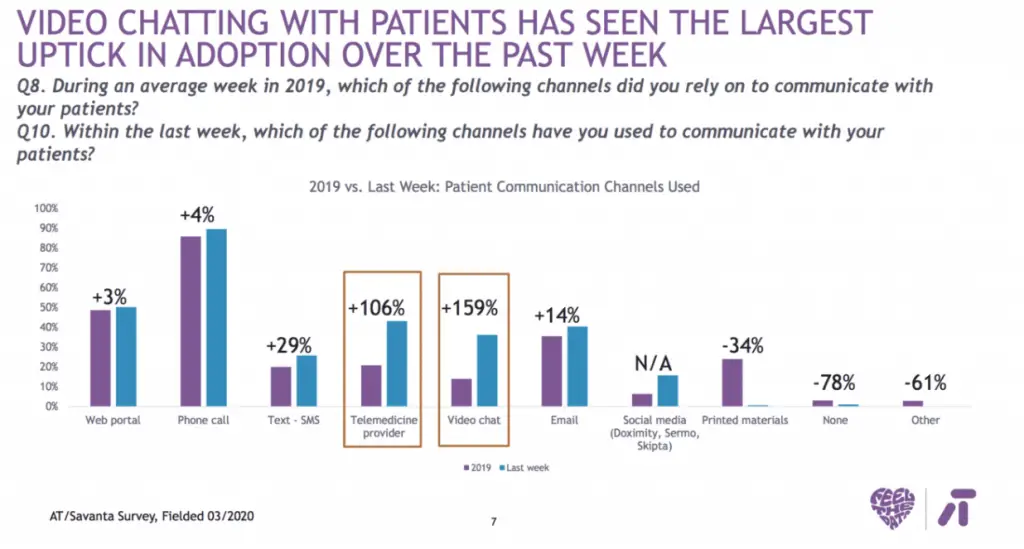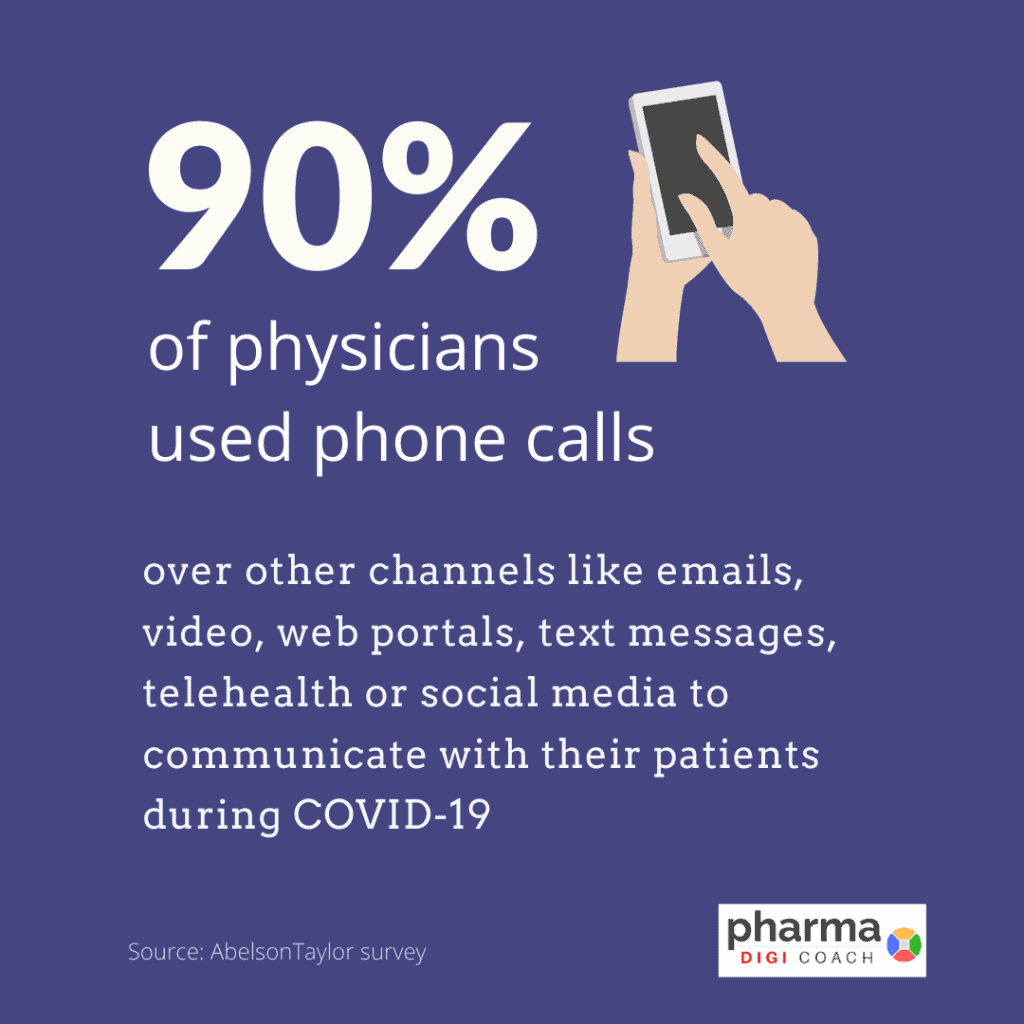 Phone calls remained one of the popular choices for keeping in touch with patients remotely.
---

How are physicians communicating?
With the sales rep
While sales rep visits declined, there was a noted increase in email communications during this period3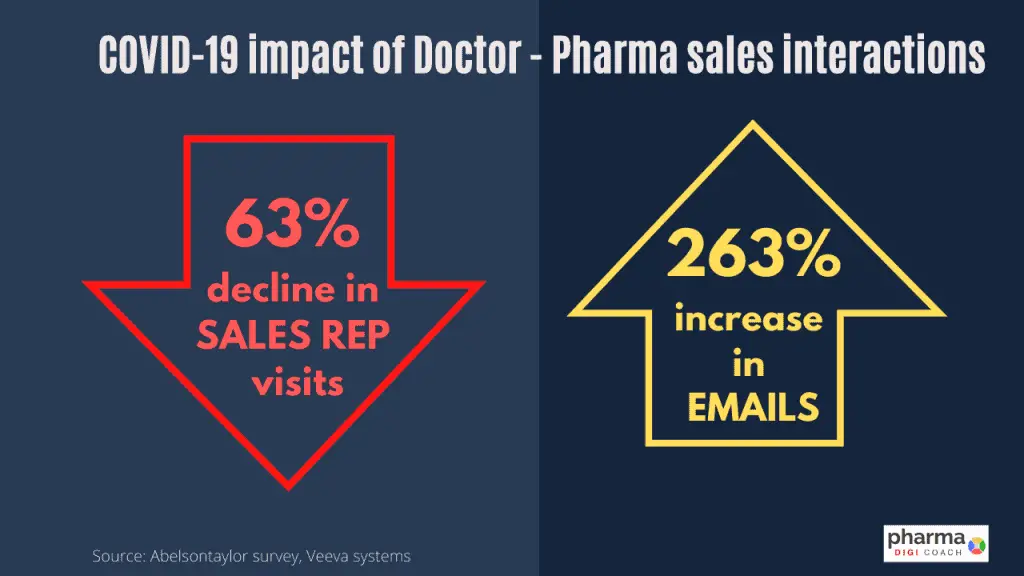 But one interesting observation is the quality of the interactions now happening through the digital channels is now more substantial than ever before.
The average time for online meetings is 17 minutes versus 6 minutes in-office doctor-rep interactions, pre-COVID-1911
Changing patient behavior
One thing that has impressed the patients the most, is the option of getting medical care through virtual visits (either phone or video)
Source for coronavirus-related information6
People found government sites, their most trusted source for coronavirus related information

The CDC website was the most visited site
For those over 50 years and older,

TV news is the primary source of information
Those younger would resort to some kind of online news

– And also more likely to go to social media sites (like Twitter, Facebook) for updates
In what ways has coronavirus impacted the patients' treatment?
Over 66% of patients with chronic conditions*
have cancelled some procedure or doctor appointments, or missed their lab tests6
*chronic conditions like diabetes, cancers, cardio, lymphomas, RA, cancers, GI/ulcerative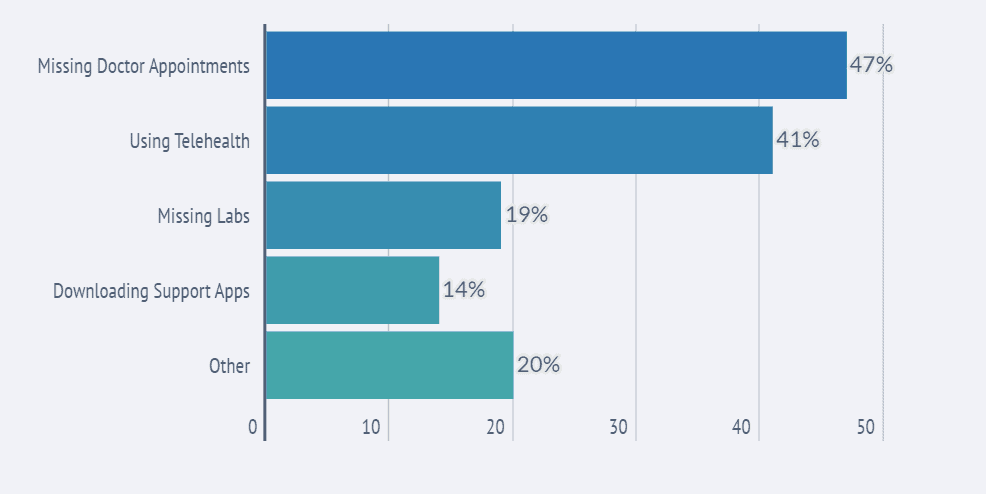 Read: Survey: Consumers scared to visit doctors office but comfortable to go to their local pharmacy
What did patients do about the cancelled appointments?
While many of them have rescheduled or are waiting to reschedule, 41% of them have used telehealth, and some have considered other options for virtual appointments (either phone or video)5,6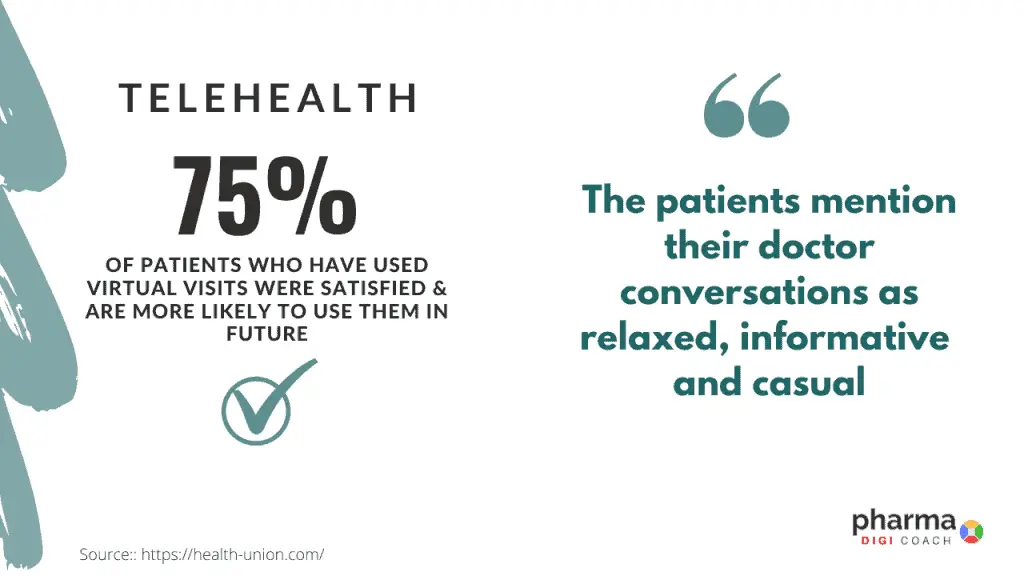 What is worrying the patients at this point?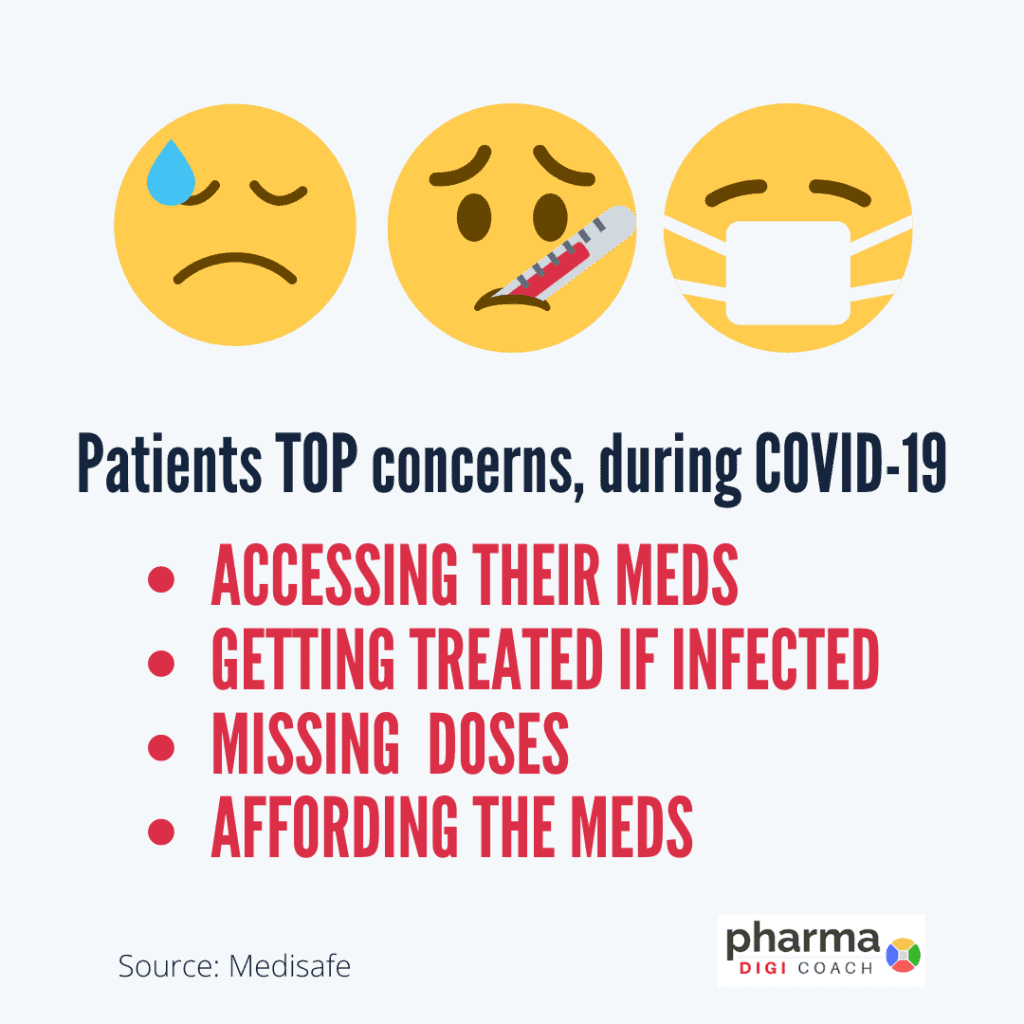 62% of patients over the age of 50, say they are very concerned about coronavirus and its effects7
55% of patients are concerned that coronavirus might interfere with their medication regimen6
Almost 90%
of people are concerned
that COVID-19
will disrupt the drug supplies15

And these numbers go even higher in case of patients with rare diseases8:
98% of patients are extremely concerned about coronavirus.

69% are concerned about medication and medical supply shortages.

74% have had a medical appointment cancelled due to COVID-19
>>> 25% of patients have started ordering meds online and more patients are going in for extra med refills.
>>> Unemployment and loss of insurance coverage have put immense financial constraints on the patients.
People are prioritizing on buying food for their family over, paying for their medication.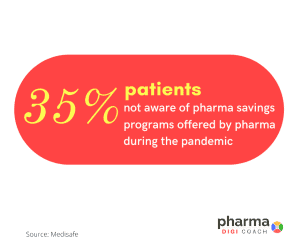 Affordability has come to be one of the important concerns for the patients


Telehealth trends and perceptions
Telehealth has emerged to be the most favorable and necessary alternative for physicians. Telehealth is not just used for brief check-in on patients but is also being used for important treatment decisions.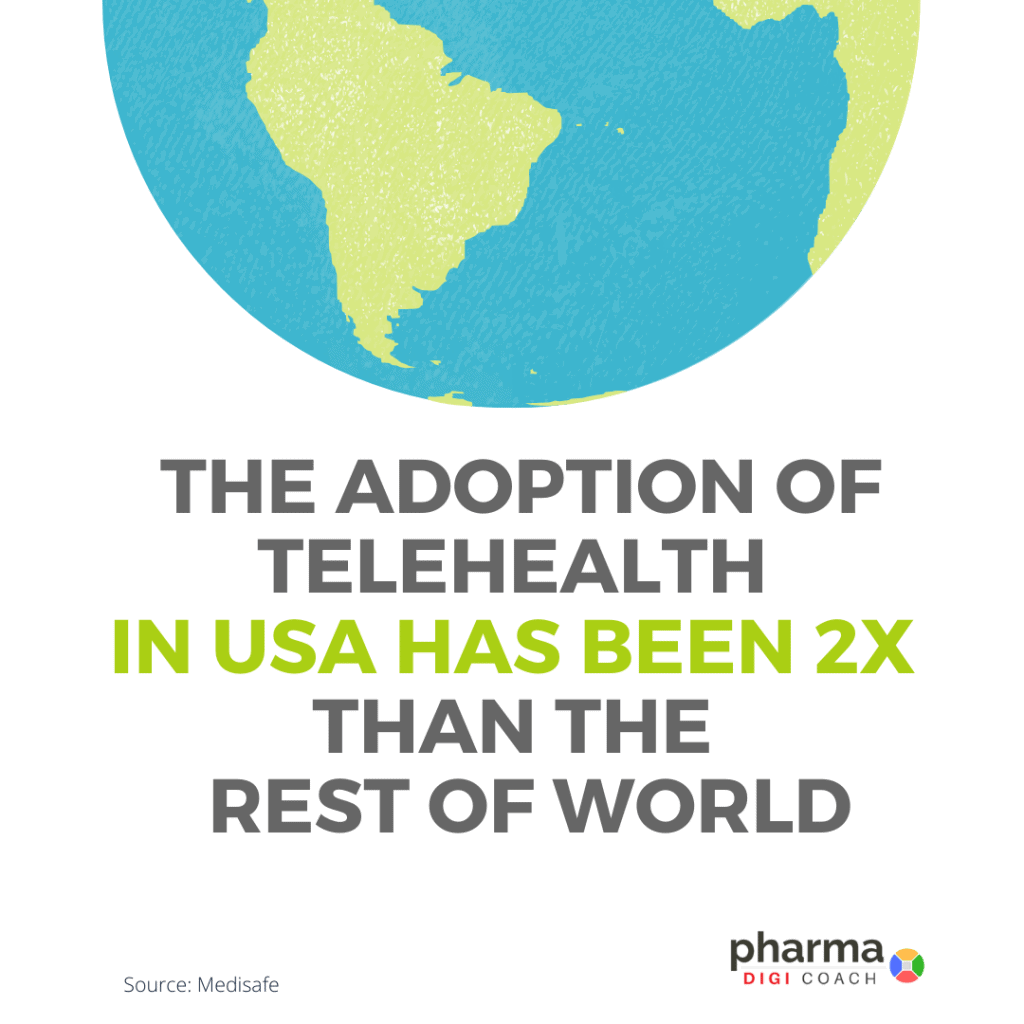 More than 50 percent of physicians expect telemedicine to be more important to their future work1

The greatest adoption of telehealth has been for non-urgent care visits (both related and non-related to COVID-19)9
>>> Those related to COVID-19 were mostly panic calls made by people on their symptoms. The cough was seen to be the main complaint for the calls, followed by fever.
>>> The other non-urgent care calls were most particularly in the area of mental health (depression)10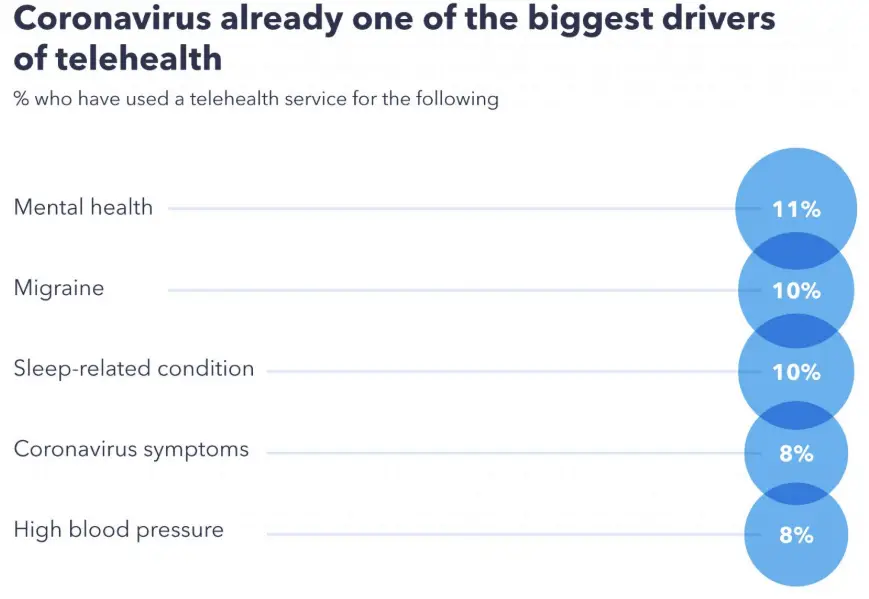 Who is using telehealth?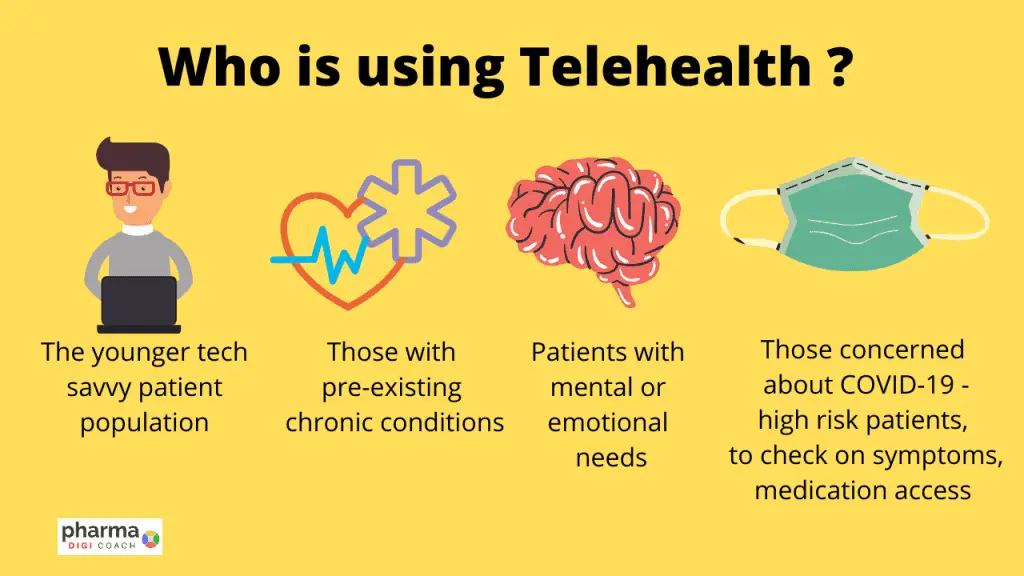 Certain patient groups like those with rheumatoid arthritis have found the convenience of virtual appointments from the comfort of their homes a much easier alternative, than trying to visit the doctors' office with their chronic pain.
Who is not using telehealth?
Telehealth may not be a viable option for many specialties, where close monitoring and diagnosis of the patient is required. For instance, doctors' need to listen to the patient's lungs or order an X-ray to check for pneumonia.

Again patients who are rurally located patients would not have the necessary technology and internet access to support a video call or telehealth access.

Because of lack of digital fluency, the older age groups are also less likely to try telehealth services, video calls, emails or use some kind messaging apps.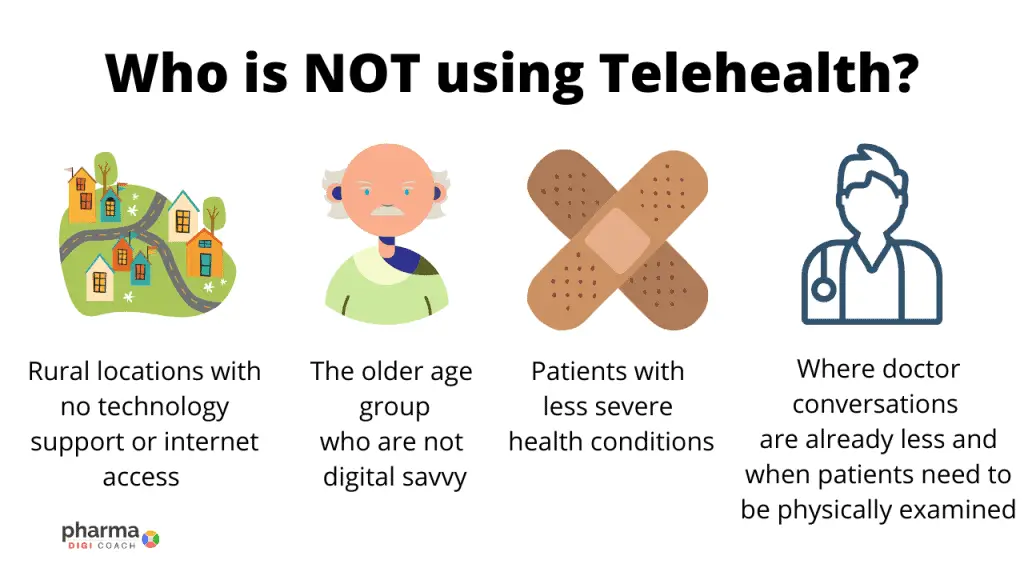 Audio-only visits will come to be an essential component of telehealth for elderly patients as well for those in the low-income and rural communities.
What are doctors worried about?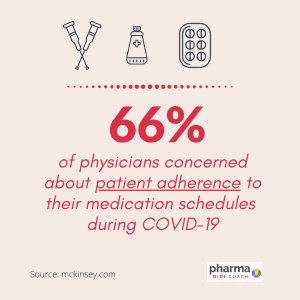 One of the most important concerns for the doctors has been to keep the 'at-risk' patient population on therapy.
For instance, doctors find it difficult to persuade their IBD patients to continue with their immunomodulating drug treatment plan, because the implications of stopping these drugs could be even more dangerous than COVID-19 and could drastically worsen their present condition.
Unmonitored chronic conditions
As we saw earlier, patients with chronic conditions are cancelling appointments or postponing essential visits. That could mean patients are not visiting their physicians for refills or new Rxs.

Another concern for the doctor is about their patients' treatment being interrupted because of stockout or supply chain issues.

Doctors have also given Rxs for longer supplies. So there is going to be a long gap when a doctor sees his patients next.
The discontinuation in the patients' treatment, is going to put them at a higher risk for other health-related issues.
The consequences of the above crisis-related behavior is going to bring a huge backlog of much-needed care to the doctor's clinic once the pandemic is over.
What is causing stress to the doctors?
28% say burnout with the doctors is at an all-time high12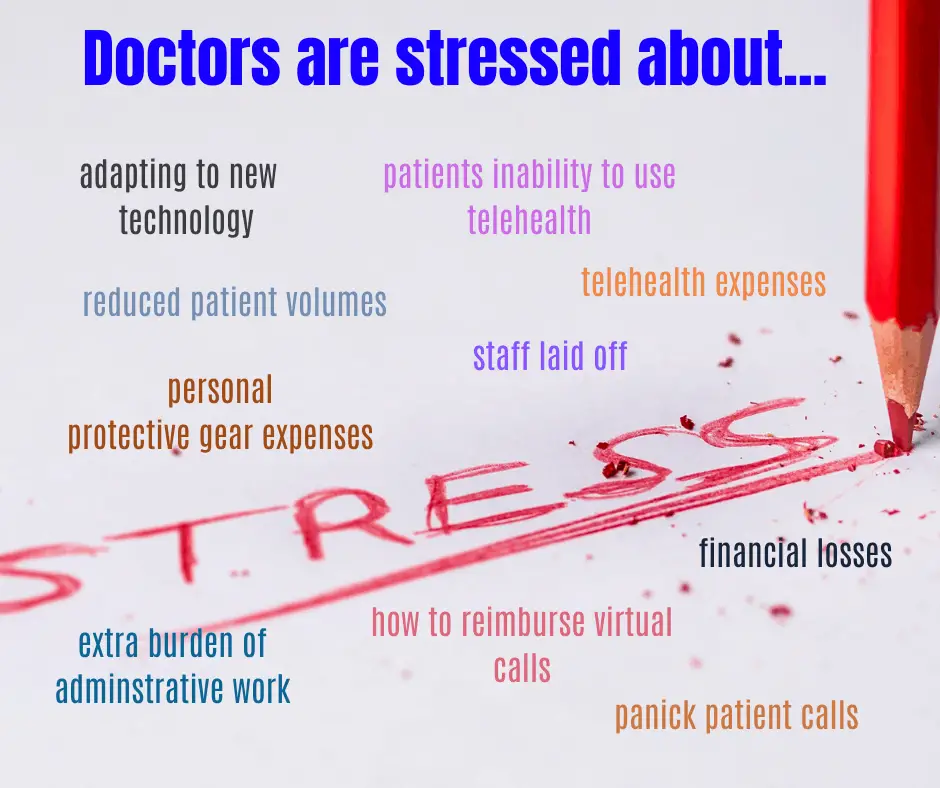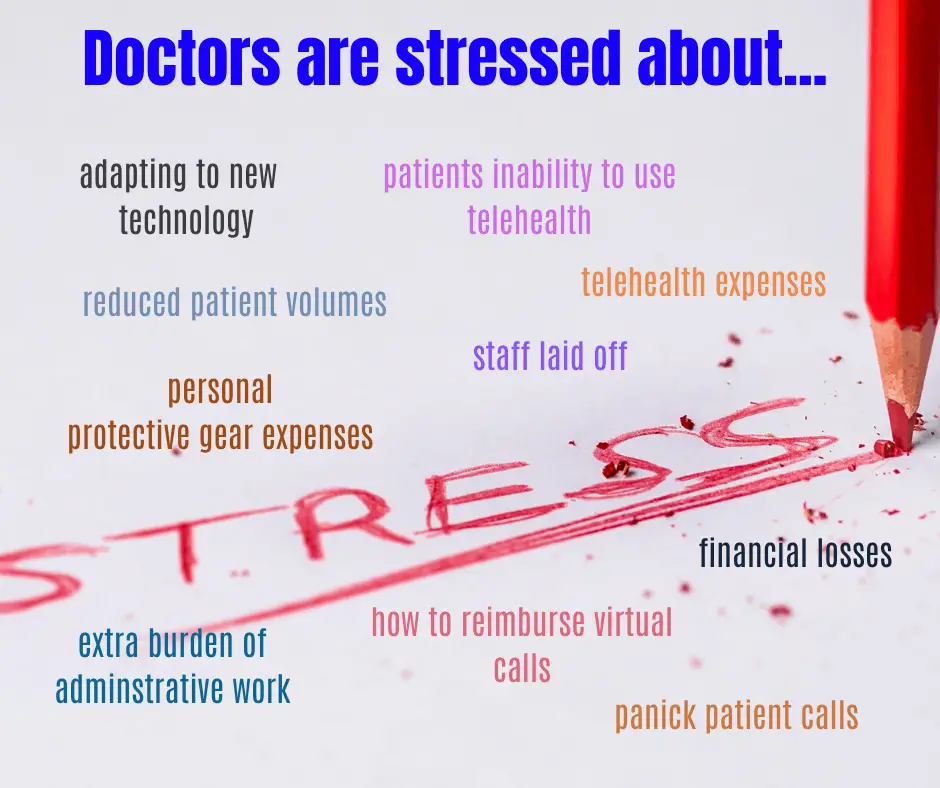 1. 97% of physician practices have experienced a negative financial impact directly or indirectly related to COVID-1914
Physicians are struggling to keep their practices running. The sudden decline in patient volumes has caused tremendous financial losses. Some of them even had to temporarily close down.
In addition to the decrease in patient volumes and revenue, doctors have to bear some extra expenses related to COVID-19. That is for the technology to support telehealth and the personal protective equipment (PPE) for themselves and their staff.

While one has kind of facilitated their work (telehealth), the other (PPE) remains a critical obstacle to their practice.
58% report the use of used and homemade PPE in their practice13
2. Telehealth has not helped them fully recover
Even after accounting for the drop in inpatient volumes that were addressed by remote consultations and telehealth – there is still an average lag of 45 percent decline in weekly patient consultations versus precrisis1
3. Learning and adapting to the technological and patient's demands
Doctors have had to face several challenging issues in providing effective care, remotely.
Some clinicians had to work more on the weekends and evenings as compared to before the pandemic.
The administrative work of billing, coding, and detailed documentation of a patient call is something that is becoming cumbersome, in the event of furloughed or laid off support staff.
4. Patients' inability to use telehealth
72% of surveyed clinicians say they have patients who are unable to access telehealth due to unavailability of computer/internet or other technical limitations13
5. Reimbursing of virtual patient calls
This is one question doctors' are fighting with. Many also had to forego their charges when consulting through the phone or video, because of not having a proper billing system in place.
How can you help to make their transition smooth?

What do doctors want most from pharma?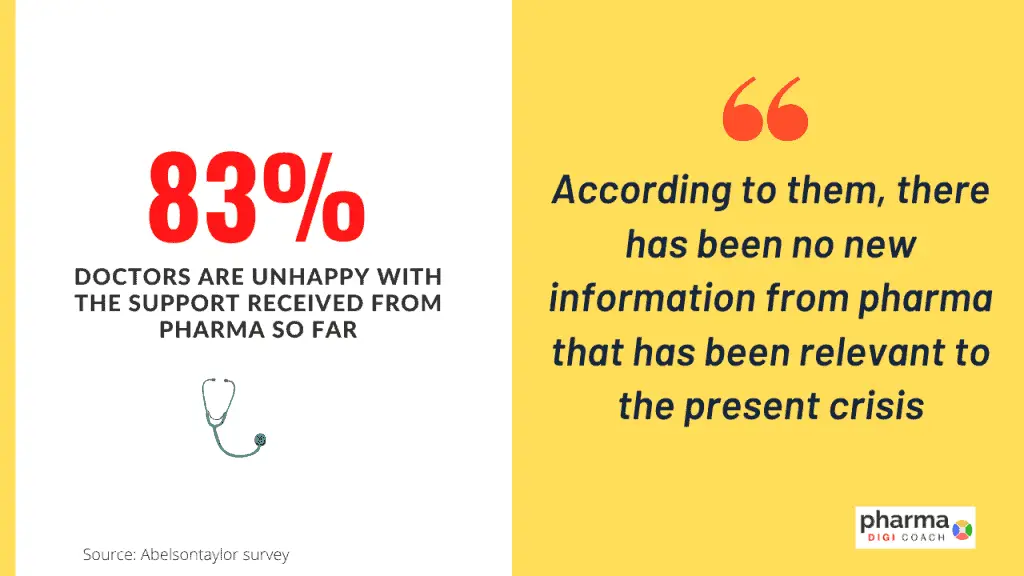 One of the reasons for the delay in sending new content to the doctors could be the regulatory approvals needed on the pharma's marketing collaterals before being released for distribution or promotion.
And in the event of 'no updated' information from pharma, the doctors are turning for information to the following sources: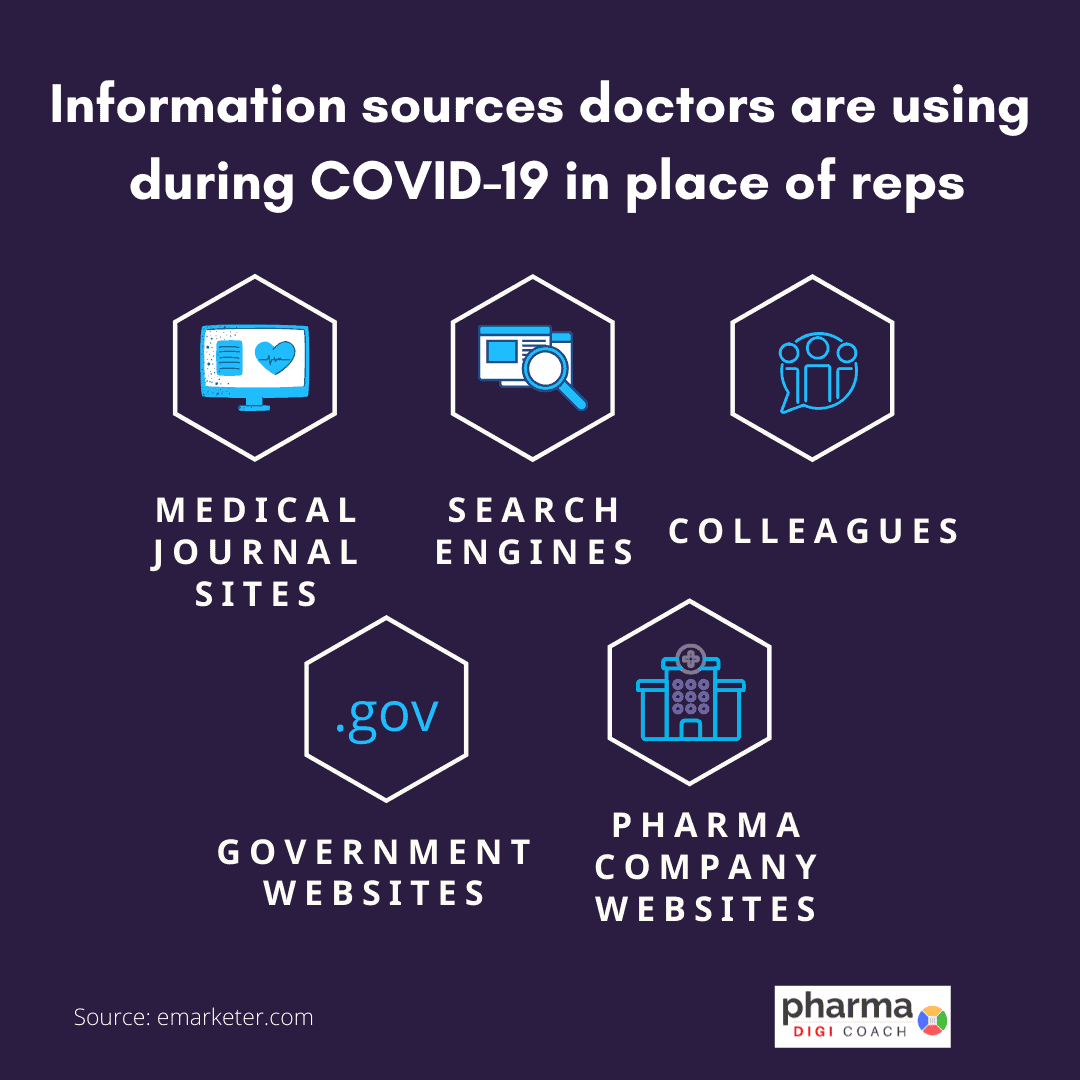 So the big question is,
Do doctors want to hear from pharma during COVID-19?
YES, THEY DO!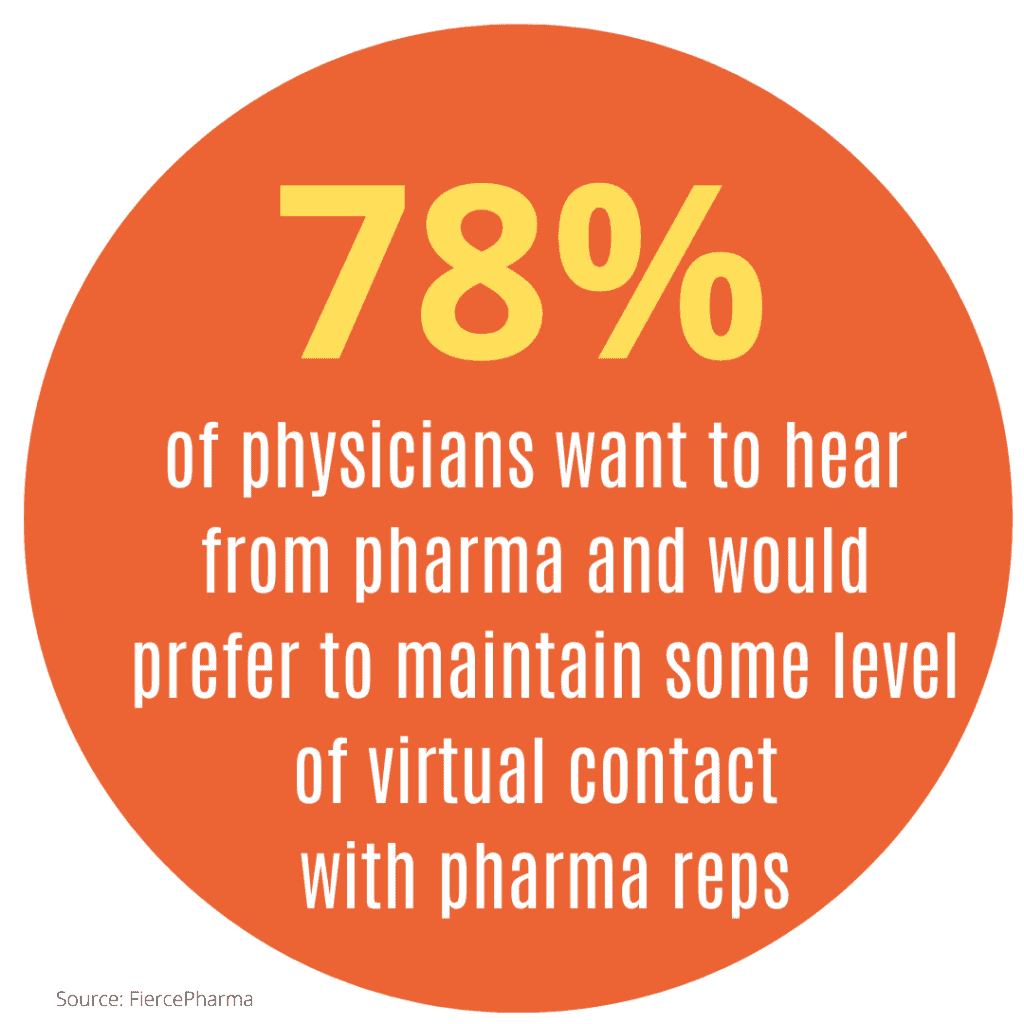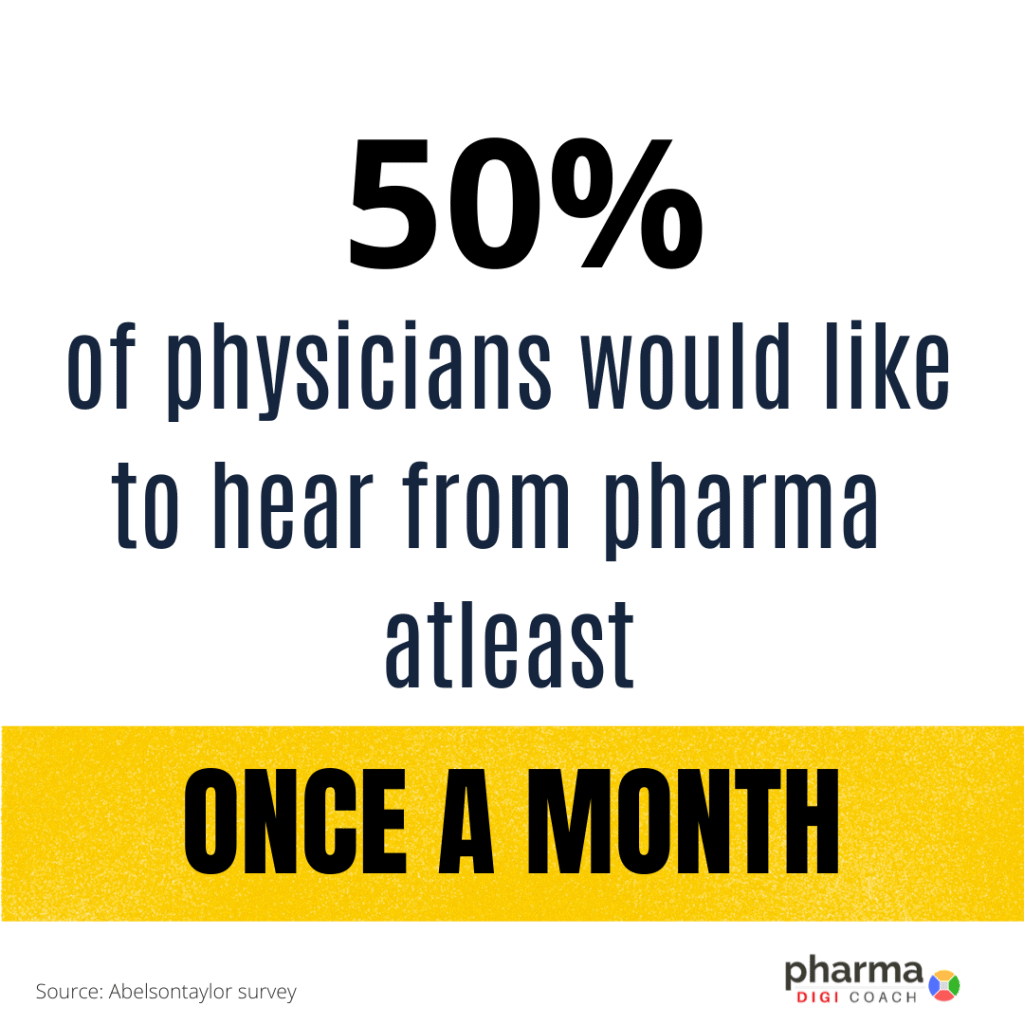 Being hard pressed on time, at the moment…
doctors are NOT INTERESTED in
attending virtual events that are 60-90 minutes long!!!
Instead, they would do some sort of networking or interact with their peers.
What are physicians most interested in right now?
Education has never been more important.
Physicians are looking to pharma for REAL-TIME solutions. Doctors want practical practice-related information on the current pandemic which is pertinent to their specialty. And they want to know of ways to respond to it, whether in terms of treatment protocols, patient education, or tips on best practices.

More importantly, they expect this information to be available immediately through digital touchpoints and in a format they have control over.

Some study reports have shared the kind of information, the medical professionals are particularly interested during the current pandemic.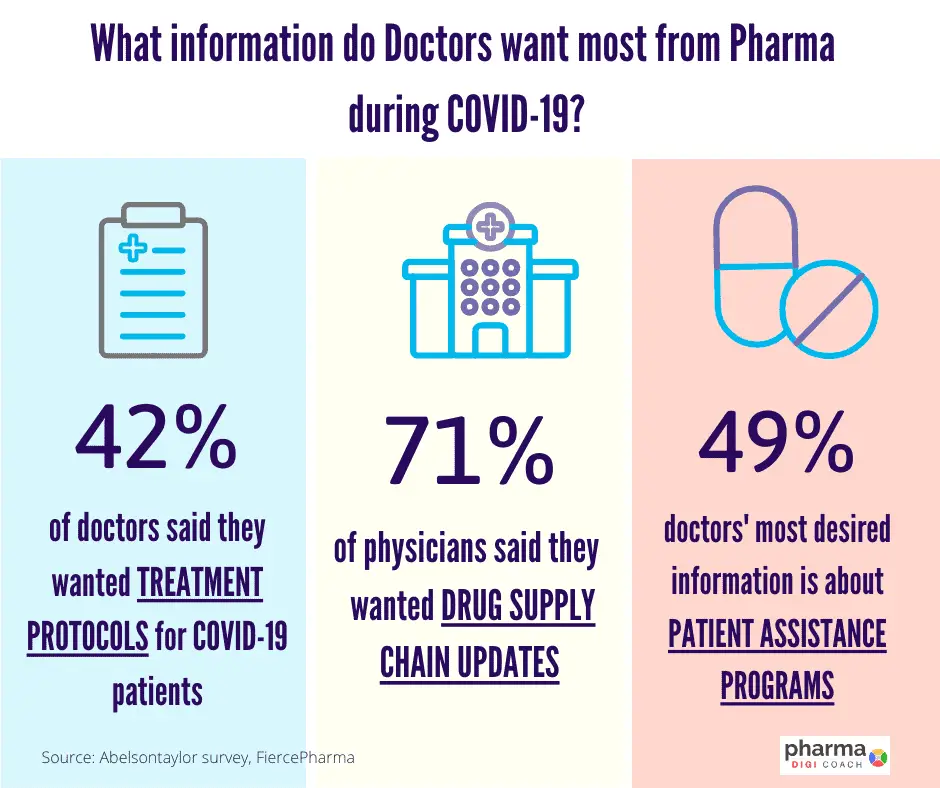 It's clear that physicians want RELEVANT, EASILY ACCESSIBLE information, DELIVERED REGULARLY, and in DIGITAL FORMATS, to help address the current disruption in communication between themselves and their patients.

– Amanda Hartzmark, senior director of marketing intelligence at AbelsonTaylor
The healthcare professionals would like the pharma industry to distribute information mainly through:
medical journal websites, pharma company websites, search engines, and e-newsletters
The way forward
What will the future look like? We do not yet know. It could be a blend of in-person and remote interactions. But in-person interactions will still take a long time to resume.

Do not forget pharma reps are going to be valuable sources of getting insights on what's going on in REAL terms and what is to be expected. The timing to resume would be decided by being sensitive to our customer's situation.
Read: People want to hear about something else, as COVID-19 information fatigue sets in
When the pandemic is over, the doctor's office will be flooded with patients whose health needs were unattended during the pandemic. There are expected to be a lot of financial strains due to rising unemployment. And so will be the expectations for some kind of patient assistance programs from pharma.

Pharma will need to make some dynamic changes in its processes, to making information available quickly. Keeping in mind, the physicians are already overburdened, pharma needs to be empathetic when providing the content.
Read: Clarus Therapeutics' marketing agility for Jatenzo launch during COVID-19
Something to plan for
>>> Providing digital access to samples or providing physicians with virtual sample closets.

>>> Would patients now expect medicine to be door delivered to their homes?

>>> Lots of advances in telehealth are expected. Digital health tools to enable remote patient monitoring may soon come into being.
New customer journeys will be formed, where pharma will have new touchpoints to serve upon.

>>> Think of building new ways to interact with physicians in deep and meaningful ways.

>>> Medical Science Liaison (MSLs) dedicated to a group of doctors, would help in addressing to the doctors' immediate educational and informational needs during the COVID-19 times, and facilitate peer to peer relationships and sharing of best practices.
The future remains quite uncertain. But one thing is certain, pharma marketing strategies will be shaped by new behaviors and demands formed in the COVID-19 crisis environment.
Be prepared to build on new capabilities and practices at all levels of the organization to effectively adapt to the new needs as they continue to evolve.
As always, I would love to hear your thoughts on the article. Can you leave a quick comment?
---
DON'T WANT TO MISS THE NEXT ARTICLE
Subscribe to receive similar articles on
Trends & Best Practices in Pharma Marketing,
directly to your mailbox.

Related
Articles on Pharma Marketing during COVID-19
References:
1. https://www.mckinsey.com/

2. https://eyewire.news/articles/analysis-55-percent-fewer-americans-sought-hospital-care-in-march-april-due-to-covid-19/

3. https://www.pharmalive.com/

4. https://www.mmm-online.com/home/channel/agencies/study-physicians-changing-prescribing-habits-embracing-telemedicine-during-covid-19-crisis/

5. https://www.healthcarestrategy.com/blog/coronavirus-impacting-healthcare-consumer-perceptions-behaviors/

6. https://infogram.com/covid-19-survey-real-time-data-you-should-know-1hke60w3zqr145r

7. https://www.aarp.org/politics-society/advocacy/info-2020/coronavirus-poll.html

8. https://rarediseases.org/tag/covid-19/

9. https://www.healio.com/

10.https://blog.globalwebindex.com/trends/coronavirus-revolutionizing-virtual-health/

11. https://www.fiercepharma.com/marketing/physicians-look-to-pharma-for-covid-19-comms-but-digital-meet-ups-and-materials-lagged-at

12. https://www.pcpcc.org/2020/05/13/primary-care-covid-19-week-9-survey

13. https://www.pcpcc.org/2020/04/08/primary-care-covid-19-week-4-survey

14. https://mgma.com/

15. https://www.pharmaceutical-technology.com/news/covid-19-drug-supply-chain-disruption-poll/
Impact of COVID-19 on Physician Engagement: Top Trends & Way Forward for Pharma Marketing
Impact of COVID-19 on Physician Engagement: Top Trends & Way Forward for Pharma Marketing