Subscribe to get our Free emails on Tips, Trends & Best Practices for Pharma Marketing in the Now


Award winning pharma campaigns and healthcare marketing awards of 2020 that pharmaceutical marketers can learn from
The year 2020, was been a tough one. As much as the challenges that came in for those in pharmaceutical marketing, it was a treat to know of the NEW !

As traditional marketing practices became redundant –
the year 2020 marks a step forward, as pharma marketers worldwide embrace a new approach to pharma marketing, that can only be further amplified in the years to come.

That is why this report becomes special – because it brings in confidence in the opportunities and possibilities for pharmaceutical marketing post COVID-19.

Here you will find examples of pharma's foray into creative and meaningful campaigns, which are not brand-centric.
From music to challenging games, to creating fun medical animations, to bringing that true customer connection in chronic disease areas, to raising global awareness and making a positive impact though their brands.

The award winning pharma marketing campaigns have been grouped as follows :
(Click on the category of your interest)
These winners were honored for their work by the prestigious pharmaceutical marketing awards much recognized in the industry. The article is a compilation of 6 prominent pharmaceutical marketing awards of 2020, namely –
I hope you find inspiration for effective pharmaceutical marketing strategies and memorable messaging or multimedia campaigns.

The trends for pharma marketing have been set in. Are you ready ?
Pharmaceutical Marketing Award:
Best New Product Launch in Pharma for 2020

Brand: Tums
Campaign: "Tums or Dare"
Pharma Marketing Award: Gold Winner @ 2020 MM+M Awards
2 categories: Product Launch; Multichannel Campaign (Large Product Size)
Company & Agency: GlaxoSmithKline and Weber Shandwick 
Tum is America's No.1 antacid brand. The brand has been mostly favored by the older people. Now, to maintain growth of the brand, the company launched TUMS Chewy Bites with Cooling Sensation to appeal to the millennials. While 89 percent of 18-to-34-year-olds have experienced at least one digestive issue in the past twelve months, only half of them have treated it. The thing is the younger group is in denial of their heart burn symptoms.

The challenge was to entice these consumers to try Tums.

The marketers had done their research on these set of consumers and realized that millennials loved eating spicy food. So the company brought in a campaign that tapped into this concept of the millennial's love for food. The Tums or Dare campaign, challenge the consumers to indulge in the hottest foods, and then cool down their heartburn with the new TUMS Chewy Bites with Cooling Sensation — the coolest new heartburn hero!

The campaign was a huge success and contributed to a 25% increase in units sold per store. To spread awareness, the brand used many digital tactics. Have a look at the entire case study on TUMS or Dare Campaign here –
Pharma product launch case study:
Brand: Qbrexza 
Campaign: "Life Unfolds"
Pharma Marketing Award: 2020 Fierce Pharma Marketing Awards
Category: New Brand Launch
Company and Agency: Dermira and FCB Health New York
Demira, is the biopharmaceutical company that launched Qbrexza – the first and only prescription cloth towelette approved to treat axillary hyperhidrosis or excessive underarm sweating. But the thing is people with hyperhidrosis, do not know that this is a medical condition and therefore do not go to seek any treatment.

Through market research, the marketers identified moments which tuned well with their target group. Moments which made the sufferers have this "Wow, that's me!" realization. Followed by how Qbrexza will help them unfold a more positive life.
Brand marketers share the pharmaceutical product launch strategy on Life Unfolds campaign here.
"The goal of this multichannel creative campaign is to show real people who are currently managing their excessive underarm sweating with QBREXZA therapy and encourage others who might be suffering to consider seeing a dermatologist to learn what impact the treatment may have on their lives", said Lori Lyons-Williams, chief commercial officer at Dermira.
Watch the product launch commercial –
Brand: Otrivine Extra Dual Relief Nasal Spray 
Pharmaceutical Marketing Award: Pharma Intelligence OTC Marketing Awards 2020
Category: Most Innovative New OTC Product
Company: GlaxoSmithKline
The campaign focused on its unique formulation for blocked and runny nose from colds. And being 6 times faster than decongestant pills.

Have a look at one of their recent pharma advertisement –

Brand: Bronchostop Junior
Pharmaceutical Marketing Award: Pharma Intelligence OTC Marketing Awards 2020
Category: OTC Launch of the Year
Company: Perrigo
Perrigo, the company has also been awarded as the OTC company of the year. The parent brand, Bronchostop has been a market leader with its range of cough products in the European markets for many years.

Its latest launch is Bronchostop Junior, used to relieve any type of cough for kids 1 year old onwards.

The judges made special mention of the company's branding, training, marketing and sales support packages, as something that was outstanding and which demonstrated strong insight. The company has built its reputation in the international markets over the years on the good account handling by their sales team.

Pharmaceutical Marketing Award:
Best Health Awareness Campaign of 2020

Disease: Chronic traumatic encephalopathy (CTE) from tackle
Campaign: "Tackle Can Wait"
Pharmaceutical Marketing Award: Gold Winner @ 2020 MM+M Awards
2 Categories: Disease education campaign, Philanthropic or purpose-driven campaign
Company and Agency: Concussion Legacy Foundation and Fingerpaint
Tackle can wait is a campaign that brings to light the dangers of a brain disease called, chronic traumatic encephalopathy from repeated and violent hits on the head when playing football. The campaign is targeting parents and coaches and urges them to avoid playing tackle football before the age of 14.

The campaign has very effectively brought about the risks of developing this deadly disease. To gain attention the campaign has linked the dangers of the developing CTE to be even stronger than smoking to lung cancer.

The campaign website according to me has brilliantly conveyed this message. The website has kept its focus on minimal yet just the essential messages to educate its readers and used effective imagery, infographics and videos with user friendly navigation.

The campaign has drawn lot of media attention for its highly educational and informative videos on CTE. One of the earlier campaign videos is the one given below –
Disease:  Gaucher disease (rare disease)
Campaign: "Dreidel, Dreidel"
Pharmaceutical Marketing Award: 2020 Fierce Pharma Marketing Awards
Category: Disease Awareness TV
Company and Agency: Sanofi Genzyme and Emcay
The DTC awareness campaign on the rare disease called as, Gaucher disease which affects 1 in 40,000 people. With rarity of this disease, the general signs and symptoms of the disease actually mimic and misled the patient initially to some other medical condition.

The marketing team saw this need to help people recognize the disease and to encourage them to medically test for Gaucher disease.

The campaign was super-targeted towards the Russian speaking Ashkenazi Jews in the US and used a mix of medias like TV, radio, print and digital to reach them.

The agency partner helped creatively connect with the audience by the use of a dreidel (a childhood game of chance played within the Jewish community), with each side showing common symptoms, and asked: "Are you playing around with your health?".

Have a look at their video in Russian language here –
Disease: idiopathic multicentric Castleman disease (iMCD) – rare disease
Campaign: "Escape the Castle"
Pharma Marketing Award: Gold Winner @ 2020 MM+M Awards
Category: Orphan Product Marketing Initiative
Company and Agency: EUSA Pharma and Vue Health  
With the mission to educate doctors on iMCD, the marketing and creative team brought together a one of its kind game at the 2019 annual Meeting & Exposition of the American Society of Hematology.

To emphasize the disease's name – i.e., Castleman disease, the campaign very aptly named the game as The Castle. Castles were created in the venue to give an unforgettable visual experience through its interactive escape room. The participants were enticed with the game's mission to solve the case of this mysterious disease.

Going through patient reports, jigsaw puzzles, microscope slide views and other challenges, the booth won the doctor's attention and created a fun and engaging experience. You can explore more on the campaign details and watch doctors playing the game here
Disease: Cancer
Campaign: "With Love, Me" Presented by Your Cancer Game Plan
Pharma Marketing Award: 2020 Fierce Pharma Marketing Awards
Category: Public Relations Campaign
Company and Agency: Merck & Co. and W2O Group
"What advice would you give yourself on the first day of your diagnosis?"
The campaign idea was born out of a commonly seen yet an unaddressed need in the cancer community – and that is the desire to connect with people who have gone through similar experiences.

"With Love, Me" is a campaign, where people have battled cancer, who as survivors share their heart-felt stories of wisdom and their fierce struggle with cancer by writing letters to themselves – and that is to their former selves.

For this, Merck collaborated with many patient advocacy groups.

A newly diagnosed cancer patient goes through a stream of overwhelming thoughts and emotions like feeling scared, alone and confused. Reading Real Letters from Real People, on advice about what they wish they'd known at the start of their cancer journey can be quite comforting during the most painful times of the patient's lives.

Katie Couric, a cancer awareness advocate, with her large following within the cancer community, helped in sharing these emotionally appealing stories through her social channels. Paid social and paid search were the two highest traffic drivers to the campaign website.

The campaign video series was a huge success, as stated in FiercePharma report –
>160,000 people visited the website
> 2,700 used the #withloveme hashtag
900 impressions on national media, including broadcast outlets like CBS This Morning, CBS Radio, Associated Press and Fox News
You also have the opportunity to hear the marketing and creative team talk about the launch and media strategy for the "With Love, Me" campaign here.

Also get a feel of this wonderful campaign by watching this video
Brand: Polycythemia Vera
Campaign: "Take Notice and Take Action"
Pharmaceutical Marketing Award: DTC National 2020 Advertising Award
Category: Best Disease Education Print / Television Campaign         
Company and Agency: Incyte
Incyte's awareness campaign on polycythemia vera (PV) was to help patients understand their disease and track their symptoms. It is seen that the symptoms for people who have been diagnosed with polycythemia vera (PV) change slowly over time. New and changing symptoms also hint that the disease is progressing.

The campaign therefore urges people to take a closer look at their symptoms, stating its Time To Change the way you see Polycythemia Vera!

Finally, people are encouraged to talk to their Healthcare Professional about the changing PV symptoms. The ad's final screen redirects people to TakeActionPV.com, which offers a discussion guide and symptom tracker along with an email sign-up option for more resources.

TV ads, Pandora radio and digital media were used to spread awareness. Here's their campaign TV ad, which highlights the symptoms such as night sweats, fatigue and itching –
Disease: Alzheimer's disease
Campaign: "Music Moments"
Award: The 5th Annual Shorty Social Good Awards
Category: Best use of Video         
Company and Agency: Alzheimer's Association and Creative Artists Agency
The Alzheimer's Association used the power of music to drive awareness on Alzheimer's and all other dementia.

The "Music Moments" album features a collection of unreleased tracks from award-winning artists. Through their powerful performances and heartfelt storytelling the campaign was an effort to o spark conversation and t champion the fight against the disease.

You get to listen to some of these Music Moments below:
You can also get to watch the stories behind the music here. The artists share a personal story behind each song.

For more detailed information on this marketing campaign, their results and social media coverage – click here


Pharmaceutical Marketing Award:
Best of Pharma Advertising in 2020
Prescription drug commercials 2020 ; Prescription drug ads on TV
Brand: Botox
Campaign: "Bad — You Got This"
Award: Gold Winner @ 2020 MM+M Awards
Category: TV advertising campaign
Company and Agency: Allergan and AbelsonTaylor 
Women who fight their migraine headaches are tough – that's what Allergan's campaign is about.

Research studies has shown that chronic migraine sufferers have 15 or more migraine days per month, and about 85% of those affected are women. Allergan wanted to reach the group of women aged 35 to 54 who suffered chronic migraines.

Many of these women were mothers who were fighting these chronic headaches which lasted for more than 4 hours, in the midst of balancing their busy work and family life.
The challenge for the company was that patients never resorted to Botox as an immediate treatment option. They would wait for years, until the debilitating disease would have disrupted their life. Botox has this impression of being considered a treatment option only in severe cases when migraine attacks are in their worst phases.

So the Bad — You Got This campaign, is all about convincing their audience that its time to get tough on chronic migraine and that they are strong tough enough to go and ask for a Botox specialist by visiting the campaign site – www.FindABotoxSpecialist.com
Brand: Xofluza
Campaign: "the flu sucks everything out of you"
Pharma Marketing Award: DTC National 2020 Advertising Award
Category: Best New Brand or Indication Television Campaign
Company and Agency: Genentech, Inc. and Wunderman Thompson Health  
The Xofluza TV campaign is educating the audience on a treatment option for flu. It does this by effectively depicting the emotional experience of getting flu. Flu completely exhausts the patients of energy and brings in weakness. That is what the campaign tagline states – "the flu sucks everything out of you".

With Xofluza gaining the FDA-approval as the first new antiviral flu treatment with a novel mechanism of action, the campaign also emphasizes that Xofluza needs to be taken within 48 hours of the first appearance of symptoms, to be effective.

The campaign website Xofluza.com, also has made lives easier for the flu patients, where they can connect with a certified doctor online and receive the treatment quickly from the comfort of their home.

Check out the pharma advertising for this prescription drug-
Brand: Fasenra
Campaign: Lets breathe together
Award: DTC National 2020 Advertising Award
Category: Best Established Brand Television Campaign
Company and Agency: AstraZeneca and McCann Health New York
With the increased risk of COVID-19 in people with respiratory conditions, Astra Zeneca brought this campaign to help with the Real questions patients had around COPD and asthma.

People can visit the YouTube channel, which has a series of videos specific to concerns during the novel coronavirus.
The videos offer tips and suggestions on topics like exercising outside, on how to cope with feelings of anxiety and loneliness, monitoring respiratory symptoms to playing safe during grocery day and many other useful topics. 

Check out this unbranded pharma TV ad that was developed during the challenging times of COVID-19:
Other advertisements on TV by drug companies ; Pharmaceutical commercials

Brand: Bayer company
Campaign: "This is Why We Science"
Award: 2020 Fierce Pharma Marketing Awards
Category: Branded Drug TV
Company and Agency: Bayer and Campbell Ewald
This campaign is Bayer's effort on how it applies science in industries from pharma to agriculture to enhance people's lives.

The company found that the first thing that came to people's mind when asked about Bayer was "aspirin".
"What folks don't know is that we're also a large life sciences company with significant areas in agriculture as well as health care—not just consumer brands but also pharmaceutical", said Ray Kerins, senior vice president and head of corporate affairs at Bayer.

As reported in FiercePharma
The company wanted to move the mindset of being just a consumer-product company and to build its image in other areas where they are more advanced in significant areas like cancer, cardiovascular disease, hemophilia and many other life-threatening diseases, where they have been involved with lot of scientific and research work.

So this campaign was more of a corporate image building campaign, where the company wanted to bring to light the human value of its products.
Check out the commercial where Bayer is helping every life they touch –
Brand: Deep Relief
Campaign: UK's No. 1
Pharmaceutical Marketing Award: Pharma Intelligence OTC Marketing Awards 2020
Category: Best OTC Audio-Visual Advertising
Company and Agency: The Mentholatum Company and 1DA, the7Stars
Unlike other ibuprofen or analgesic gels, Deep Relief Anti-Inflammatory Gel contains two painkilling ingredients, Ibuprofen + Levomenthol – to target pain at its source.

Levomenthol helps to quickly cool and soothe while ibuprofen penetrates the skin to reduce pain and inflammation.

Deep Relief Anti-inflammatory Gel is a medicine for the relief of back, rheumatic and muscular pain. This is one of their winning campaign ad on the brand –

Pharmaceutical Marketing Award:
Best Pharmaceuticals Website of 2020
Disease: Lennox-Gastaut syndrome (LGS)
Campaign: Ella the Jellyfish
Website: https://www.ellathejellyfish.com/
Awards: 2020 Internet Advertising Competition Awards
Category: Best Pharmaceuticals Website
Company & Agency:  EISAI and PATIENTS & PURPOSE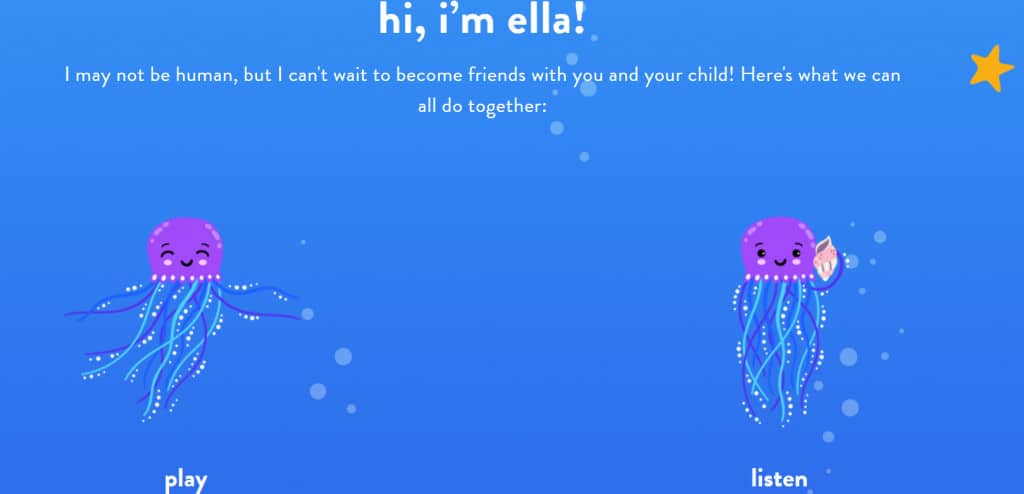 Ella the jelly fish website is the first and only skill for Amazon Alexa designed for families affected by Lennox-Gastaut syndrome (LGS). 

Designed specifically for children affected with LGS, who often feel isolated and may never actually meet anyone in their lifetime who are like them. The tool was created to give a different experience to these children and bring in much joy in their lives. These children can find a friend in Alexa-based Ella the jelly fish.

The tool was designed based on research insights that the families affected by LGS often have limited activities to do together, and are often exhausted with caring of a child, who is experiencing over 10 seizures a day. 

It offers a platform for the LGS children and their families to play super-fun games with Ella and to listen to some amazing stories on Ella's underwater world, or hear a relaxing meditation, or sing along with Ella to a few fun songs. The users would just have to sign up a form on the website and start playing together right away!

Brand: BRILINTA
Campaign: "We Are Survivors"
Website: https://www.brilinta.com/
Category: Outstanding Website
Pharmaceutical Marketing Award: 2020 Internet Advertising Competition Awards
Company & Agency:  ASTRAZENECA and PATIENTS & PURPOSE
The Brilinta brand's website core messaging is for heart attack patient survivors. Called as the 'We are Survivors' campaign, the objective of this campaign has been to provide comfort, strength and building hope for survival following a heart attack.

Giving a new meaning of getting second chance to live, the campaign wants to encourage and empower patients, to not be a victim to the fear of being at risk of another heart attack.

AstraZeneca has also created Survivors Have Heart site to provide support for the survivor community and give voice to the emotional experience of life after a heart attack. Here you'll find heart attack survivors' stories, helpful information about recovery and caregiving, and additional resources from advocacy group websites. Bob Harper, a health and fitness expert, and a heart attack survivor has been the ambassador for this campaign.
Disease: Hyperhidrosis
Campaign: "Life Unfolds"
Website: https://www.checkyoursweat.com/
Category: Best Disease Education Website 
Awards: DTC National 2020 Advertising Award
Company & Agency:  Dermira and FCB Health New York
CheckYourSweat.com is a simple and a well-structured unbranded website to educate people on the medical condition of excessive sweating called as hyperhidrosis.

With definite calls-to-action and menu options it makes it easier to for the user to navigate through information one needs. Be it basic education on the disease, to how to diagnose hyperhidrosis, and information on how to get treatment, to staying connected by filling up the sign-up form.

The website offers a range of treatment options but the highlight is to click on the company's new launch brand website– Qbrexza, a prescription medication to treat excessive underarm sweating in people 9 years of age and older.

The site also makes it easier for the user to locate a dermatologist, just by entering their zip code. The next interesting offering on the website is helping users create a personalized plan to address their sweat, by filling up some basic information.

Patient stories encourage people to not hide but take the step to talk about their condition and a community where patients are encouraged to share their feedback on how treatment has changed their lives.
Brand: ILUMYA
Campaign: "A Constant Reminder"
Website: https://www.ilumya.com
Category: Best New Brand or Indication Website; Best New Brand or Indication Print Campaign  
Awards: DTC National 2020 Advertising Award
Company & Agency:  SUN Pharma and Fingerpaint
                         
In the super-crowded psoriasis treatment category, already dominated by big players like Celgene's Otezla, Novartis' Cosentyx, Eli Lilly's Taltz and Johnson & Johnson's Tremfya – Sun Pharma was the eighth biologic to hit the plaque psoriasis market.

And it has very distinctly managed to stand out from the rest as a new, safe and effective treatment option for people who are still struggling to manage their moderate-to-severe plaque psoriasis.  Its ability to prompt a quick response, saying "a majority of people were clear or almost clear" after two doses.

That being said, its campaign "A constant reminder" moved away from the solution-oriented positioning, and instead tried to make an emotional connection with its target audience. And that is, through one of the key problem areas in the lives of these patients – Flakes of dead skin that fall from the body in patients with plaque psoriasis and is a constant embarrassing problem in their daily lives.

So the company has got to the core issue of understanding the real problems in the patients' lives by offering them a solution that they have yearned for – Clear skin that lasts!

The website helps support this claim, with lot of evidences through their clinical study results. The science behind how Ilumya works, is effectively explained with an animated explainer video.

The site does look like a complete one-stop resource for everything around the disease.

You can see the print version of Ilumya's magazine advertisement here

Brand: Prolia
Website: https://www.prolia.com
Category: Best Established Brand Website 
Pharma Marketing Award: DTC National 2020 Advertising Award
Company & Agency: Amgen and FCB Health New York
Prolia is an injectable prescription medicine used to increase bone mass in post-menopausal women with osteoporosis who are at high risk for fracture.

Prolio's current campaign, 'Make or Break Moments' is about preparing the bones for whatever accidents life will throw at any moment. It shows different situations in a routine life which could increase the chances of an accident and thereby a fracture – Its opening statement on the website clearly states, "Life is full of Make or Break moments. Are your bones strong enough?"

What's unique about this site is the kind of different topics around this condition. There is lot of content that is offered to the reader, but without being too overwhelming. Visuals of happy, satisfied people – give a nice appeal to the site.

Videos on real patient stories, the bone-support program called as Bone Matters which is aimed to empower and help the patient stay informed by way of treatment reminders, exercise tips, recipes and more. The mechanism of how Prolia works is made easy through an animated graphic. So there is a good mix of science that is easily and convincingly explained, stories to emotionally connect, patient support programs to assist them on their payment plans.
Brand: AcrySof IQ PanOptix Trifocal Lens U.S. Patient Website
Campaign: "Be A PanOptimist"
Website: MyCataracts.com
Category: Branded website for consumers
Pharmaceutical Marketing Award: Gold Winner @ 2020 MM+M Awards
Company & Agency:  Alcon and 2e
Cataract, is one of the most common age-related eye condition. Cataract surgery is also one of the safest procedures.

AcrySof IQ PanOptix Trifocal IOL is a type of multifocal IOL (intraocular lens) used to focus images clearly onto the back of your eye (retina) to allow clear vision after the cataract removal.

PanOptix promises to deliver an exceptional combination of near(reading), intermediate (computer work) and distance vision versus what a monofocal lens would provide and substantially reduces the need for glasses. It claims, 20/20 near, intermediate and distance vision is now possible.

As part of its patient education efforts, Alcon developed dedicated PanOptix website with multimedia awareness campaign. The agency did a consumer study on the willingness to pay for advanced technology intraocular lenses. Additionally through extensive audience research the creative and marketing team developed their messaging based on patients mindset and consumer search behavior research.

The key insight they discovered –
Two to three months before cataract surgery, adults aged 62 and 74 years want a life that makes them feel uncompromised and fully engaged. And importantly they're willing to pay a premium to get it !

The branded website, has used the benefits of its brand to educate and emotionally connect with this audience for renewed vision with PanOptix Lens.

The site keeps the essence of "PanOptimism" in its messaging- to help patients take charge of their diagnosis, understand their treatment options and reclaim their optimism for life. It provides useful content like the vision simulator, surgeon locator, educational and testimonial videos, downloadable resources.

Very recently, the global leader in eye care, also partnered with Charlie's Angels actress Cheryl Ladd, who had underwent a cataract surgery and received the AcrySofIQ PanOptix Lens.
"When you are first diagnosed with cataracts, it's easy to accept that having worse vision is just a natural part of aging — or that wearing glasses and seeing colors fade is all normal," said Ladd.
"For me, surgery was an opportunity to take action so that I could improve my vision and continue to live an active life. Choosing the PanOptix lens has enabled me to see more like I did when I was younger.
Now I'm optimistic — a PanOptimist — about life after cataract surgery."
While this award was for their consumer website. You should also check out Alcon's PanOptix website made for professionals. Visuals, infographics, charts- which clearly that highlight the key benefits of the brand, through the clinical study results.

Brand: Nuzyra
Campaign: From Hospital to Home
Website: https://www.nuzyra.com/hcp/
Category: Branded website for healthcare-professionals
Pharma Marketing Award: Gold Winner @ 2020 MM+M Awards
Company & Agency:  Paratek and FCB Health New York
At a time, when researches are trying to fight the super-bug problems on drug-resistance,

Nuzyra, claims to be the once-daily, MODERNIZED TETRACYCLINE, designed to overcome mechanisms of tetracycline resistance, targeting 2 important indications in adult patients were risk of drug-resistant are high – i.e., Community-Acquired Bacterial Pneumonia (CABP) and Acute Bacterial Skin and Skin Structure Infections (ABSSSI).

A very, effective and clean website in white color helps reduce unnecessary clutter and where the rainbow colors stand out and give a unique brand identity to the brand.

There is a lot that can be implied by the usage of these colors- the white which symbolizes the hygienic controls maintained in a hospital environment and the rainbow colors associated with the brand logo are for the wide coverage of the micro-organisms by the drug, the rainbow also depicts a more promising and safe transition when patients have to move from the hospital to their home, with easy switching option of IV injectables to oral tablets.

And while the website is targeted to the ER physicians, who are very busy. The company has tried to keep its messaging straightforward, and minimal. And it has successfully tried to convey the keep benefits of the brand.

The site also encourages the physicians to sign-up for new updates and news on the drug. Its Access Support section has enrollment forms, IV Ordering and Administration Guide forms, Specialty Pharmacy Flashcard, leave-behind downloads on the recommended dosing and administration information. And the physician can also request for a representative to meet or ask for a sample, by filling a short form.

Brand: Oncotype DX diagnostic test
Campaign: 'Put Chemo to the Test'
Website: ChemoYesorNo.org
Category: Website for Consumer
Awards: 2020 Fierce Pharma Marketing Awards
Company & Agency: Exact Sciences and W2O Group
Early diagnosis of breast cancer can be pretty scary and overwhelming. There are plenty of other treatment options and one may not even need a chemotherapy, though a few would benefit from the chemotherapy.

So it was time to Put Chemo to Test !
Does one really need a chemotherapy?

This is were the Oncotype DX test helps – It is the only way to know if one would benefit from a chemotherapy.

Oncotype DX test helps identify the majority of women with early-stage breast cancer who will not benefit from chemotherapy as well as the important minority of women for whom chemotherapy can be life-saving, and the chances of the breast cancer returning.

Based on genomic science, the test can help guide treatment decisions for the best possible outcome.

If you see, the site has used images in black and white and this is to imply the precision of the diagnostic test, with no shades of grey there cannot be any vagueness to their test results.

Seven breast cancer ambassadors that give an impression of strong women, help educate patients to ask their doctors to order the Oncotype DX test before finalizing their treatment plan.

Many other breast cancer survivors share their personal stories on how the Oncotype DX test helped guide their treatment decision. There is also a simple quiz to determine if the Oncotype DX test is right for a patient.

The helpful resources section is impressive with guides, mobile apps for breast cancer, links and video resources.
With more than one million women, who have put Chemo to test, the site is urging the reader to join their community.

The site further shares the results of the landmark TAILORx global study through a pretty well explained animated video, that can be reassuring. Overall, one would get an impression of the brand being quite trustworthy, after browsing through the site.

And if you would like to know more about the campaign strategy, challenges and research on patient insights – you can watch the FiercePharma's interview with the marketing and creative people behind this campaign.

Pharmaceutical Marketing Award:
Best of Direct-to-consumer (DTC) pharmaceutical advertising 2020

Brand: Vyvanse
Campaign: Authentic Storytelling
Category: Best Pharmaceuticals Online Video Campaign
Pharma Marketing Awards: 2020 Internet Advertising Competition Award
Company & Agency: Takeda
Vyvanse is the #1 prescribed branded ADHD medication. The campaign objective was to make the ADHD space more consumer- friendly, by empowering patients to request for Vyvanse to their HCPs.

The campaign also tried to emotionally connect with the patients who were further in their treatment journey and the importance of recognizing their symptoms.

With real patient stories, and use of branded content, the campaign aimed to pull in new adult patients and HCPs who treat ADHD.

The "Authentic Storytelling" assets were leveraged digitally in a variety of mediums, including endemic/video/programmatic pre-roll ads on platforms such as WebMD, Hulu and HealthLine, as well as social media (Instagram, Facebook, Twitter, Snapchat), as stated in the iacaward.org website.

Takeda's current DTC campaign for adult ADHD patients is 'V is for Vyvnase' campaign. Read more about their latest campaign here.

Disease: Endometriosis
Campaign: SpeakENDO: "Shine a Light"
Category: Best Outdoor Campaign, PR Campaign, or Event                           
Awards: DTC National 2020 Advertising Award
Company & Agency: AbbVie and FCB Health New York
Endometriosis affects 1 in 10 women but diagnosis can take up to 6 to 10 years.

SpeakENDO is a campaign to spark a light. To bring in a new understanding around endometriosis.

The campaign is for women who want to learn more about endometriosis, those trying to find out – What may be causing their symptoms and women already diagnosed with endometriosis. 

Performer, entertainer, actress and artist Julianne Hough is the ambassador for SpeakENDO who urges women – Its time to "Speak out. Speak up". Because as more collectively women rise up and speak up, it will help to spread the awareness of this condition. Watch the campaign video below.

You can check their high engaging social media posts here and their campaign site here.

The campaign also found synergy with the Endometriosis Awareness Month's theme – Time To Raise Our Voices.
Disease: Dupuytren's contracture
Campaign: "Facts on Hand" awareness with John Elway (athlete)
Category: Best Use of Celebrity in Campaign / PSA                                                     
Awards: DTC National 2020 Advertising Award
Company & Agency: Endo Pharmaceuticals and Fingerpaint
"Facts on Hand" awareness campaign, is for the disease called Dupuytren's contracture, that causes collagen buildup in the hands, forcing fingers into a bent position.  

John Elway, former Denver Broncos star quarterback, is the celebrity and spokesperson for this campaign who talks about his experience with Dupuytren's contracture and the importance of knowing all your treatment options.
There is still so little awareness about Dupuytren's contracture, even among doctors –

It's important that those experiencing the condition know their treatment options. Surgery is not the only option, and patients should work together with their hand specialist to determine the best approach for their lifestyle, whether they're a football star or a weekend warrior.

– Damon Adamany, MD, board-certified specialist in hand and upper extremity surgery at The CORE Institute.
The campaign's website is pretty clearly well-made that helps to distinctly educate the patient on this disease.

Check out the Facts on Hands commercial :
Disease: Type 2 Diabetes
Campaign: A Touch of Sugar 
Category: Best Multicultural Campaign                                         
Awards: DTC National 2020 Advertising Award
Company & Agency: Merck and GCI Health
A Touch of Sugar documentary, was launched during the Tribeca Film Festival last year as a part of the company's program America's Diabetes Challenge: Get to Your Goals.

The campaign helps to understand why type 2 diabetes is an urgent public health issue, so that we can make a real impact in supporting, treating and advocating for those living with type 2 diabetes. It is an honest depiction of, life with Type 2 diabetes.

The film has brought to light stories on the real life struggles of patients with this chronic disease, and goes on to explore the social factors that affect disease management, especially among underserved populations.
Brand: Absorica
Campaign: Sorry to Superimpose
Category: Use of Data/Analytics
Awards: Gold Winner @ 2020 MM+M Awards
Company & Agency: Sun Pharmaceuticals and Fingerpaint
One problem that about millions of teens suffer from, is severe persistent nodular acne. Often these young adults would try many of the OTC options like washes, creams and pills, without any success. The condition becomes such a dominating part of their lives, such that it affects their confidence and social lives.

The team behind Absorica, decided to reach their target audience through one of their most favored channel. Youtube, is one channel that is watched by 94% of Gen Z. The data and analytics team did an extensive study of the popular videos for messaging and tone. Through this they studied their ideal target customers' preferences for fashion, sports, video games and more.

So when the ideal target customer watched a video on YouTube, he was served an appropriate ad on Absorica almost seamlessly and that was personalized and relevant. The strong messaging that connected very rightly with important pain points of the targeted audience, ensured post-view engagements. Watch one of their ad campaign that is aimed to raise awareness of acne and its impact on everyday life.
Brand: Pro Plus
Campaign: #BuildLikeAPro-Contraption Challenge
Category: Most Creative OTC Campaign
Awards: Pharma Intelligence OTC Marketing Awards 2020
Company & Agency: G R Lane Health Products & Bray Leino
PRO PLUS – provides caffeine kick that can relieve the symptoms of fatigue and tiredness and helps one feel more awake, as stated on their website

Their target audience is primarily students aged 18-25 years who are preparing for their exams or are under the stress of a project deadline. Pro Plus relieves temporary tiredness, helping students stay awake so that they can nail their work, 'Like a PRO'.

So that's how ProPlus has positioned itself.

The campaign brings in relatable student issues like revision, money, accommodation and nightlife. With the message one can nail it like a PRO, delivered in its own smart and funny way.

Keeping the focus on the same target audience, the brand now aims to include more areas of students lifestyle where the brand Pro Plus can be promoted in – to help them live Like a Pro !

Based on the agency study on the audience, they gathered important insights. They identified a group of students who took their studies quite seriously – these students stayed up late, were building apps or launching start-ups. Definitely they needed lot of energy and alertness to bring in great ideas. To connect with this segment of customers and to create something more engaging – the marketing team devised a challenge event for the students.

The Pro Plus Contraption Challenge was born !
This challenge was inspired by Rube Goldberg machines, which are intentionally designed to perform a simple task in an indirect and overly complicated way. Students can participate in groups have the chance of winning £2000.
The event was a success , with lot of social media engagement and excitement generated around the challenge. There were lot id user-generated content that further helped increase the noise level of the brand.

Disease: Allergies
Campaign: Virtual Botanical Walk
Category: Multichannel Campaign (Small to Medium Product Size)
Awards: Gold Winner @ 2020 MM+M Awards
Company & Agency: Stallergenes Greer and W2O  
Stallergenes Greer, is a worldwide allergy company that specializes in the diagnosis and treatment of allergies. It offers personalized medicine to address unmet medical needs for patients with allergies.
Already being quite reputed and respected in its category for the high level of service it offers its customers, the company wanted to further strengthen its position by giving its HCPs something that was completely unique and that was never experienced by its target audience – a one of a kind digital ecosystem to build knowledge of the allergens around us.

One thing the company knew was that its customer valued the in-person service by the reps and also the high quality of education provided by their scientists. It combined both of these strengths by ensuring their customers received the same personal one-one interactions into its educational programs.

Here's a glimpse of what the company did –

The company developed virtual botanical walk that guides the user on the knowledge of various type of allergens in 3 different environments – that is Forest, Pasture, Roadside. And as one takes a virtual tour on any of these fields and clicks around – it gets alerted on the different kind of allergens that can be found.

Complementing this high touch technology, the site has video and audio that mimics the real experience. You really need to watch this and experience it first-hand!

Brand: Infacol
Campaign: From Mother with Love
Category: Best Niche OTC Marketing Campaign
Awards: Pharma Intelligence OTC Marketing Awards 2020
Company & Agency: Teva
Infacol, is a brand of simethicone.
It is Britain's number one colic remedy and can be found in every home in the UK.

The award-winning 'From Mother with Love" campaign, had the support of key influencers to develop personal and emotional connect for the community of parents online. It teamed-up with UK charity CRY-SIS, to raise awareness on the commonly associated colic pain in infants.

Brand: Vicks First Defence
Campaign: Vicks First Defence: defending commuters from the common cold 
Category: Best OTC Out-of-Home Advertising                                         
Awards: DTC National 2020 Advertising Award
Company & Agency: Procter & Gamble and Saatchi & Saatchi

Vicks First Defence nasal spray, as stated is used at the first signs of a cold, to reduce symptom severity and duration.

The brand was promoted to commuters in a novel poetic way that is in the form of epitaph placed on public places with the brand statement urging people to "Block the virus. Help stop the cold."


Pharmaceutical Marketing Award:
Award Winning Patient Support Programs

Brand: VERTEX GPS WITH PATIENTS & PURPOSE 
Campaign: "With you all along"
Category: Best Pharmaceuticals Online Video                                        
Awards: 2020 Internet Advertising Competition Awards
Company & Agency: Amgen and FCB Health New York (formerly)
Life for patients with cystic fibrosis (CF) isn't easy. One has the burden of multiple daily treatments, numerous doctor office visits and to add to all this – the stress of dealing with insurance companies, access, and monthly refills.
This is where the Vertex Pharmaceutical's campaign on "We're with you all along" comes in.

The company's Vertex GPS is a dedicated Patient Support program that works directly with the healthcare provider and insurance company to help access with Vertex medicine. Moreover the dedicated Patient Support Specialists for each individual needs, help support the patient with educational materials, refill reminders, and more.
You get to their website here.
Brand: Wakix
Campaign: "Know Narcolepsy" activity journal
2 categories: Print For Consumer; Best Patient Engagement, Support, or CRM Program
Awards: 2020 Fierce Pharma Marketing Awards; DTC National 2020 Advertising Award
Company & Agency: Harmony Biosciences and MicroMass Communications  

Narcolepsy is characterized by unstable wakefulness. A chronic sleep disorder where patients suffer from daily, excessive daytime sleepiness.

Narcolepsy symptoms are not always obvious and it may take the patient more than 6 years to receive a diagnosis of narcolepsy. And of those diagnosed, only 1 in 8 people agreed their narcolepsy symptoms were under control.

You can have a look at this infographic which show the results of Know your Narcolepsy survey – done on people with narcolepsy, the general public and physicians.

In order to create awareness of narcolepsy and their med Wakix, the company created the "Know Narcolepsy" journal to educate and inform the seriousness of the disorder.
The interactive Activity Journal is given to people with narcolepsy and members of their support network as a way to educate and inspire people with narcolepsy.

The cover draws attention to the fact that the Activity Journal is designed to be about the patient, and not the condition. The recipients can write or draw in it and express themselves in their journal The journal is a tool for patients to open up and communicate their symptoms with family and friends. In a way to better manage their symptoms and gain a deeper understanding of their condition.

The activity journal also includes quotes and pictures of real people living with narcolepsy; stress reduction techniques; and other features, as stated in FiercePharma report.

To get a better understanding of the campaign design and strategy, watch the interview with the team behind this campaign.

The campaign's website and YouTube channel has some great resources on education, real-life stories and tips for living with narcolepsy.

Pharmaceutical Marketing Award:
Best Pharma Print Ads in 2020

Brand: DUPIXENT
Campaign: "No Matter What"
Category: Best Established Brand Print Campaign  
Awards: DTC National 2020 Advertising Award
Company & Agency: Sanofi Genzyme, REGENERON & Arnold
The campaign aims to educate the U.S. audience about the symptoms of uncontrolled moderate-to-severe atopic dermatitis and the availability of Dupixent as a therapeutic option after failure on topical prescription therapies.

Many people with atopic dermatitis (AD) hide about their condition, because of the stigma associated with skin conditions.

The "No Matter What" campaign brings to the forefront the everyday struggles of living with atopic dermatitis (AD) by sharing real patient stories and emphasizing how DUPIXENT can help.

You can also get to know more about their multi-touch media approach here.

Brand: Injectafer
Campaign: 10% of a Campaign
Category: Consumer Print Campaign  
Awards: Gold Winner @ 2020 MM+M Awards
Company & Agency: Daiichi-Sankyo and Area 23 
Injectafer is an IV treatment for iron-deficiency anemia. The brand has brought about the case against oral iron treatments, stating that most people will be able to absorb just 10% or less iron by the oral method, and the oral ingestion of iron is often associated with unwanted gastrointestinal side effects.

The brand highlights, that it is the only IV iron that can restore 100% iron levels in just 2 administrations.

On the print ad it has creatively stated,

"10% of an ad isn't enough," the copy in the print ad explains.
"10% of the iron you need isn't, either."

In the same way on their website,

"10% of a website may not be enough.
If you have iron deficiency anemia, 10% or less of iron may not be sufficient".

By effectively making the consumers realize the 90% of what they are missing with their oral treatment, the multichannel campaign encourages the consumers to go and ask their doctors for Injectafer.

Disease: Chronic idiopathic constipation
Campaign: Toilet Books 
Category: Professional Print Campaign  
Awards: Gold Winner @ 2020 MM+M Awards
Company & Agency: Synergy Pharma and Area 23  
People living with Chronic Idiopathic Constipation (CIC) can spend up to 10 hours on the toilet each week.

And 10 hours can be — long enough to read a 300-page book!

It it is seen that doctors and even gastroenterologists would advise patients to drink more water or use OTC laxatives. To bring in the gravity of how CIC is affecting the quality of life of their patients, and to be more sympathetic towards their condition, the campaign is urging doctors to use prescription drugs to treat their chronic condition.

The team printed entire classic novels like such as Shakespeare's Hamlet, Melville's Moby Dick, 20,000 Leagues Under the Sea, The Invisible Man and Alice's Adventures in Wonderland – onto rolls of toilet paper to show doctors how much time is really lost to CIC. The cover pages of these literatures were also printed on toilet paper. All this, very effectively helped in conveying the crucial message of – the number of hours patients lose due to untreated constipation.

The 180-foot toilet paper rolls were sent as invitations to advisory meetings held by the company held by Synergy, where they wanted to discuss new solutions to supporting people with CIC. This campaign also helped build engagement around their upcoming launch of Trulance, as a treatment option for relief from CIC.

You can get a glimpse of this creative campaign and some of their materials here.


Pharm Marketing Award:
Pharmaceutical digital & social media advertising awards 2020 ; Best pharma social media campaigns of 2020

Disease: Multiple Myeloma
Campaign: Being Patient – Multiple Myeloma
Category: Best Disease Education Digital / Social Media Campaign
Awards: DTC National 2020 Advertising Award
Company & Agency: Takeda Oncology and Snow Companies; Global Experience Specialists (GES) 
Takeda Oncology wanted their employees to know what it really feels like to live with a myeloma diagnosis, so they built an app called "Being Patient: Multiple Myeloma." 
Being Patient: Multiple Myeloma is an experiential application designed to give one a deeper understanding of what it's like to live with multiple myeloma. Throughout the experience, one would have the opportunity to see through the eyes of a multiple myeloma patient as to what they endure every day living with this disease.

The application will start from diagnosis and take you through a series of real-life experiences that are designed to emulate the physical, emotional, psychosocial, and financial burdens characteristic of this journey.
Takeda stated: "This transformative experience serves as a driving force and reminder that patients remain at the core of all business decisions, no matter what role you serve at Takeda." 

Brand: SUNOSI
Campaign: Amazing things happen during the day
Category: Best New Brand or Indication Digital / Social Media Campaign      
Awards: DTC National 2020 Advertising Award
Company & Agency: Jazz Pharmaceuticals and FCB Health New York 

Launched in 2019, Sunosi is a prescription medicine used to improve wakefulness in adults with excessive daytime sleepiness due to obstructive sleep apnea or narcolepsy.
The consumer digital and social efforts are directed to build traffic to the brand's website. Sunosi's campaign "amazing things happen during the day," shows a drowsy man failing to notice the flying saucer and flying pig hovering his window.

Further pointing to the brand promise that – SUNOSI Can Help You Stay Awake For Amazing Things !

The site also offers a Daytime Sleepiness Quiz,  9 quick questions to rate how tired you have been recently during the day.
On completion they can share their Daytime Sleepiness Quiz results with their doctor to have a more productive conversation about feeling so tired during the day.

Brand: Ozempic® (semaglutide) injection 0.5 mg or 1 mg 
Campaign: Oh! Oh! Oh!
Category:   Best Established Brand Digital / Social Media Campaign
Awards: DTC National 2020 Advertising Award
Company & Agency: Novo Nordisk and BCW, HyperPointe, Cult, Publicis/SparkFoundry, Starpower, Sharecare
The current Oh! campaign commercial gives the 3 prime reasons to consider Ozempic.

People everywhere are exclaiming, "Oh!," in reaction to Ozempic's, once-weekly injectable prescription medication meant to lower blood sugar in adults with Type 2 Diabetes.

The company has highlighted their main product benefits to the patient.

The main Oh! triggering statements were –
>> Majority reached A1C under 7%
>> Adults on average lost can lose upto 12 lbs of weight,
>> Lowers the risk of major CV events.
>> It also shows, how Ozempic can help the patient reach their blood sugar goals.

The campaign is in a way having the patient be involved in the understanding of their diabetes care plan. It demonstrates the person's understanding of, and adherence to, the treatment plan.

In a way it has effectively conveyed that, engaging a patient in the process can strengthen the partnership between healthcare professionals and people living with diabetes.

You can have a look at their commercial below –
As part of its social media advertising campaign, they had ads on LinkedIn for the prescription product Ozempic, targeting healthcare professionals.

With the ad copy as, "See what this little pen can do for your patients?" – Asking them to click on the Learn More tab, in order to see the efficacy data.

One of the earlier campaign was "The Experience Exchange Program".
"But as the ninth to market in its class, we needed to ensure doctors would see Ozempic's dramatic results on their diabetes patients faster than the typical 3-4 month follow-up appointment," CultHealth agency leaders say.

"This program used text messaging to engage patients on a frequent basis, motivating them, answering questions, and tracking both emotional measures (confidence with injections, anxiety about side effects) and physical ones (blood glucose management, weight reduction). We collected the data in a secure, HIPAA-compliant process and reported back to doctors long before their patients' follow-up visits. Confident with these data, doctors who participated in this program are now the highest prescribing segment, writing multiples of Ozempic prescriptions relative to nonprogram doctors."


As stated on www.pharmalive.com
Brand: Skyrizi
Campaign: Personalized, Omnichannel HCP Marketing Boosts a Blockbuster Launch
Category: Use of Relationship Marketing
Awards: Gold Winner @ 2020 MM+M Awards
Company & Agency: AbbVie, Intouch Solutions and Merkle
Skyrizi, has been considered one the successful brand launches of the year. With strong clinical evidences, convincing product benefits in the treatment of plaque psoriasis and the legacy of the Humira brand – there was an opportunity to switch doctors to recommending Skyrizi.

But instead of adopting non-personal method of communication that is based on one-campaign for all doctors, the company decided to bring in a more personalized type of marketing based on relationship.

For this customer-centric experience the company made used data, key customer insights and technology for their omnichannel program to reach HCPs.

For the patients, the campaign was called "Let Me Be Clear," which began on World Psoriasis Day Oct. 29 last year. It was a digital empowerment platform for people with psoriasis to share their experiences and aspirations and learn how to achieve the best care.

The launch campaign had a peppy song called "Nothing is Everything," which emphasizes the joy people feel in getting clearer skin. 


Brand: Nicorette
Campaign: The Taste Test Drive
Category: Use of Social Media, Paid
Awards: Gold Winner @ 2020 MM+M Awards
Company & Agency: GlaxoSmithKline and Weber Shandwick  
GSK's new Nicorette Coated Ice Mint Lozenge – the first and only FDA approved coated lozenge, helps stop cigarette cravings, additionally also addressing the symptoms of cigarette withdrawal while doubling the chances of quitting.

In a media driven environment where e-cigs or vaping have created a misconception of being better cigarette alternatives and get considered as smoking-cessation products – the challenge for the brand was to help people completely quit smoking and for smokers to consider Nicorette as an effective smoking cessation tool.

Gathering customer insights, Nicorette came to know that the most powerful way to connect with current smokers will be advice from former smokers who have successfully quit. 
The campaign emphasizes Nicorette's mission to truly support smokers in their journey to quit. Being a one of a kind innovation in its category after about 10 years, the great tasting and effective lozenge offers long-lasting craving relief and works to make cravings a bit more enjoyable.

And to champion its cause, it has partnered with Dale Earnhardt Jr., former smoker and NASCAR legend, as a their brand ambassador. In the campaign video Dale, invites smokers to take Nicorette on a Taste Test Drive. The video was featured online as well as social media, which helped create lot of engagement.

For its offline campaign, Dale shares his personal experience in high-impact consumer, sports, lifestyle and business media with stories appearing in Forbes, People, USA Today, Good Morning America and others.

Watch the video as Dale Earnhardt Jr. takes his cousin Danny out for a taste test drive to try Nicorette Coated Ice Mint Lozenge.
With a bold ice mint flavor and smooth texture, smoking craving relief has never tasted so good!

Brand: Mucinex Nightshift Cold & Flu 
Campaign: #BeatTheZombieFunk Dance Challenge
Category: Digital Initiative for Consumers
Pharmaceutical Marketing Award: Gold Winner @ 2020 MM+M Awards
Company & Agency: Reckitt Benckiser and Lippe Taylor  
As Reckitt Benckiser was ready to launch Mucinex Nightshift Cold & Flu in October 2019 – it coincided with the time of Halloween celebrations in the US.

To attach an element of fun and excitement to its launch and to engage its younger target audience – the campaign based on the zombie theme was activated on TV ads, digital, public relations and plenty of social media.

The company partnered with TikTok for the zombie #TooSickToBeSick challenge. It also partnered with celebrity choreographers Allison Holker and Stephen "tWitch" Boss, who shared their dance moves on TikTok and Instagram. The Mucinex mascot – Mr. Mucus also hosted content on social channels for a complete Mucinex brand experience. 

Watch the #BeatTheZombieFunk Dance Challenge below –
Disease: Diabetes
Campaign: "Off to A Good Start"
Category: Social Media for Consumer
Pharmaceutical Marketing Award: 2020 Fierce Pharma Marketing Awards
Company & Agency: Eli Lilly  and TrendyMinds
"Off to a Good Start" campaign was a series of animations that were created targeting people with diabetes to better understand their disease.

This was based on insights that a high number of diabetic patients do not adhere to their treatment plan.

To address this immediate gap, the company had unique video animations on various topics balancing blood sugar, understanding the impacts diabetes has on other parts of the body, and the disease progression over time.
The overarching aim is "breaking down the science behind the disease into a sixth-grade level, so that everyone from caregivers to friends and family can easily understand.

It's at our core to take complex healthcare information and make it so that it is digestible for anybody," said TrendyMinds' President and CEO Trevor Yager.

As reported in FiercePharma
You can find examples of Off to a Good Start creatives here.


App: Tecfidera TecTrack 2020 Update
Category: Best Pharmaceuticals Mobile Application
Pharmaceutical Marketing Award:  WEB MARKETING ASSOCIATION's Mobile Web Award 2020
Agency: Patients & Purpose
TecTrack is an app for people treating their relapsing multiple sclerosis (MS) with the med Tecfidera (dimethyl fumarate). Its goal is to make the most of the patients' treatment journey with Tecfidera.
The app keeps a track of the dosage and treatment progress and supports the patients to adhere to their treatment plan, therefore postponing some of the debilitating symptoms of the disease. With tips, reminders, access to the med, and personal stories the patients can better manage their treatment. By using TecTrack on a regular basis, the patient can keep track of your Tecfidera (dimethyl fumarate) treatment and better prepare for a productive conversation with their healthcare provider. 
This is a snapshot of the app from the Apple store: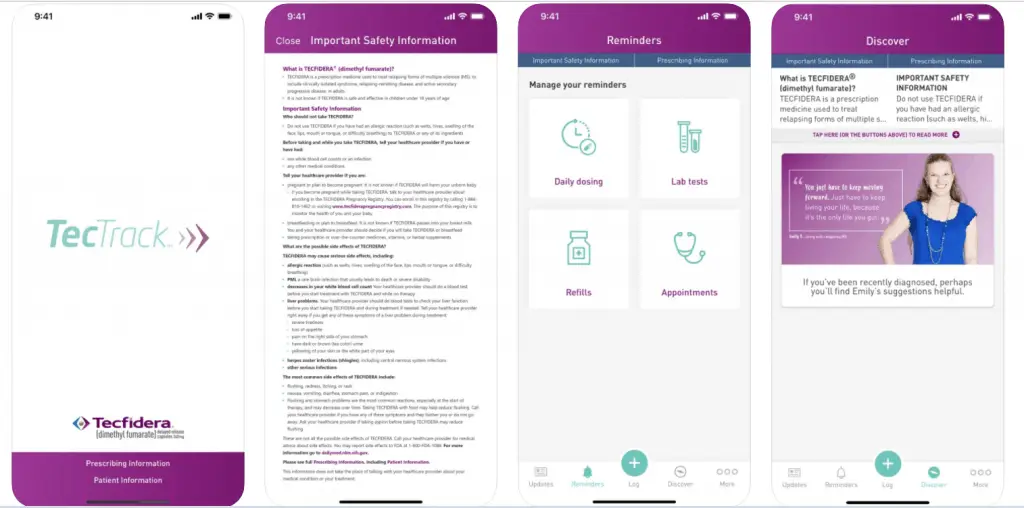 Brand: VUMERITY
Category: Best Pharmaceuticals Mobile Website
Pharmaceutical Marketing Award:  WEB MARKETING ASSOCIATION's Mobile Web Award 2020
Agency: Patients & Purpose
The goal of the Vumerity patient website is to educate relapsing MS patients about VUMERITY as a treatment option and empower them to ask their doctor about it.
To connect with the 25-34 year old audience, who were dissatisfied with their current treatment, the award winning agency brought in some innovative thinking into the website design – keeping in mind aesthetic, empowering messaging, and an engaging user experience. Read more about the agency's creative approach here

Brand: Deep Relief
Campaign: "go the distance"
Pharmaceutical Marketing Award: Pharma Intelligence OTC Marketing Awards 2020
2 Categories: Best OTC Digital & Mobile Marketing Campaign
Company and Agency: The Mentholatum Company and 1DA, the7Stars, Jungle Cat Solutions
Go the distance was a campaign built to drive awareness and usage of Deep Heat Roll-on and Deep Freeze Glide within the running community through inspirational messages and encouragement during the 2019 London Marathon.

The campaign ran across various OOH media, social, digital, experiential and influencer channels. The results of the campaign were a success – online reach increased by over 309% with more than 40% engagement as compared to 2018.

Brand: Canesten
Campaign: "Different is Normal"
Category: Best OTC Social Media Campaign
Pharmaceutical Marketing Award: Pharma Intelligence OTC Marketing Awards 2020
Company & Agency: Bayer Consumer Health and Wunderman Thompson, Pegasus, Mediacom
The company partnered with Brook, UK's leading sexual health and wellbeing charity for young people. The Canestan campaign wanted to drive the message of Love Your Vulva.

For this, they created an interactive online platform designed to empower & educate people about vulvas. It champions the message #DifferentIsNormal by removing stigma, or any myths to boost body confidence!

Get to know more of the campaign here



DON'T WANT TO MISS THE NEXT ARTICLE
Subscribe to receive similar articles on
Trends & Best Practices in Pharma Marketing,
directly to your mailbox.

Best of Pharmaceutical Marketing in 2020





Disclaimer: The images given here are sourced as screenshots or those available on the web. There is no intention to infringe upon copyrights. If such a claim comes up, the image shall be promptly removed.


Best of Pharmaceutical Marketing in 2020