Subscribe to get our Free emails on Tips, Trends & Best Practices for Pharma Marketing in the Now


Understanding the importance of the customer experience in the pharmaceutical sector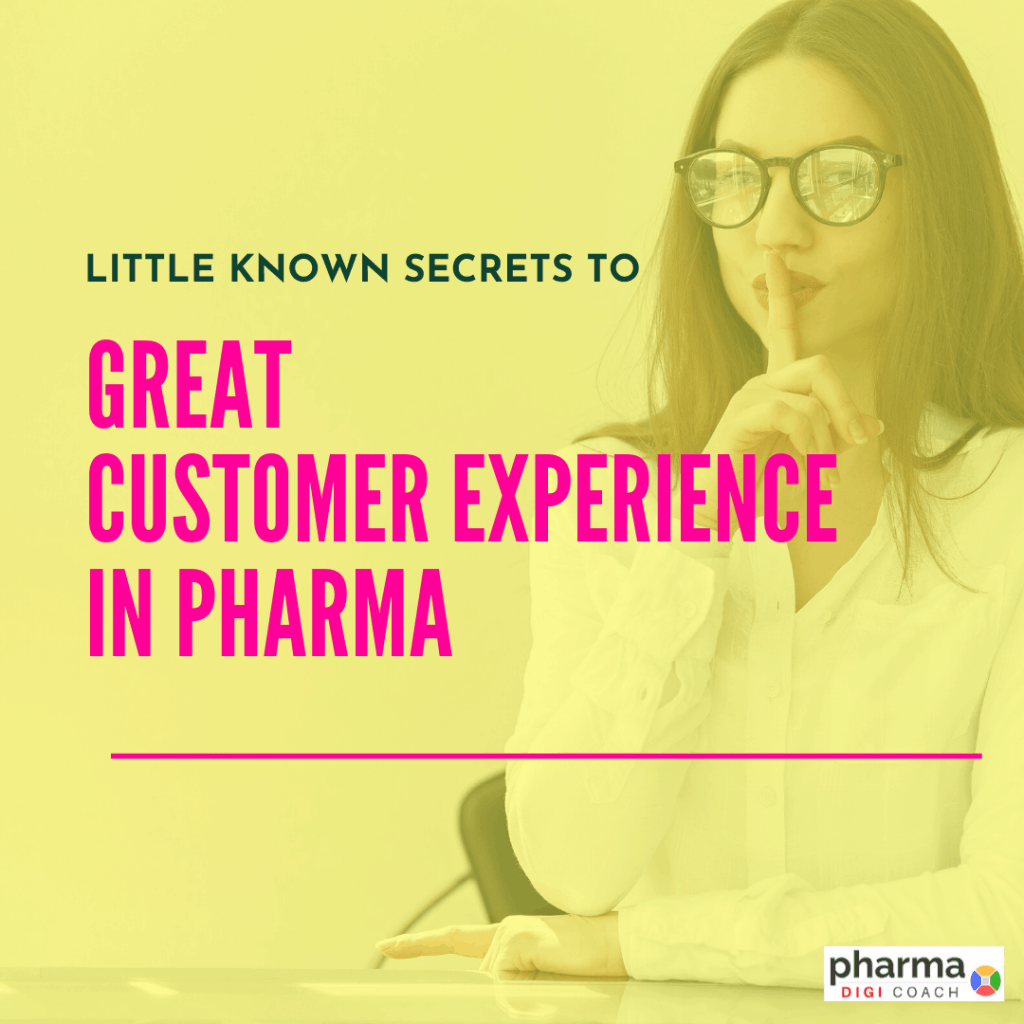 The current state of customer experience in the pharmaceutical industry (CX in pharma)

Dr. Atul Gawande, the famous surgeon, and public-health researcher states in The Newyorker article of Nov 2018 –
"Physicians hate their Computers"
"Doctors are among the most technology-avid people in society. People in the medical profession actively, viscerally, volubly hate their computers"

Well alright, so I kind of spilled the beans!!
But I think it is useful to apply the gravity of this statement to our present context. That is, at a time when pharmaceutical companies have taken to embracing digital in a big way.

Given the current crisis situation, DIGITAL had to inevitably become the New Norm. Like it or not!

In responding to the crisis, pharma has tried to reach its doctors with too much focus on the digital channels.  
The result – Physicians have been bombarded with tons of daily emails, messages, calls, invitations to webinars, and virtual conferences.
And the thing is, doctors have become overwhelmed with all these digital options.
According to a recent research report by Express Pharma, doctors responses on pharma interactions are as follows –
Reduce pharma webinars (33% doctors)
Medical representative to do prior booking for e-call or F2F meeting (79% doctors)
Pharma webinars have no relevance or significance (41% doctors)
Doctors are irritated at getting messages at odd times, and were thinking of blocking the numbers (65% doctors)
Also in a previous survey, carried out with physicians (on their experiences with pharma and expectations from pharma's portals and digital assets), revealed that the way pharmaceutical websites provide information, was is confusing.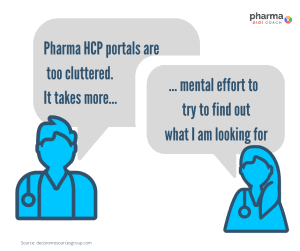 Overall, doctors are definitely looking out for more satisfying digital experiences and meaningful interactions from pharmaceutical companies.
→ Related Article: What are the challenges facing the pharmaceutical industry?

Customer experience (CX) will be the key to differentiate for Pharma
One thing is clear, simply adding to the digital noise in terms of more digital tools and information overload is not going to help.

The physician's virtual transition during the COVID-19 crisis has been quite frustrating and stressful. As the complexity and competition increase in pharma marketing, optimizing the customer experience has become more important than ever.

Pharma marketers need to look at this scenario, as an opportunity with optimism to make a huge difference.

With the advanced technologies today, this can be a chance to do something unique, in never before tried creative ways. To give brands a more refreshed look, and bring in a new kind of energy in their customer engagement programs.

Today striving for happy and satisfied customers is quite essential, because doctors can share their positive and negative product experiences in the online world that can actually spread like wildfire. It can make or break the reputation of a pharma brand/company almost instantly.
What makes an incredible customer experience?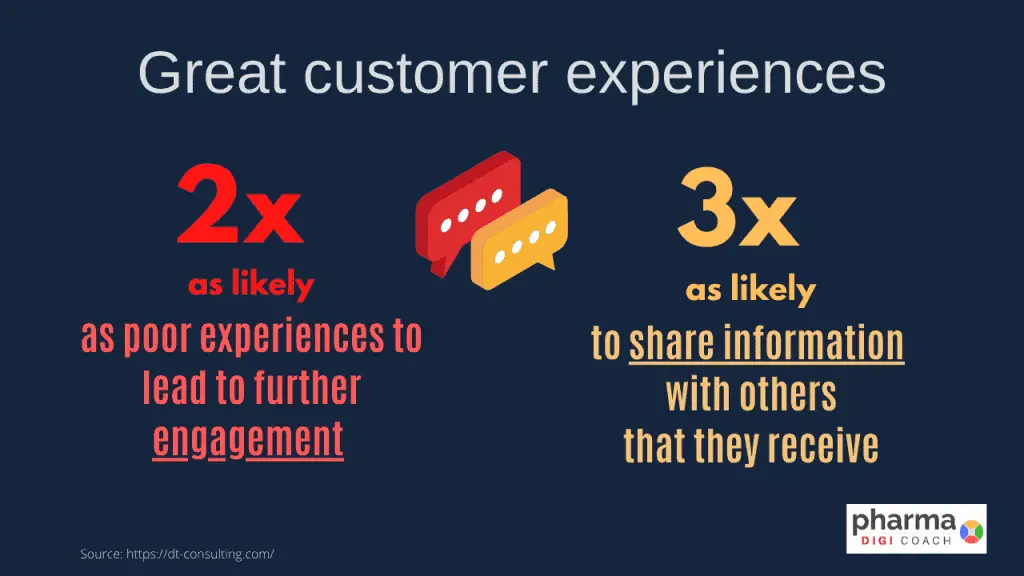 To win pharma companies need distinctive customer experiences along with differentiated products, as stated by McKinsey

But what does good Customer Experience (CX) look like in pharma?
So far, for the pharma marketer, the emphasis has been on designing brand-centric campaigns for its customers.
Creatives, strategies, promotions were developed to meet the brand's objective. It was all about the brand. That was it.

But, what is the ultimate customer experience?
Good Customer Experience starts with the customer at the center.
Every digital engagement initiative has to designed with the key objective of meeting the 'customer's requirements'.
Here is an example describing a customer experience program in pharma
Every morning, the surgeon Dr. Peter, starts the day by checking his emails.

Today, Dr. Peter reads an email from a pharmaceutical company that has launched a new molecule. The surgeon clicks on the link and reads the details of the drug that has been provided. He reads this information for about 3 mins.

Data of the doctor reading the email, clicking on the link and, engaging with the information has been captured.

The sales rep has access to this data, he knows the doctor has shown interest in this new drug.

Later in the day, the sales rep calls on the surgeon, and e-details only the newly launched product. Giving some additional information, which is an extension to the email article that the doctor had read in the morning. More value is added during this rep call.

Later that evening, the doctor gets to see some ads on the drug in the online medical journal he is subscribed to.

With a click on the ad, the doctor is directed to the drug's website (that is customized for this surgeon – the content on the drug is all relevant to the doctor's specialty). The surgeon also goes over the published studies on the site.

Data on the doctor's website visit is also captured.

In the the following days, the doctor Tweets about the new drug, has social chats with other fellow doctors and gathers their opinion.

Few days later, the doctor prescribes the drug to a patient and forwards the patient assistance program details to this patient.

Adapted from pharmalive.com
To summarize,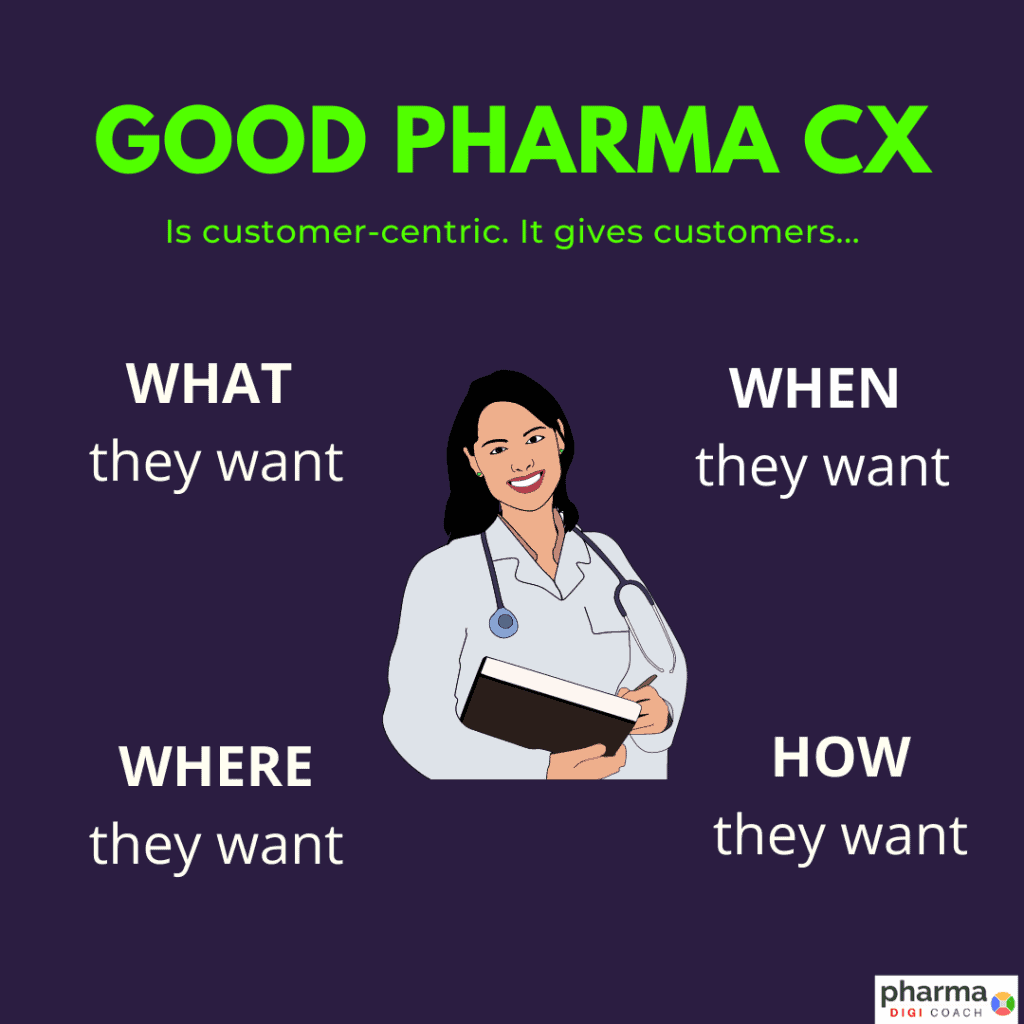 A good pharma CX would be one that can understand their customer needs -(The pharmaceutical industry needs to adopt a customer-focused approach).

Customer experience is about knowing the pharma customer journey
Traditionally 'the sales rep meeting the doctor' and managing the relationship was all that mattered.
That used to be the primary and usually the only contact point for the doctors, and this was kind of geared towards being more promotional and transactional.

But that is not the case now.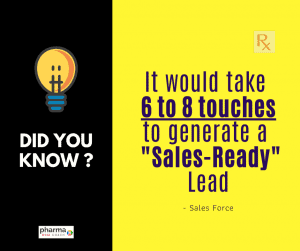 The pharma customer journey has changed in many ways in the virtual engagement model.

Today, there are multiple touchpoints and multiple channels that a doctor can engage with.

An excellent customer experience needs to clearly map the customer journey and strive for immediate satisfaction and also exceed expectations, at every touch-point.
How can pharma marketers manage the customer experience journey map?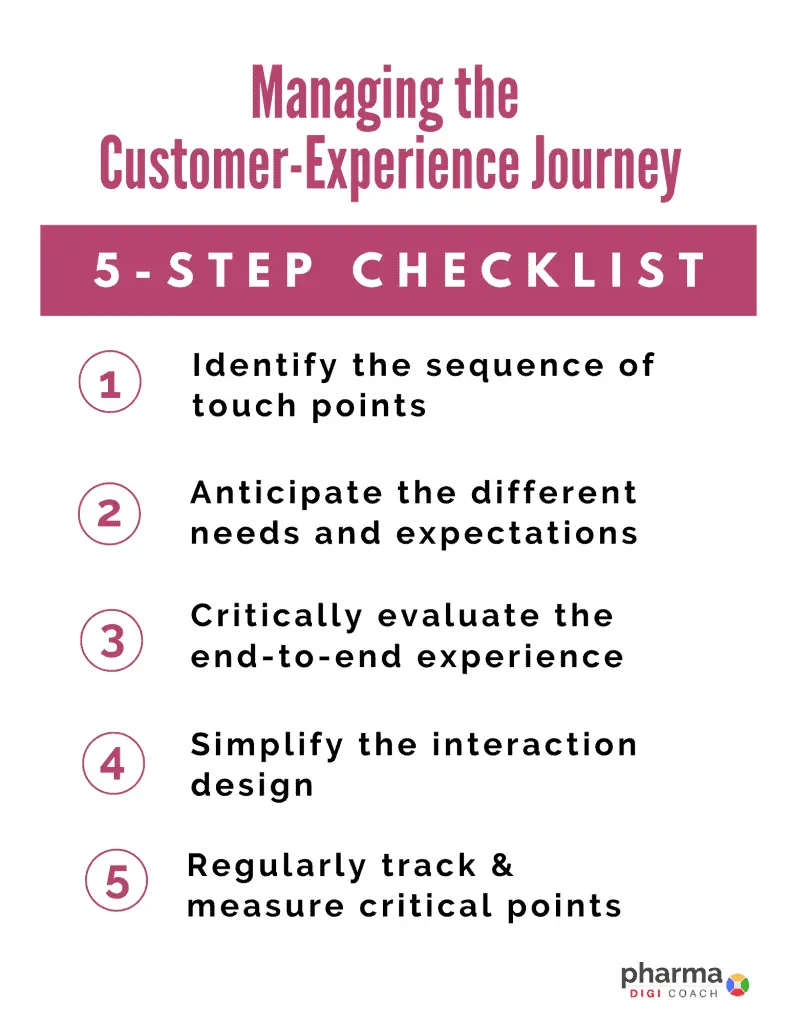 How would you describe your customer experience?

Customer Experience (CX) mapping tool:
The 5-step checklist
Identify the entire sequence of touchpoints the customer would go through. From the physician's point of view, how would they navigate through the touchpoints?

Anticipate the different needs and expectations that could arise at different points in the physician's journeys

Critically evaluate the end-to-end experience. Are there any gaps or barriers that could hinder the experience, are there any opportunities to help physicians perform better.

Simplify the interaction design. Avoid processes that can be complex for the physician.

Track and measure. Regularly capture measurements that matter at critical points in the journey.

Customer experience (CX) strategy requires deep customer knowledge
That means knowing the customer at a whole new level.

COVID-19 has brought in a huge shift in the needs of the doctors.
Personas or physician avatars need to be developed based on the new desires and behaviors.

In the traditional approach, physicians were segmented by their prescribing behavior or patient volumes.

But digitization has made it possible to form micro-segmented customer groups, which take into account the granular needs of our customers.
New segmentation strategies will have to be developed around the digital behaviors and preferences as well as the rational and emotional drivers.
Also, remember your customer segments must be executable and measurable.
Customer segmentation – The way to customized target messaging strategies
The more deeply pharma understands its customers, the easier it would be to segment and
provide highly targeted messaging and the most relevant content.
Here is a simple checklist tool for developing your customer personas

Bridging the 4 obstacles from the COVID-19 crisis for better CX
Now is going to be the right time for pharma companies to adopt a customer-centric approach to understanding customer challenges.

Because creating a positive view of the product and company in the minds of our customers does have a direct impact on their prescribing behavior as well.

With this, let us have an overview of some of the problems that have arisen in the physicians' lives because of the pandemic and

find unaddressed gaps to enhance the pharma's customer experience.

Let's get closer to giving that truly satisfying experience to our customers, during these difficult times.
1. Physicians needs have changed
COVID-19 has brought in a dramatic change in the basic needs of our customers. Many of those things you knew about your target customers are different now.
Do our customers still aspire for self-esteem, status, recognition, or have they become more survival-based?
For this, lets first try and understand 'human behavior' and their 'needs', based on the motivational theory of Maslows Hierarchy of Needs, which argues,

That human needs are arranged in a hierarchy. Needs lower down in the hierarchy must be satisfied before individuals can attend to needs higher up.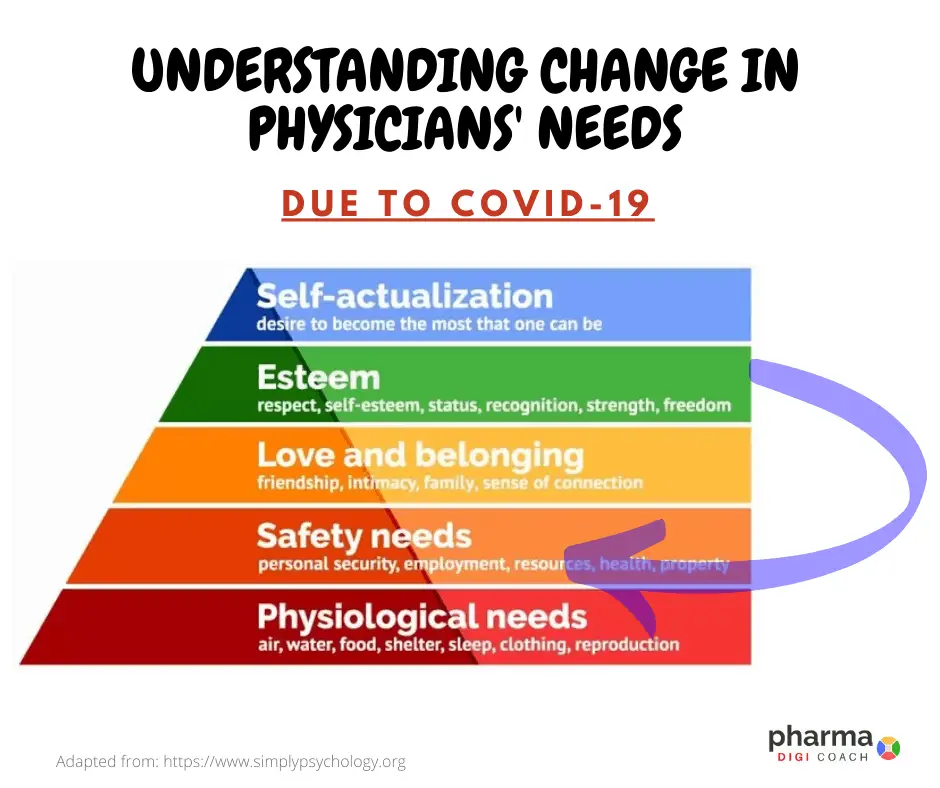 Notice that the doctor's need for security and safety has been shaken due to the COVID-19 crisis.
Patient volumes have dropped, many have had to temporarily close their clinics, technological expenses have risen and all this has negatively impacted their finances.
At what level are you trying to connect with your customers?
Marketers will now need to be aware and sensitive to the new changes in their customers' lives.

This means pharma marketers will not only have to look into the clinical needs of their doctors but understand the emotional needs of their customers.
Having answers to the following questions can be useful:
– Understand the physician's REAL needs, especially during this time of crisis?
– How can I help my doctor to perform better?
– What motivates them to take action, during these trying times?
– How can I assist my doctor in caring for their patients?
– What will be the nature of a 'pharmaceutical customer service' in the digital domain ?
The company that can truly empathize with the customer during these trying times is bound to win trust and loyalty in the long run.
→ Related Article: How do you understand customers?
Here are 9 essential tools for Pharma Marketers, interested to know about their customer. These tools will help them in gathering information for creating the health personas (Doctor Personas). Click Here
2. Facilitating new physician behavior
One thing to note is, physicians have been accustomed to analog-based care for most of their careers.

Constant virtual engagement is taxing for the doctors. But the most obvious potential contributor to this fatigue is the simple stress of transition.

The current crisis has actually forced doctors to adopt the virtual model. How many doctors do you think were digital savvy?
Adjusting to a completely different workflow has been challenging on many fronts.

Pharma needs to step in!
Because only knowledge sharing will not help.

We need to facilitate a behavior change with the RIGHT digital tools.
Ways to improve digital customer experience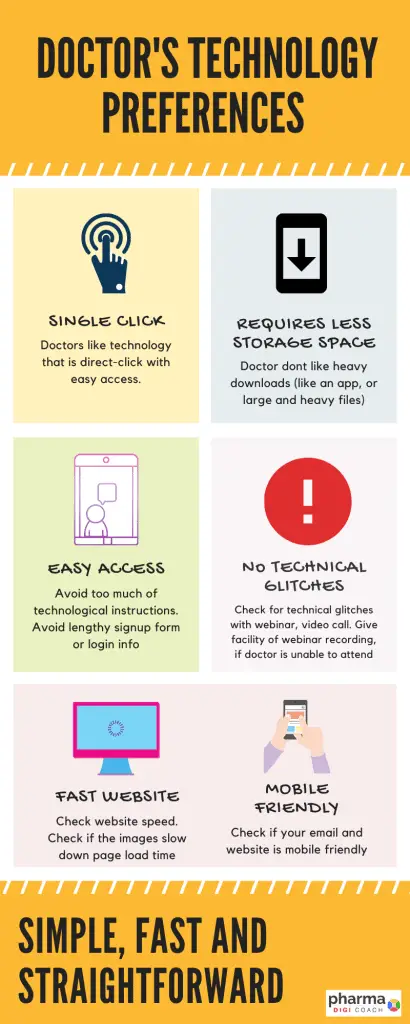 All these could be the unspoken or hidden pain points in a pharma's customer journey when interacting with the digital offerings. But small experiences matter and can make a positive impact in the lives of the customers.

The key to beat the digital learning curve will be with friendlier digital tools.
Remember, doctors just want
SIMPLE, EASY TO IMPLEMENT, and STRAIGHTFORWARD digital engagement.

3. Need for an emotional customer experience in pharma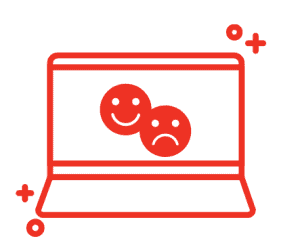 How does your customer feel after having interacted with your brand?
Does your brand make them feel good?
or
are doctors overwhelmed with the digital choices?
Relationships could weaken in the digital clutter.
Thus during these uncertain times,
developing that emotional bond will be about being empathetic in your marketing approaches.
That comes to our next question. But,
How can marketing be empathetic in times of uncertainty?
Strategies to increase customer satisfaction in the pharmaceutical industry
Is your content relevant to the doctor's present needs?
Before you click on 'send'- Check if there's value or will you be adding to the digital noise?
Does your doctor have to interact with reps
from different marketing divisions of the same company,

each promoting brands in a similar category

Offering customer services beyond pharmaceuticals.
How can you help doctors in reaching patients, who are afraid to come to their clinic/office?
Are there any tools or services you can
provide
the doctor to
improve their
patients services?
Do you have a process
to collect customer
feedback and
address
doctor
concerns?
Pharma can plan a compliant, reward-based customer satisfaction survey to encourage customer responses.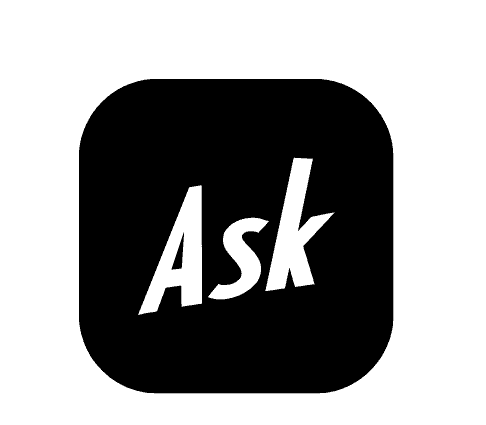 But there will be no better way than to directly get in touch with your customer and to 'Ask' them.

Use the right tone in your communications – that which is honest, transparent, and human.

Paying careful attention to your customers problems, will let your customer know that you care for them. Just one conversation can reveal a lot!

When you speak directly with some one, you not only hear their words, but also feel the emotion that is often missed in an online feedback survey.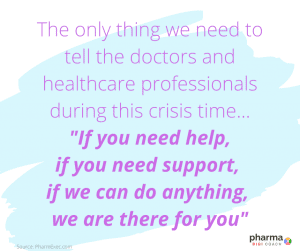 Keeping conversations, simple and short, pharma needs to ask their doctors-
"How can I support you? How can I serve you?"




COVID-19 has taught us that we still yearn that human presence and personal connections in our lives.
So, the entire objective is to raise the level of our digital connection to being as close to a personal interaction and making it more humane.
Can we design digital experiences that strengthen our human connections, instead of weakening them?

4. Need for personalization
I remember in the earlier days when we used to personalize the doctors names on annual diaries. That was the best we could do to personalize an offering to the doctors.
But in the digital landscape, there is a new meaning to personalization.

With physicians being hard pressed on time, there is so much need for credible, best, and most relevant information at the tip of the fingers.
And personalization is the solution to exceed customer expectations and guarantee customer satisfaction.

Some examples where personalized marketing can drive high customer engagement in the pharmaceutical industry
Millennial doctors who are just starting out in their career would be more tech-savvy while on the other extreme you will have the senior doctors, who would still prefer face to face rep detailing.
Some doctors are interested in clinical research updates in their field, others would be interested in conference highlights. Some would have high interest in genetic diseases and orphan drugs. While few others would show more interest in video/audio formats.
Localized customer experiences. You may have to adopt different channels for customers in different geographies. For example, in a territory, you will find doctors having more preference for phone/ WhatsApp messages over video calls.
Personalization also means creating a sales funnel for the specialty doctor.

Doctor's needs differ from the time they are introduced to a new drug molecule, to requiring a more in-depth understanding of how the drug performs in different types of patients, its safety, its contraindications and so on so forth.

Fulfilling the doctor's need for information, at the right stages with appropriate content deliverables can drive the physician to take action and prescribe.

To conclude,
With all the talk on customer experience in the pharmaceutical sector, pharma marketers will need to gather as much information about their customers. Pharma has an advantage here because they already have a huge database of their doctors.
Pharmaceutical marketers need to collaborate with their sales reps, to enrich this data with information and build well-segmented profiles by lending an ear to their customers, as we discussed.
Final thoughts on customer experience management in pharma
Remember, the true POWER of DIGITAL lies in its ability to –
PERSONALIZE
GIVE FREEDOM OF CHOICE &
OFFER CONVENIENCE

Making the most of this…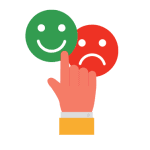 The need of the hour is to ADD the touch of HUMAN ELEMENT to providing outstanding customer experiences.
---

Here's The Next Step
I hope you enjoyed and gathered some good points from this post.

Now I want to turn it over to you.
Which of the areas interested you the most?

Are you going to look into developing your customer personas or do the customer experience mapping?

Either way, let me know in the comments section.
---

DON'T WANT TO MISS THE NEXT ARTICLE
Subscribe to receive similar articles on
Trends & Best Practices in Pharma Marketing,
directly to your mailbox.

RELATED ARTICLES ON PHARMA MARKETING DURING COVID-19

Little Known Secrets to Great Customer Experience in the Pharmaceutical Sector
Little Known Secrets to Great Customer Experience in Pharma