Subscribe to get our Free emails on Tips, Trends & Best Practices for Pharma Marketing in the Now

List of health campaigns, healthcare marketing ads and health awareness campaigns – A monthly compilation of Branded and Unbranded Healthcare Campaigns

Healthcare Campaigns April 2021
>> FDA's Public health anti-vaping campaign through a comic book

>> Spot Her, a health awareness campaign on endometrial cancer

>> Abbvie launches "Lets talk Fibroids" health campaign on digital and social media

>> Restasis's latest DTC campaign targets women with dry eyes

>> GSK's Flonase DTC ads say "Allergies don't have to be scary"

>> Based on patient insights, J&J's Tremfya's ad focuses on patient struggles

>> Teva Canada commits to Canadian caregiver community on National Caregivers Day

>> AstraZeneca and celebrity chef raise awareness on lung cancer through a cooking session

>> GSK consumer healthcare brand, Excedrin's, latest campaign targets gamers and gaming headaches

>> Bayer's virtual voice assistant now answers prescription drug queries asked by health professionals

>> Lilly teams up with Olympic athletes to share survivor stories of health issues

Healthcare Campaigns March 2021

>> User-generated educational content making the COVID-19 vaccine brands famous on social media

>> Abilify Maintena's one of a kind DTC commercial using CGI based animation style

>> The first pharma doctor campaign to raise awareness on eosinophilic esophagitis

>> A new health awareness campaign on Idiopathic Hypersomnia

>> HRA Pharma launches a brand new platform "The Cushing's Hub"

>> Reckitt's OTC brand Neuriva, endorsed by America's favorite neuroscientist

>> Exact Science's Public Health Awareness Campaign on Colorectal Cancer

>> GSK launches a new web series "Science on the Sofa"

>> Novartis hosts a virtual MS event with popular singer Andy Grammer

>> A brand new resources hub site to create awareness on chronic lymphocytic leukemia (CLL)

>> Galderma's new campaign inspires young people living with acne

>> Bayer Consumer Health's first Amazon Alexa interactive ad for OTC brand Berocca Boost


Healthcare Campaigns Feb 2021
>> Novartis' promotes Kesimpta by showing the drama associated with relapsing multiple sclerosis

>> "Mission Possible": Natgeo gets access for Pfizer's movie on the race to develop the first COVID-19 vaccine

>> Bristol Meyers' Music Therapy Offering for Multiple Sclerosis Patients

>> Evofem Biosciences first TV commercial for Phexxi contraceptive

>> AstraZeneca's COPD brand urging people to "Get Real" through its new animation ad

>> Terry Bradshaw partners with Pfizer for pneumococcal vaccine awareness

>> Neurocrine's comprehensive launch strategy of Ongentys for doctors and patients

>> From Cancer to Cures: A new documentary series from Novartis

>> Roche Genentech's animated ad for flu med Xofluza

>> J&J raises prostate cancer awareness during New York Fashion Week

>> Bayer partners with dance legend to raise kidney disease awareness in Type 2 diabetes

>> TransplantLyfe, the first online engagement platform for transplant patients

>> NFL Alumni Association partner with CDC to raise awareness around COVID-19

>> Dexcom's ad targets the young people with diabetes through celebrity Nick Jonas


Healthcare Campaigns Jan 2021

Healthcare Campaigns April 2021

FDA's Public health anti-vaping campaign through a comic book
Source: MM+M
In the latest of FDA's public health Real cost campaign, we now have comic characters raising awareness on the negative effects of teen smoking. The campaign's mission has been to combat nicotine addiction amongst the youth.
The 16 page comic book is titled as "The Mind Control Menace". The story is about two students who come together to find a way to defeat the Mind Control Menace (the Vaping Villain!) and save the school. The campaign includes both comic books as well as YouTube videos.
The a look at one of the animated videos:

Spot Her, a health awareness campaign on endometrial cancer
Source: www.prnewswire.com
Eisai pharma in partnership with SHARE Cancer Support (SHARE), Facing Our Risk of Cancer Empowered (FORCE) and Black Health Matters wants to break the stigma around endometrial cancer.

Spot Her is an initiative to help end the silence around endometrial cancer. To empower every woman to take a stand on this important health issue. The campaign not only educates but also aims to support and give strength to the community.

The site urges the readers to raise the voice, by using the hashtag #SpotHerforEC. And by doing so, Eisai will donate $1 (up to $20,000) to FORCE and SHARE who provide support for women living with endometrial cancer.

Check the site, to know about this health campaign.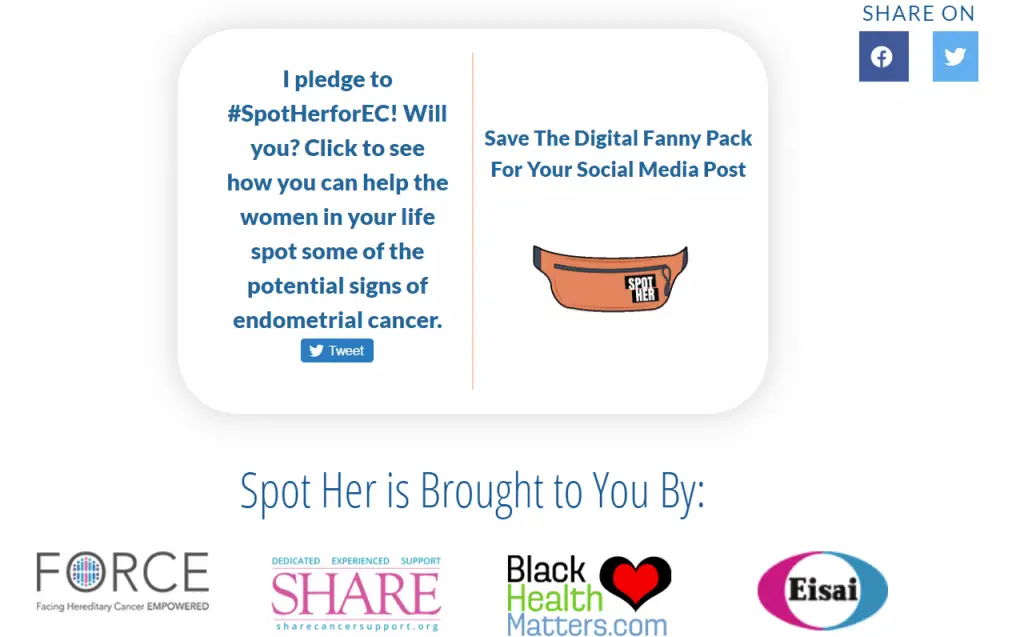 Abbvie launches "Lets talk Fibroids" health campaign on digital and social media
Source: FiercePharma
To encourage women to speak up about their period problems and create awareness on Fibroids, AbbVie has launched the "Lets talk Fibroids" campaign.

The health communication campaign website, has important resources that addresses very basic questions related to this health condition. What makes this website distinct is the way in which the content is simplistically presented. A health guide that can help patients to have an open discussion with their healthcare providers, is provided. Plus the site also gives a good overview on the different treatment options available.

For its social media campaign efforts, readers are encouraged to use the hashtag, #TalkFibroids on Facebook and Twitter

You can view one of their social media posts here:

Restasis's latest DTC campaign targets women with dry eyes
Source: FiercePharma
Allergan's latest DTC campaign for its Restasis dry eye med, is for people to take control of their chronic dry eye conditions. Through the 'Taking on Anything' campaign, people are encouraged to visit their eye care doctor.

The demand for dry eye solutions has risen during the pandemic. More screen time and staying more indoors has changed people's lifestyle dramatically and thus the rise in dry eye incidences.

And to make talking with eye care professionals convenient from the comfort of home – people are able to book appointments through the telemedicine platform, provided on the Restasis website.

Interestingly, the campaign's primary target are the women. As it was found women in their mid-forties are the most affected.

You can have a look at their recent Restasis TV Commercial here:

GSK's Flonase DTC ads say "Allergies dont have to be scary"
Source: FiercePharma
GSK's latest Flonase ad has allergy monsters rising from the ground and scaring people away in a garden with the attack of pollen, dust and debris. While the people on Flonase, are seen to be calmly enjoying their ice cream or reading a book.

The ad closes with the tag line, Psst! Psst! You're Good. Basically trying to remind people of Flonase gentle mist spray action.

Flonase latest DTC campaign's wants to convey the message that Allergies don't have to be scary !

The ad story was born from the following insights shared by Obehi Remi-John, GSK senior brand manager, allergy in the FiercePharma news report –

"By talking and listening with consumers, we developed a very clear understanding of the complex relationship allergy sufferers have with nature—they want to love and enjoy nature like everyone else, but they feel nature doesn't love them back and is actually working against them,".

Based on patient insights, J&J's Tremfya's ad focuses on patient struggles
Source: FiercePharma
In the new Tremfya's ad, J&J highlights the real-life experiences of patients with plaque psoriasis. While the general messaging by others in this category is more focused on life after treatment, this campaign gets the viewers close to the realities of psoriatic disease.

The campaign called as "Emerge Tremfyant", is a close play on the brand name and the word "Triumphant" !

Teva Canada commits to Canadian caregiver community on National Caregivers Day
Source: FiercePharma
To support the caregiver community, Teva Canada launches the Life Effects campaign. With the COVID-19 pandemic, stress and mental health issues have been on a rise and cause of major concern amongst the healthcare professionals and caregivers.

Life Effects gives patients and their caregivers a sense of community and comfort as they can relate to, and learn from, the experiences of people who have actually been there.

As part of the initiative, the company offered virtual coaching class, the Life Effects website to support patients with chronic conditions and their caregivers with powerful stories and content written by people with chronic health conditions offering "real-life" perspective, and a 30 day free trial to an app from world's wellness experts on topics relevant to caregivers.

AstraZeneca and celebrity chef raise awareness on lung cancer through a cooking session
Source: FiercePharma
Astra Zeneca and celebrity chef Ming Tsai have collaborated for an online cooking session for their audience – with the objective of sharing lung cancer information. And more specifically it is to raise awareness on the lung cancer biomarkers.

So in the video you will find, chef Ming sharing his family's experience with lung cancer as he cooks a delicious stir fry recipe. Ming's wife, Polly was diagnosed with the cancer in 2018.

More importantly as part of the overall campaign message, he is emphasizing, "Its okay to ask" questions and seek doctor's help. This is based on the stigma surrounding lung cancer, as it is generally considered a smoker's disease and so many people, actually delay their medical diagnosis.
Ming is also drawing attention to the EGFR biomarker that helped in early diagnosis.

Chef Ming Tsai has a cooking show, called "Simply Ming" on PBS. And for Astra Zeneca this was a great way to reach the vast Asian Americans – as 30 -40% of lung cancer patients are from this community, and carry the specific epidermal growth factor receptor (EGFR) biomarker.

You can check the Facebook video, which has had good response from the viewers. The campaign website is made to give a better understanding and educate the readers on the importance of the EGFR biomarker.

GSK consumer healthcare brand, Excedrin's, latest campaign targets gamers and gaming headaches
Source: FiercePharma
Excerdin, a GSK brand has been the leader in headache pain relief for more than 50 years. Excedrin's latest campaign is targeting a new set of customers – "the gamers". And it seen that the number of people playing games have risen during the pandemic!
A study by the company has revealed –
80% of Gamers Play Through Headache Pain.
79% of gamers have said that they could play better if they were able to more effectively manage their headaches.
More than 70% of gamers say getting head pain while gaming adversely affects focus and performance.
So that's what the Excedrin campaign is about –
Excedrin Extra Strength defeats headaches to help gamers keep their head in the game !

The goal of the campaign is also to educate gamers on how to prevent and treat headaches. The Excedrin Healing Team on the site provides the "Excedrin Gamer Routine", which is a simple 6-step routine to mindful gaming designed to improve focus and optimize performance in gamers. From screen time to stimulus overload, the tips help manage the risk of headaches, as given on the campaign website.

The leader of the Healing Team is Captain Excedrin, while the other team members are Rosetta, the wizard, Parker the Paladin, Fripp the Alchemist and others. It is interesting to read about the roles given to each of the healing squad members.

To promote this campaign, Excedrin has teamed up with famous gamer Matthew 'Nadeshot' Haag, the founder of 100 Thieves gaming company, who also suffers from ocular migraines.
"Esports Insider says: Excedrin is the latest healthcare brand to step into the esports/gaming world — a trend that will likely continue as organisations take the healthcare of their players more seriously"
A series of animated YouTube videos ads, are seen with the message to the viewers – "Game Over for Headaches !" (as shown below)



Bayer's virtual voice assistant now answers prescription drug queries asked by health professionals
Source: FiercePharma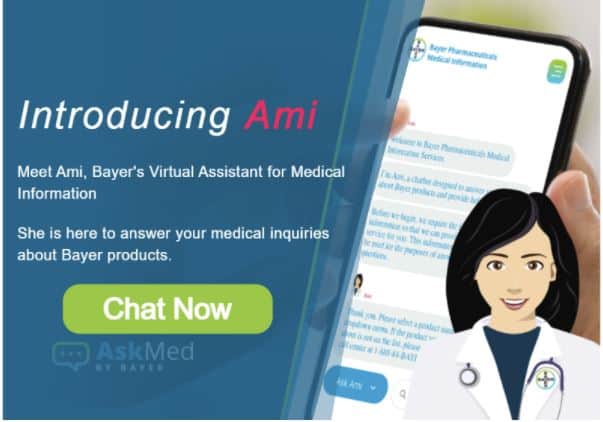 Bayer has a new virtual assistant, named as "Ami". And Ami's job is to provide medical information to the medical professionals only. She will answer to medical inquiries about Bayer products and also offer useful resources.

AMI stands for Assistant for Medical Information.

On clicking on the tab Chat Now on the website, the user can then chat with this chatbot. The chatbot service is all inclusive and are a number of things a user can do – like submit a question, report an adverse event, or product complaint or even request for a MSL.

Ami is also available on Google Home/ Assistant and can be accessed by just saying, "Ok Google, Talk to Bayer Pharmaceutical".

The idea for having Ami as a virtual assistant was given by Wagdy Youssef, a physician and Bayer senior director of medical communications and medical information, as stated in the FiercePharma report.

You can visit the site, Ask Med by Bayer and meet Ami !
Lilly teams up with Olympic athletes to share survivor stories of health issues
Source: www.lilly.com
For the first time ever, Eli Lilly has partnered with Olympic US athletes, as they prepare to play for the Tokyo Olympics. This partnership is with the United States Olympic and Paralympic Committee.

The Team Lilly athletes, will be sharing stories on the company's website. These are stories are on the triumph, loss, worry and hope. And each story is going to be a proof as to why it is important to put health above all.

This initiative is an effort by Eli Lilly to inspire and encourage people, who might be having similar health challenges.

You can have meet the Team Lilly athletes here.


Healthcare Campaigns March 2021

User-generated educational content making the COVID-19 vaccine brands famous on social media
Source: FiercePharma
The COVID-19 vaccine videos have captured viewers attention on social media like TikTok, Twitter and YouTube.
What's interesting about these videos, is that it is not created by the pharma companies to promote their COVID-19 vaccine brands. But they are by Jeff Wright the a comedian and writer. And the video even got featured in the "Late Night with Seth Meyers" show. Through the video, Jeff Wright tries to inform the the pros and cons of each coronavirus vaccine in development.

Interestingly, the videos have been personified with the the vaccine company names in an attempt to educate viewers in an entertaining way.
"Truly it is the first time in history that the names of these major pharmaceutical companies just roll off the tongue of the average American. It's in a positive context, and it's a sign of the times. And social media will always reflect the signs of the times"

As commented by Wendy Blackburn, vice president at Intouch Solutions, in the FiercePharma post.

Abilify Maintena's one of a kind DTC commercial using CGI based animation style
Source: FiercePharma
Animated ads are gaining popularity in pharma. And Otsuka and Lundbeck's latest commercial for their brand Abilify Maintena has definitely leveled up this game.

Well, this animation does not have the regular cartoon-type characters.

This ad has used 3D computer-generated imagery (CGI) that gives the animation the most realistic feel of people in the ad. Minute details like showing manicured hands, the expressions have added a unique touch of sensitivity to the overall ad. The ad seems so real, that it has managed to connect with the emotions of the bipolar patients.

The ad is different and is sure to resonate with their target audience. I guess this is as real as one can get with animations.

The campaign is targeted to bipolar-I patient and aims to increase awareness of its once-monthly dosing.

You can have a look at the commercial on their website. Also take a look at their brand logo, which supports the extended release action of their injectable suspension.
The first pharma doctor campaign to raise awareness on eosinophilic esophagitis
Source: FiercePharma
Takeda pharmaceuticals in an effort to educate doctors on the rare disease condition called eosinophilic esophagitis (EoE) has launched the "See EoE" campaign.

The content created for this campaign has been created exclusively for the healthcare professional. The campaign is targeting gastroenterologists and allergists. And the website has a good collection of infographics, videos, text highlights and visuals that helps the reader skim through the content effortlessly.

The goal of the campaign is to enlighten the reader on the unseen and unspoken signs of EoE. And it covers various topics like the adaptive behavior common to such patients, and informs about a holistic approach to diagnosis and monitoring of EoE. Also guiding the doctor with a list of questions that could help uncover the key symptoms in adults and pediatric patients.

The presentation of the content is pretty effective and the colors & visual elements help give a good impression of a typical EoE patient.

A new health awareness campaign on Idiopathic Hypersomnia
Jazz Pharmaceuticals in collaboration with the Hypersomnia Foundation has launched a disease awareness campaign on a rare debilitating sleep disorder called idiopathic hypersomnia (IH)
The "I Have IH" campaign, aims to empower patients to understand their condition, and also improve conversations with their doctors.

Characterized by chronic excessive daytime sleepiness, the campaign was created with insights from a survey with 305 healthcare providers that measured the perceptions and knowledge of IH.

The survey clearly revealed that physicians lack knowledge of this condition because of which the disorder is often misdiagnosed. Which in turn made it challenging for patients to communicate with their doctors.

Thus the need for more education and awareness of the disorder, both for physicians and the general population."

You can have a look at some of their campaign communications.

HRA Pharma launches a brand new platform "The Cushing's Hub"
Source: FiercePharma
Not only the patients, but the doctors too have pretty limited access to information on any rare disease.

Filling the need gap of such scarce information, HRA Pharma launched a a full-fledged information hub, for HCPs on Cushing's syndrome.

Cushing's Hub, is a resource exclusively for healthcare professionals caring for patients with Cushing's syndrome and is led by a board of international experts. HRA Pharma Rare Diseases division of HRA Pharma, has sponsored this platform along with Springer Healthcare Education, for HCPs all over the world.

"The ultimate objective is giving the best care for the patients by improving the knowledge and awareness of the their physicians and all the health care professionals," as said Evelina Paberžė, chief operating officer of HRA Pharma Rare Diseases in the FiercePharma news report.

The hub, claims to be a one-stop resource for all information on Cushing's syndrome. You will find case studies, news, editorials, publications highlights and also something called as animated abstracts !
What are animated abstracts?
We all agree that academic articles can be a tough and long read.
Now if we could offer something more concise, catchy and comprehensive – doctors are going to be much more receptive!

Betham Science states,
An animated abstract will help summarise the essential discoveries/ key findings of your published research or review article. Each professionally produced full-coloured animated abstract in video format (length 3 – 5 minutes) is accompanied by an English spoken or foreign language commentary. The animated abstract will be published online along with the published article.

Reckitt's OTC brand Neuriva, endorsed by America's favorite neuroscientist
Source: www.prnewswire.com
The popular 'Big Bang' actress, a real-life neuroscientist – Mayim Bialik, endorses Reckitt's new DTC campaign for Neuriva brand.

The campaign for the OTC brand, Neuriva was launched in April on the occasion of Brain Awareness Week.

Bialik, who has earned a Ph.D. in neuroscience from UCLA, was the ideal celebrity spokesperson and is seen endorsing the brand with the statement "I love the science behind Neuriva"

"As America's favorite neuroscientist, her expertise, scientific knowledge and charming personality will help us educate consumers on the importance of choosing a brain health supplement backed by solid science and give people the confidence that they can do more for their brain health," as stated by Gregory Chabidon, General Manager of the Vitamins, Minerals and Supplements Business Unit at RB.

Very soon the company plans to come with a DTC campaign, "thinks bigger", across broadcast, digital, print and social media.

Exact Science's Public Health Awareness Campaign on Colorectal Cancer
Source: www.exactsciences.com
Academy Award winner Jamie Foxx and Exact Sciences have joined Stand Up to Cancer the charitable organization, to create awareness about colorectal cancer screenings, early detection and prevention for people ages 45 and older.

The campaign was launched to coincide with Colorectal Cancer Awareness Month.
The campaign is also in a way creating awareness about Exact Sciences's, home cancer screening tests, Cologuard.
The actor having lost good friends and young friends to this deadly disease, was was the ideal spokesperson for this campaign. And with the drop in screenings due to COVID-19, the actor can help spread awareness and encourage the community to take action.

GSK launches a new web series "Science on the Sofa"
Source: FiercePharma
GSK's launches new web series called "Science on the Sofa", where each episode features compelling discussions on various healthcare topics. This comes at a time during the pandemic, where the company felt the immediate need to engage and connect with the audience, and in newer ways.

You will find GSK scientists, experts and health professionals having comfortable and casual discussions on crucial health issues, importantly making inviting for the viewers.

Christine Roth, senior vice president and global oncology therapy area head at GSK, stars in the first episode on expert opinions related to multiple myeloma and emerging research, with key insights on blood cancer community (including physicians, patients, and patient advocates).

Novartis hosts a virtual MS event with popular singer Andy Grammer
Source: FiercePharma
On the occasion of National Multiple Sclerosis Awareness month, and to inspire and celebrate the people living with MS (Multiple Sclerosis), Novartis launched "A Night for MS Awareness".

The 40 minute event had a virtual concert that was livestreamed on iHeartRadio's YouTube channel. And the highlight of this event was Andy Grammer, the award winning singer, who is known to sing uplifting songs.

The event was emceed by Skeery Jones with the well know patient advocate Kate Milliken, who also happen to host the monthly podcast "MS Journeys" on iHeartRadio's MS Vibes channel

The event started with support for the MS community with orange ribbons, followed by Grammer singing the song, "Good to be Alive", that strung chords with the current challenging times.

A brand new resources hub site to create awareness on chronic lymphocytic leukemia (CLL)
Source: FiercePharma
"Living with CLL" is Abbvie's and Genetech's awareness campaign for patients with CLL.

CLL often gets considered as an old person's disease, simply because the symptoms often go unnoticed during the early years. The campaign website is a step towards, educating and empowering the patient on their condition, to get them involved in their treatment and support them with resources from health, lifestyle, wellness, financial aspects.

Because as they state on their site, "The first step to moving forward with confidence is to learn all you can about CLL."
Galderma's new campaign inspires young people living with acne
Source: www.prnewswire.com
Zoom calls during the pandemic have not been a good experience, especially for the young acne sufferers.

In a Galderma survey,
it was found that 58% actually avoided the camera during video calls, by keeping the room dark or faking about technical difficulties.

This problem affects the self confidence of the young people. Acne sufferers as per the study are feeling insecure and are working hard to conceal their acne.

As a result,
69% spend time planning or worrying about their appearance during video calls.
80% of acne sufferers agree that they avoid posting pictures/ videos of themselves on social media when experiencing an acne breakout.

The survey also highlighted the negative impact on academic, social as well as professional lives.

Interestingly, 64% of the survey respondents say they are more likely to see a dermatologist, now that they're doing more video calls.
The new digital consumer campaign, Me Being Me, has been designed in response to the insights from this study.

The campaign is part of the promotion of Galderma's brand, AKLIEF cream. And aims to inspire the young people to feel confident about themselves, by sharing real stories of people with acne who are living their best lives – and encouraging them to reach out to their dermatology providers and ask for treatment.

This digital campaign would start with social media platforms like Snapchat, TikTok, Facebook, Instagram and Twitch. And in the next phase, the company plans to have influencers connecting with this audience.

Bayer Consumer Health's first Amazon Alexa interactive ad for OTC brand Berocca Boost
Source: FiercePharma
Are "actionable audio ads" going to be the future for pharma ads?

Here's the latest –
So Bayer Consumer's ad allows the consumer to order their OTC product, just by talking into their Amazon device – Alexa !

The trial ad that is running, has a recorded radio announcer that describes a cold wintry day with the lady sounding tired to attend to Zoom calls. As the lady urges the listener, "Switch on your Monday morning—say 'launch Berocca Boost' on this device now".

As given in the FiercePharma report,
The app then provides a list of options like order the product or more information about the product.
If the listener chooses to buy it through the platforms (Amazon) default payment method, Voila ! the product gets ordered and shipped instantly !

With digital audio catching up in trend, this does open up new opportunities for pharma OTC brands and also probably for the prescription brands.

Though Bayer primarily intended to test this new way, the results seemed quite promising.
"Among people who engaged with the ad, 23% purchased Berrocca Boost and 41% asked for more information", as noted in FiercePharma report.
Bayer will be experimenting similar concept on radio spots and also trying with more customized targeted content.

Healthcare Campaigns Feb 2021

Novartis' promotes Kesimpta by showing the drama associated with relapsing multiple sclerosis
Source: FiercePharma
The new Kesimpta campaign focuses on how patients can bring down the drama associated with their relapsing multiple sclerosis condition. The campaign basically highlights the proven benefits from their head-to-head clinical study results of Kesimpta with one of its competitor, Aubagio, on their website.

And it does this by building a story around the comparative points used in the study – like concerns of relapses is one of the concerns or drama in the lives of the patients – the study highlights the benefits of reduction in relapses with Kesimpta; or the concern of disability progression, is less likely with brand Kesimpta and so are the chances of new lesion erupting or enlarging.

The campaign has also targeted its advantage over another main competitor, Ocrevus of Roche. Wherein the patient had to worry about infusion treatments with Ocrevus. But now the patient can just open their refrigerator and self-administer Kesimpta at home.

Thus the campaign's tagline is rightly stated as, Dramatic Results, Less RMS Drama. You can have a look at Kesimpta's first TV ad here –

"Mission Possible": Natgeo gets access for Pfizer's movie based on the race to develop the first COVID-19 vaccine
Source: FiercePharma
The movie, "Mission Possible", shows viewers Pfizer's bold initiative to launch the first safe and effective COVID-19 vaccine, Comirnaty, by Pfizer and BioNTech.
→ Read More in Pharmaceutical Marketing Trends from 2020: How films are becoming a great way to create awareness

The film premiered on the National Geographic channel on March 11, which also marked the one-year anniversary of WHO's official pandemic announcement to the public.

The paid and branded content was created by National Geographic's CreativeWorks for Pfizer. Pfizer provided "unprecedented access" to Nat Geo for filming one of the greatest scientific breakthroughs.

You can get to watch the movie here

Bristol Meyers' Music Therapy Offering for Multiple Sclerosis Patients
Source: news.bms.com
Bristol Myers Squibb and the American Music Therapy Association launch a first-of-its-kind music therapy for people living with Multiple Sclerosis (MS). The digital offering is named as "MS in Harmony" – it is a music therapy resource to help those living with MS achieve mind-body harmony.
Research has shown that music and music therapy may have potential benefits for people with MS.

And the campaign has tapped unto this opportunity to bring the MS community together.
→ Read More in Pharmaceutical Marketing Trends from 2020: How music can be a fun way for peers to connect with the community.
This music therapy awareness campaign was launched in partnership with award-winning actor, singer and songwriter Ben Platt and his sister-in-law Courtney Platt, a dancer, choreographer and actor who lives with relapsing multiple sclerosis (RMS).

Courtney Platt's is helping spread the message across Instagram with the a social challenge – asking those with MS to dance and sing their favorite song and share their video with the hashtag #MSinHarmony.

Evofem Biosciences first TV commercial for Phexxi contraceptive
Source: PR newswire
The "Get Phexxi" commercial launched its national direct-to-consumer (DTC) commerical on Valentine's day- to create awareness of Phexxi – the innovative non-hormonal contraceptive method created for women.

The brand has been targeting the downsides of the traditional forms of contraception. And in the ad the brand has done this quite impressively by introducing Condom Cait, the Pill Pia and Cycle Tracking Tera, who represent specific segment of users.

Focusing on the drawbacks of the other current alternatives, Phexxi has conveyed the advantages of its revolutionary approach, very effectively. Have a look at their new ad targeting the millennials

AstraZeneca's COPD brand urging people to "Get Real" through its new animation ad
Source: FiercePharma
BREZTRI AEROSPHERE is a prescription medication intended to treat those diagnosed with COPD by improving their symptoms and managing flareups when taken as directed. It claims to be the first and only COPD medicine proven to reduce COPD flare-ups by 52%.

What's special about the Breztri commercial?

The commercial is different in the way it draws the viewer from a completely animated scene of of a Walk in the Park into Real Life. The ad had very effectively combined the elements of an animated character converting into a real person, stepping into the real world, to convey the brand's message – Its time to Get Real about COPD Flare-up protection with Breztri.
→ Read More in Pharmaceutical Marketing Trends from 2020: How animated video ads came to be quite attractive, and a better way to express the brand messages.

The ad is an effort to bring to the patients' attention during those bad days of COPD flare-ups or exacerbations, when the patient needs oral steroids or emergency care. That during these times, it is important to recognize in the real world that those COPD flare-ups may be causing permanent damage to your lungs.

This has been supported by the results of Beztri's clinical studies against a dual bronchodilator.

In a crowded market place, the company aims to stand out with this unique presentation of its brand. Breztri, the 3-in-1 inhaler, aims to now encourage patients to a newer concept of protection against flare-ups in their treatment and to initiate a different conversation with their provider.

You can have a look at their recent animated commercial, wherein the viewers are encouraged to visit the site

Terry Bradshaw partners with Pfizer for pneumococcal vaccine awareness
Source: FiercePharma
Pfizer in partnership with the National Foundation for Infectious Diseases (NFID), will now star the celebrity – Pro Football Hall of Famer and FOX NFL analyst, Terry Bradshaw for their pneumococcal vaccine awareness for people aged 65 and older.

In 2018, Terry had launched Pfizers' "All About Your Boom" campaign, which was targeted to encourage boomers to understand the risk of Pneumococcal Pneumonia and take action to help prevent it.

Something interesting about the ad, is the way it has emphasized on the word "pneumococcal". Yes, so you will see Teddy repeating the word and even singing the word "pneumococcal" so as to get it right!

Neurocrine's comprehensive launch strategy of Ongentys for doctors and patients
Source: FiercePharma
After winning the FDA approval for Ongentys, during the pandemic times, Neurocrine knew it needed to take a different approach to the brand launch. Lets look at the various campaign strategies that the company adopted for each of its target audience- i.e., the patient, and the doctor.

The doctor:
Ongentys, was going to be a follow-up drug to the already existing gold standard in Parkinson's disease (PD) -Levodopa.

Now,
Levodopa comes from the catechol-O-methyltransferase (COMT) inhibitors class of drugs, which in a way is also responsible for not allowing levodopa to perform to its full potential, infact it limits levodopa from getting to the brain and also contributes to some of the typical side effects.

Patients on levodopa/carbidopa therapy thus experience some "off time".

This is were Ongentys, comes into play.
The "2 Musketeers" campaign to the healthcare professionals, has aptly justified the need of Ongentys, as an adjunctive treatment to levodopa/carbidopa in patients with Parkinson's disease (PD) experiencing "off" episodes.

It claims to Complete The Set Of The Missing Musketeer – by prolonging the action of Levodopa, because of its unique structure. And this is all succinctly explained on Ongentys' HCPs site, with clear images, clinical studies and explainer videos to understand the unique mechanism of action.

The patient and caregiver:
The digital branded campaign for the patients, "Holding Hands" – emphasizes on the partnership aspect of Ongentys, announcing that it is THE FIRST AND ONLY ONCE-DAILY LEVODOPA/CARBIDOPA ENHANCER FOR PEOPLE WITH PD EXPERIENCING OFF TIME. With a check mark on "because your song just came on". Further stating "the choice is yours" and directing them to resources such as doctor discussion guides.

Neurocrine also launched a unbranded campaign "Parkinson's Card to Heroes" encouraging people whose handwriting has been affected by Parkinson's disease with a purposeful writing exercise – messages of gratitude to everyday heroes around the nation, including those at the frontlines of the COVID-19 pandemic.
The patient can request for a special kit on signing up. The kit includes custom cards, instruction sheet and pre-paid, pre-addressed envelope. This effort would be promoted more in April during Parkinson's disease awareness month.

From Cancer to Cures: A new documentary series from Novartis
Source: novartis.com
In this newly launched series called "Let's Talk About the C Word: From Cancer to Cures", Dr. Susanne Schaffert, President of Novartis Oncology speaks with leading experts and a cancer campaigner for their perspectives on cancer, and also shares what drives her work in the field of Oncology.

This is a monthly series of short videos, launched on World Cancer Day in February, and focuses on cancer prevention, diagnosis and management – but Schaffert's ultimate goal is the "C" word, that "cures". Her team of scientists and researchers work toward this ultimate goal. Have a look at the introductory video of this inspiring series:

Roche Genentech's animated ad for flu med Xofluza
Zofluza's new ad commercial is animated. We have been seeing many pharma marketing companies having animated brand ads.
→ Related Article: Pharma Marketing Trends from 2020
The ad campaign is designed keeping COVID-19 in mind, and lays special emphasis to tell the viewers the difference between flu and COVID-19.

With the tagline ""One Dose Can Do It" –
It wants to remind the viewers that flu can be just as life threatening , but can make one feel better in 2 days with just one-dose.

J&J raises prostate cancer awareness during New York Fashion Week
Source: www.prnewswire.com
In an effort to encourage men to get tested for prostate cancer, J&J's Janssen sponsored the Blue Jacket Fashion Show with celebrities and fashion models.

The New York Blue Jacket Fashion Show is a yearly runway show that brings together the world's of fashion, entertainment, media and healthcare to openly discuss men's cancer issues, with an emphasis on educating men on early detection, screening and the importance of early treatment of prostate cancer.

The fifth annual Blue Jacket Fashion Show in support of the Prostate Cancer Foundation was held virtually, on the World Cancer Day. The evening program included virtual discussions with fashion and health professionals talking about prostate health and cancer research. You can watch the show here.

Bayer partners with dance legend to raise kidney disease awareness in Type 2 diabetes
Source: businesswire.com
The "Are You the 33%?" national public awareness campaign has been launched by Bayer in collaboration with the National Kidney Foundation, to focus attention on the increased risk of developing chronic kidney disease (CKD) in people with type 2 diabetes (T2D).

To raise awareness, the award-winning actress, Debbie Allen, who was recently diagnosed with prediabetes is encouraging people to take a short risk-assessment quiz on the campaign website. Visitors to the site are also encouraged to use the hashtag #MinuteForYourKidneys on social media to join the conversation about kidney health awareness.

To hear Debbie Allen's personal story, the National Kidney Foundation hosted a virtual fireside chat with Debbie. National Kidney Foundation's chief medical officer, Dr. Joseph Vassalotti also shared important information about CKD risk in T2D.
TransplantLyfe, the first online engagement platform for transplant patients
Source: www.cslbehring.com/
Global biotherapeutics leader, CSL Behring and patient empowerment platform, Lyfebulb have launched TransplantLyfe, a First-of-its-Kind online community for those living with an organ transplant.
Given the low number of transplants that happen each year, it was difficult to find a supportive community for these patients.

TransplantLyfe, is dedicated to provide patients support partner, answering to their concerns and queries, sharing experiences of their transplant journey. Also addressing their anxieties and other emotional aspects following the treatment.

With the objective of encouraging open and honest discussions with the transplant community, the company also aims to to identify and fulfil needs of transplant patients and donors throughout their journey.

NFL Alumni Association partner with CDC to raise awareness around COVID-19
Source: nflalumni.org
NFL will be tapping thousands of former players for their COVID-19 campaign to help raise awareness of and advance efforts to protect Americans from COVID-19.

The players will be sharing their message on staying safe, wearing a mask, and getting the COVID-19 vaccine.

The campaign is leveraging on their longstanding connections with fans to influence the community.

Dexcom's ad targets the young people with diabetes through celebrity Nick Jonas
Source: FiercePharma
Dexcom has been promoting the Dexcom G6 Continuous Glucose Monitoring (CGM) System, which is a small wearable that continuously sends glucose readings to the user's smartphone device.

The product is pretty advanced in technology and has impressed the diabetic community, but the main issue is the expensive price of the product.

The ad was launched at the time of the Super Bowl play to get noticed by the younger target audience.

The ad features Nick Jonas, the famous musician and actor who has Type 1 Diabetes. The ad shows him as the "Dexcom Warrior". Nick Jonas brings his cool factor to the ad, by showcasing the technological advancements that have happened in our present lives. Which then highlights to the surprising point, as to why do people still want to prick their fingers to test their glucose levels, when the Dexcom G6 CGM System can make lives much easier with zero fingersticks!

The ad created lot of social media buzz, partly because of the exorbitant ad costs ($5.5 million). But Nick Jonas representation added a cool factor to the product and went great with the younger audience of Type 1 diabetes.

Healthcare Campaigns Jan 2021
A social network by Abbvie to support the psoriasis community
Source: FiercePharma
Abbvie has partnered with MyHealthTeams to provide emotional support and practical tips to help patients manage their psoriasis, through a social network. MyPsoriasisTeam, is the social network and an online group on Facebook, created for people living with psoriasis and psoriatic arthritis. The platform is a place where patients can truly connect with peers, make real friendships, and share their daily ups and downs in a judgment-free place.

MyPsoriasisTeam, hosts online events where patients can openly discuss some of their daily concerns, share experiences and also ask questions to one another.

As part of the initiative, the company also has an element called as "Gaining Control" , which is a Doctor Discussion Challenge. A series of challenges are included, like the Wardrobe Challenge or Self-Care Challenge, which gives an opportunity for the patient to discuss current psoriasis treatment and effectively meet their treatment goals. The observations from these challenges, in a way help the patient to have meaningful and good discussion with their dermatologist.
Bladder Chatter, the awareness campaign that paved the way for marketing of brand, Gemtesa
Source: FiercePharma
The biopharmaceutical company, Urovant Sciences has been preparing for the launch of Gemtesa, a med for overactive bladder.

As the initial steps, Urovant went into creating unbranded awareness campaign for overactive bladder (OAB) condition with the Bladder Chatter, for the OAB patient community. The campaign website, helps to empower, inform and support women with overactive bladder.

It has an exclusive OAB forum on the site, which provides peer-to-peer support for people with OAB. The conversations are categorized into various topics, for the OAB patient – like travel, sleep, nutrition, exercise and many more. The community can have open conversations with their peers, upon signing up for the Bladder Chatter community.

This one-of-a-kind forum which not only connects peers, but also provides real-world tips and expert perspectives.

The community can also contribute to the site, by writing a full length article on a topic. The campaign is actively run on social media (Facebook and Instagram).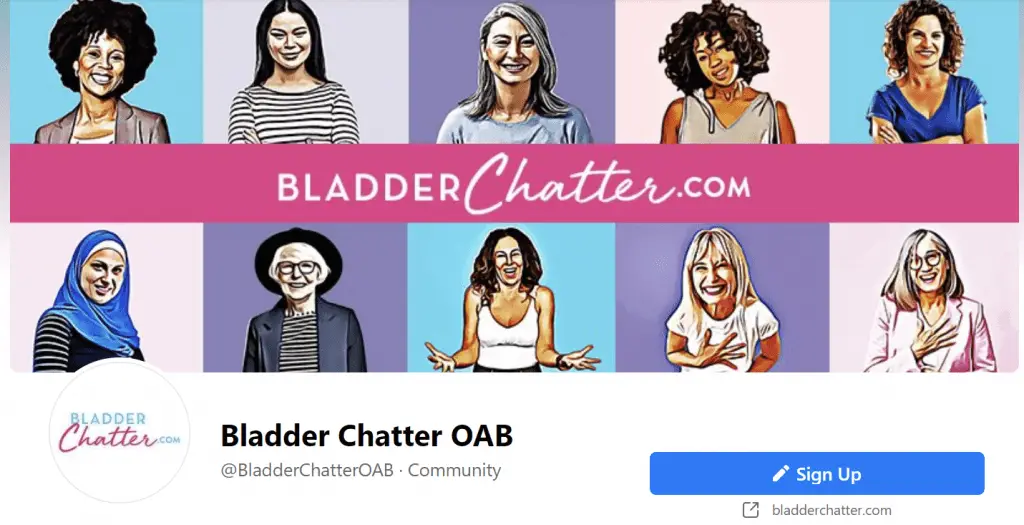 Through the patient perspectives and online conversations, the company was able to gather valuable insights that helped in planning its marketing strategies for the brand.

Like for instance, they found that patients do not go to the doctor directly with their bladder problems, instead they would first go online and gather information, as stated in FiercePharma. They also discovered that patients were actively talking about the need for another treatment option for OAB.

With high competition in the OAB category, the company sees an opportunity to position its brand more favorably with the patient community, because of Gemtesa's faster action and better safety profile.
Yupelri's, campaign highlights the brands' once-daily benefit to COPD patients
Source: FiercePharma
The first DTC ad campaign for Viatris and Theravance's brand, Yupelri is about maintaining better breathing with its COPD nebulizer therapy. The campaigns' promotion is based on its tagline – "Because every moment matters".

The new commercial demonstrates how Yupelri can provide 24 hours of symptom relief, thus allowing the patient to spend more quality time with their loved ones.

The website has developed a good resource center (both for HCPs and the patients), that supports its current campaign theme.

As stated in the FiercePharma report, the TV commercial is being aired on cable and network channels in specific US markets, as well as in print and digital for both the HCPs and consumers.

Now, here's why Yupelri used TV for such a small patient target –
"We know that our patient population gravitates toward TV as a key medium to learn about COPD treatments," Kumar Subramaniam, Viatris' head of U.S. brands, as stated in FiercePharma

Healthcare Marketing Campaigns & Healthcare Ads of 2021

Disclaimer: The images given here are sourced as screenshots or those available on the web. There is no intention to infringe upon copyrights. If such a claim comes up, the image shall be promptly removed.

Healthcare Marketing Campaigns & Health Product Advertisements of 2021